Norwed Motorcycles
A Brief History of the Marque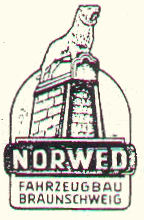 Manufactured 1924-25
Norddeutsche Fahrzeugwerk GmbH of Hanover built motorcycles using 348 and 498cc engines from Kühne. Blackburne engines were also available to order.
N.B. The marque is sometimes referred to as Norved. The firm's name is also given as Norwed Fahrzeugbau Braunschweig. In the 1960s, Norwed & Bauer of Braunschweig imported Wartburg and Trabant vehicles from the GDR.
Sources: Tragatsch p232; period literature; et al.
---
---