Rondine Motorcycles of Vigevano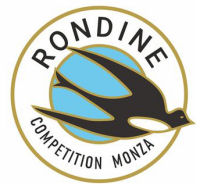 A Brief History of the Italian Marque
Built by Angiolino Copeta of Via Persani, Vigevano in the years 1967 to 1971.
Angiolino Copeta was well-known to Italian sporting motorcyclists and enthusiasts as the official 125cc rider for MV Agusta in the fifties. He won the Spanish Grand Prix in 1953 and took 4th in the 125cc world championship that same year.
The Rondine range included mopeds and a Monza sports model with an engine which ran to 10,000 rpm, according advertising brochures of the Vigevano company which may sound a tad optimistic, but a track test in more recent times showed that the machine is well capable of achieving that figure.
Other models in the list were the Cross off-road motorcycle, the Speedy moped with 10 inch wheels, the Ringo, a tubone with automatic transmission and the Tris, a tourist moped with conventional open-frame. The Rondine Speedy Export Testarossa was identical to the Malanca Minicompetizione.
Most components were sourced from external suppliers, but the frames were their own. Suspension was from Ceriani and Marzocchi, brakes from Bernardi Mozzi (BMM), electrics from CEV, controls from Tommaselli and Domino. Engines were from Franco Morini, Minarelli and Malanca.
Sources: Moto di Lombardia; icenicam.org.uk.
N.B. Several firms used the Rondine brand.
---
If you have a query about these vintage Italian machines, please contact us