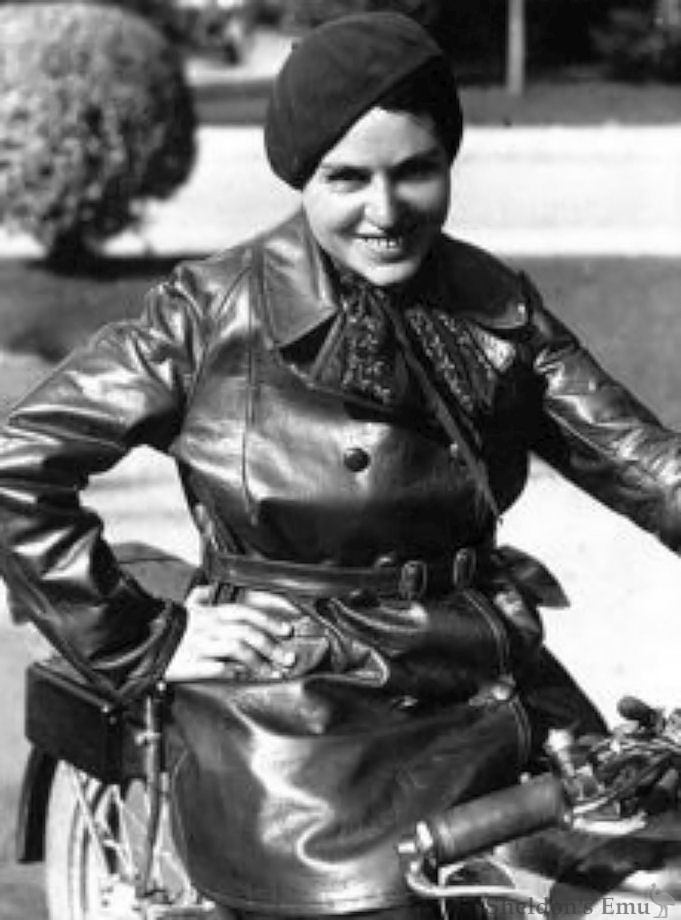 Eva Marzone Ollearo
di Pier Luigi Ollearo
Eva Marzone conosciuta anche come Eva Ollearo, era soprannominata "la Birusa" (che in lingua piemontese significa veloce e audace) non solo perché negli anni '20 e '30 una donna alla guida di una motocicletta sia un fatto inusuale, ma anche perché partecipa a competizioni ottenendo risultati di primo piano, meglio di tanti concorrenti maschi.
Nasce a Piverone il 21 ottobre 1906 da Francesco Marzone di anni 53, falegname e da Celestina Rege di lui moglie, donna di casa…… così recita l'archivio comunale.
In età adolescenziale parte per il Paraguay come bambinaia, al seguito dell'avvocato Ricca di Piverone, in quanto il Ricca era console in quel paese e vi resta diversi anni. Tornata in Italia segue a Torino sua sorella Ester, che aveva sposato Neftàli Ollearo, costruttore di motociclette sin dal 1921.
Eva che è una donna decisamente bella, pur essendo molto femminile nei modi (ricordo che anche in età avanzata non usciva di casa se non perfettamente truccata e senza mai un capello fuori posto) si appassiona alle motociclette al punto di divenirne pilota da competizione. Partecipa a cronoscalate e gare in circuito cittadino, come era in uso a quei tempi, cogliendo lusinghieri risultati, come testimoniato nelle cronache del tempo.
Lavora seguendo gli aspetti commerciali della ditta Ollearo ed avendo come zona di riferimento la Valle d'Aosta, di cui segue in prima persona la clientela, interpreta quindi un ruolo decisamente innovativo, aiutata dal suo modo di porsi decisamente gradevole oltre che professionale, avvalorato dalla sua attività sportiva.
Successivamente quando il settore motociclistico subisce i pesanti condizionamenti dell'economia in recessione, lavora come civile alla caserma "Amione" di Torino, dove continua ad occuparsi di mezzi di trasporto militari.
Eva Marzone è sicuramente una donna che ha saputo, conquistarsi dei ruoli tipicamente "maschili" in anni ormai lontani, precorrendo i tempi ed interpretando al meglio il suo impegno nel settore commerciale, decisamente fondamentale per qualunque azienda.
---
---
Eva Marzone, also known as Eva Ollearo, was nicknamed "la Birusa" (which in Piedmontese means fast and daring) not only because in the 20s and 30s a woman riding a motorcycle was an unusual sight, but also because she participated in competitions with fine results, better than many male competitors. She was born in Piverone on 21 October 1906 to Francesco Marzone aged 53, a carpenter and to his wife Celestina Rege, a housewife - so says the municipal archive.
As a teenager she left for Paraguay as a nanny, following the lawyer Ricca di Piverone who was consul in that country, and lived there for several years.
On her return to Italy she moved to Turin, joining her sister Ester who had married Neftàli Ollearo, a motorcycle manufacturer since 1921.
Eva, who is a decidedly beautiful woman, despite being very feminine in her ways (I remember that even in old age she did not leave the house if not perfectly made up and without a single hair out of place) is passionate about motorcycles to the point of becoming a competition rider. You participate in hill climbs and street circuit races, as was the custom in those times, getting flattering results, as evidenced in the chronicles of the time.
Eva worked on the commercial aspects of the Ollearo company with the Valle d'Aosta as a reference area, of which she personally follows the customers, and plays a decidedly innovative role, aided by her pleasant and professional demenour along with her prowess in motorcycle sport.
Subsequently, when the motorcycle sector suffered during the recession, she worked as a civilian at the "Amione" barracks in Turin, where she used her skills dealing with military transportation.
Eva Marzone is certainly a woman who has been able to conquer typically "male" roles in years long gone, anticipating the times and interpreting her commitment in the commercial sector to the best of her ability, which is definitely fundamental for any company.
Apologies for the rugged translation - scuzi Itanglish.
Source: ollearo.com Licence: CC BY-NC-ND 4.0
ollearo.com is dedicated "to my father Silvio and my uncle Roberto."
---
If you have a query about Ollearo machines please contact us