Delfin Motocicletas and Triciclos
Delfin (aka JFC Delfin)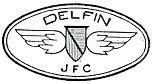 Manufactured by the Fábrica Española de Motocicletas y Triciclos firm of Julio Fusté in Barcelona from 1955 to 1962, these motorcycles were powered by Hispano Villiers 125c and 197cc engines.
In late 1956 nine Delfin motocarros were built powered by 197 cc HV engines. These had two seats and a load capacity of 250 kg.
The company also built motocarros under the Olimpic brand, and these were all but identical to the Delfin.
Sources: ca.wikipedia.org, et al