Bucher & Zeda Motorcycles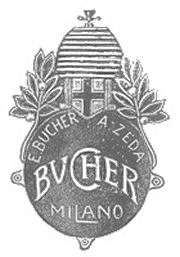 A Brief History of the Marque
Manufactured: 1906-1920
Motocicli Bucher S.p.A, was founded in Milan in 1906 by Bucher, who was joined in 1913 by Zeda1.
Bucher built motorcycles initally fitted with engines supplied by Zedel, Moser and others, from 1912 constructing their own engines under licence from Moser.
In 1913 the Bucher and Zeda factory built a model with vertical single-cylinder engine of 342cc producing 2.75 hp, with magneto ignition and belt drive. On request, the same model could be equipped with a 3.5 hp motor.
In 1914 they built three single cylinder machines of 342cc, 499cc and 568cc, the latter with a three-speed gearbox. That year they also developed a 1000cc V-twin, but the war brought a halt to the project.
In 1917 they designed, manufactured and tested a machine with a sidevalve 750cc horizontally opposed engine, but it did not enter production2 .
After the war they resumed production and in 1919 released a 500cc motorcycle The company ceased manufacture in 1920.
Giuseppe Gellera worked with the firm as a mechanic and rider. He was apparently told that his name sounded a bit odd to the Italian ear, so he changed it. In 1909 Giuseppe Gilera departed for his grand adventure. 3
Notes
1. 1914, according to amicidellemotobicisottocanna.blogspot.com
2. This has also been described as a 900cc HO four.
3. amicidellemotobicisottocanna.blogspot.com
Sources: MC Storico Conti, Tragatsch p98, wikipedia.nl, amicidellemotobicisottocanna.blogspot.com
---
If you have a query or information about these vintage Italian machines, please
contact us