Busi Nettunia Motorcycles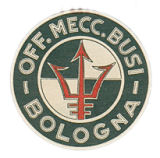 A Brief History of the Marque
Manufactured: 1940-1964*
Athos Busi of Bologna, trading as Officina Meccanica Busi, built frames for mopeds and scooters in which a variety of engines were installed.
In 1952 they began production of lightweight Moto Nettunia motorcycles with unit construction 4-speed two-stroke engines of 125 and 160cc which have a distinct similarity to those by Sterzi. Early models had friction disc rear damping, it is possible there was a 1954 model with plunger rear suspension, and by 1956 or so they had modern hydraulic rear dampers. Front suspension was telescopic. There are records at dati.acs which show a Busi logo above Nettunia 125 on official documents, and another submitted November 1951 with just the Busi logo, for all the world a BMW logo with a trident embossed upon it.
They also built smaller machines, the Nettunia 98 being powered by a 98cc two-stroke engine possibly from Parilla. It had a rigid rear end and light telescopic forks, and a sprung solo saddle.
NB. Sources vary, with formation dates as early as 1940 and closure in 1952.
Sources: MC Storico Conti, Henshaw, Phil Aynsley, dati.acs
---
If you have a query about Busi Motorcycles, or have some information to add about these classic Italian machines, please
contact us