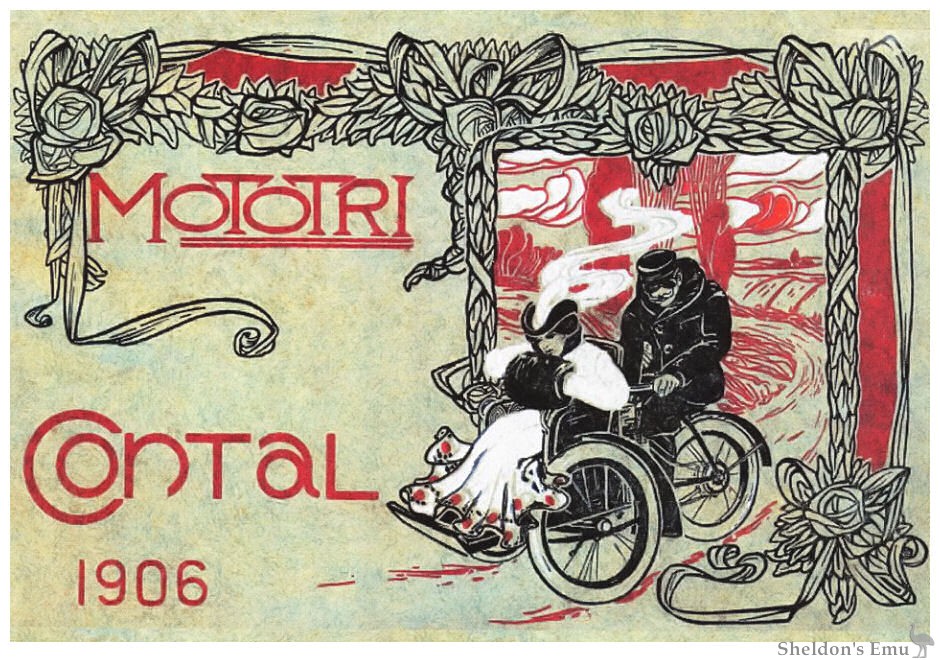 Contal Tricars
A Brief History of the Marque
64 avenue de la Grande Armée, Paris
From 1905, Camille Contal built tricars with engines of his own and with Villemain engines.
Early versions were in the style of the forecar with a single wheel at rear and a passenger seat or goods container between the front wheels. These were powered by 3½ h.p. single cylinder water-cooled engines and air-cooled V-twins which drove the rear wheel by chain.
In 1907 a Contal took part in the Peking to Paris race, but failed in the Gobi desert due overloading. The adventures of Auguste Pons and Oscar Foucauld are well-documented, and a repeat performance took place in 2009, with two Frenchmen riding a 1907 Contal. They took 1st in class! (Pioneer Category).
A 1911 machine was available with leaf-spring rear suspension as an option. The 1913 model was powered by a 5/6hp 90x90mm engine, and rear suspension was standard.
In 1909 and 1910 Contal built aeroplanes and an airship.
Gaston Rivierre took over Contal around the end of 1910, two years after closing the Rivierre firm. Contal folded in 1914, but M. Rivierre remained in the motor trade until his death in 1942.
Sources: Bourdache p433, François-Marie Dumas, lestricars.es.tl, endurorally.com, period literature.
Contal and the Paris to Peking
---