DMW Motorcycles
A Brief History of the Marque
Founded by Leslie "Smokey" Dawson, a speedway and grass-track star of the 20s and 30s who built many competition machines and took out patents on braking and suspension systems including Telematic forks, DMW (Dawson Motor Works) began manufacture in Wolverhampton and later moved to Dudley, in the West Midlands. He began building racing machines in 1945, then, partnered with Harold Nock of Metal Profiles, the firm produced JAP-engined machines and, from 1950, Villiers engined motorcycles and scooters.
There was an early association with Calthorpe, and a Calthorpe-DMW was produced. See Calthorpe History.
250cc DMW Deemster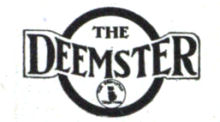 A cross between a motorcycle and a scooter, the Deemster debuted in 1962. Unique at the time in its construction as it was built around pressed steel panels and is powered by a 4 speed Villiers 250cc twin. It has 12 inch disc wheels and Earles front suspension.
The 250cc DMW Dolomite was first introduced in 1954 and was powered by a 250cc twin cylinder Villiers engine with an electric starter. The Earles type front forks are manufactured by Metals Profiles. It was capapble of a very respectable 72 mph.
In 1968 they produced a machine with a Velocette horizontally opposed engine (also used in the Velocette Viceroy scooter) but it was not a success and only around 350 were built, 250 of which went to the police fleet.
As an aside, Australia had it's own Smokey Dawson, a country singer and TV star in the 1950s and early 60s. Another Smokey Dawson (also Australian) was an aviator during WWII.
DMW Models
1953 DMW De luxe Villiers 250cc twin
1953 DMW Coronation Villiers 10D 122cc
1954 Cortina Villiers 1H 225cc
1954 Dolomite 250cc AMC OHC
1954 DMW Hornet 125cc AMC OHC
1955 Moto Cross 200cc
1955 Trials 200cc competition engine
1955 Leda 150cc
1957 Bambi scooter 98cc Villiers 4F
1959 P200 Villiers 197cc 6E 3 speed
1961-1967 Deemster scooter 249cc Villiers twin
1962 Sports Twin 249cc Villiers Mark 4T
1963 DMW Dolomite II
1964 250cc Hornet Villiers Starmaker 247cc
1964 Sports Twin 4T 249cc
1965 DMW Typhoon Villiers twin roadracer
1965 Sports Twin 249cc
More on the history of Dawson's DMW
---
07-Jan-2019
budflanagan1 at outlook.com
frame only
Hi I have this DMW trials bike frame and would like to know if there is a number stamped on the frame for id purposes, if so were do I find it. I would also like to know if possible the value of the frame for a possible sale. Many Thanks.
Bud Flanagan
Kent
DMW-Trials-Frame.jpg posted to Comments.
---
Sun, 18 Feb 2018
fttaylor at talktalk.net
DMW

Hi I have just purchased a DMW. It is fitted with a 8E Villiers engine and telescopic forks. There is not a log book of any kind. Could you tell me where to find the frame no. it is not on the headstock. Or even what the no might look like.
Trevor Taylor
HX63HR United Kingdom
---
Tue, 21 Nov 2017
davwest47 at hotmail.com
DMW 197 cc 50's ?
I have had the DMW for c. 50 yrs. Renovated it once some 30 yrs ago, stored since. Complete apart from rear lens. Have logbook. Sellable Reg; TSV 319 is on it. Wish to sell
David West
Warminster United Kingdom
DMW-1950s-197cc-DWe-01.jpg posted to Comments.
---
Sun Sep 04 2016
nigelhippo at aol.com
fuel tank required
dmw 125
I have what i think is a 1950 125 model dmw with a rigid tail end & telematic front forks. Im looking for a fuel tank and a bicycle type saddle for it. Also any information please
england
---
Tue Aug 30 2016
cbov at waitrose.com
MCE 653
DMW Coronation
My first bike was a 1953 122 cc DMW Coronation which had short leading link front forks. I never saw another example. I would love to know if MCE 653 still exists or whether any other exampless are out there.
Oxfordshire
---
Thu Aug 18 2016
K.jones7 at sky.con
DMW Dolomite for sale
DMW Dolomite for sale, bike was my late fathers and has sat in a garden shed for twenty years plus so is in need of restoration, engine is not seized and turns over via the kick start.
Please call keith on:-
07799081264 no time wasters please
Wolverhampton
---
Fri Jul 31 2015
aaeml at ptd.net
1957 DMW Cortina for sale
DMW Cortina
I have a 1957 DMW Cortina been restoring it for many years lots of rare new old stock parts included bike is apart & bout halfway there needs to be completed and go to loving new home. Kindly call for price & more details 201-704-4158 Cheers Scotty
---
Wed Jul 27 2011
bob.jones796<at>yahoo.co.uk
DMW Deemster with Velo Viceroy engine
DMW Deemster
Read the info about DMW making 350 deemsters with Velo Viceroy engines. Have any survived?
Manchester
---
Sun Aug 22 2010
hoodlum63<at>hotmail dot com
DMW Overlander
I'm looking for any pictures of this export only model. I'm about to start restoring one, frame , forks wheels are good but I'm missing lights, stand, air cleaner etc. Anything would be appreciated
Jerry
Florida USA
---
Wed Aug 04 2010
pla.white<at>btinternet dot com
DMW Trials
Any information on DMW trials bikes believed to be built circa 1976
oxford
---
Sat Mar 13 2010
gelder2004<at>yahoo.co.uk
DMW Wanted
DMW All
Hi i am looking for any DMW motorbikes, Parts etc
UK
---
Fri Oct 16 2009
timmag at kt122az.freeserve.co.uk
for sale
dmw cortina
dmw cortina complete in need of restoration with 197cc villiers engine
surrey
---
Mon Oct 05 2009
anndenver at blueyonder.co.uk281
MODLE
DMW NOT SHOUR
Hi my name is denver holt ive been asked to pait a dawson motorcycle works but im not shour what modle it is and the customer isant shour , would you be abble to do this from the frame number. many thanks Denver Holt
birmingham
---
Wed Jul 15 2009
ronaldaltena at paradise.net.nz
DMW Photo
Updated photo of my Deemster as promised
---
Sat Feb 23 2008
gandsdavies1 at yahoo.co.uk
197 & 250 DMW
DMW Dolomite or Cortina
Does anybody have a 197cc or 250cc DMW motorcycle for sale, any condition preferably mid 50's to early 60's
Surrey
---
Wed Feb 20 2008
andybrit1 at hotmail dot com
1952 competition DMW
197cc villiers Competition
Hi. Can anyone help. I have a partly restored DMW trials model from 1952.I have no information on the finish of this cute little motorcycle. I can send pictures when the weather picks up. Andy
York England
---
Fri Feb 15 2008
DMW I once owned
DMW MK 16
Nice looking bike that passed thro' my hands
Wiltshire
---
Tue Feb 05 2008
domac29 at cox.net
Villiers Starmaker Parts
DMW Hornet
Does anyone have information regarding parts suppliers for the Starmaker engine? I am trying to find a primary cover for a Model 834E roadrace engine. The part number is 80321. This cover has the space for the Smiths' tachometer drive gearbox. I also need an intake manifold for use with a 1.5 inch AMAL GP.
Arizona, USA
---
Wed Jan 30 2008
dormac29 at cox.net
Hornet #023
DMW Hornet Mk1
This is a picture of my Hornet Mk1 after restoration. Everything was done from old photos so there may be some errors in detail but, I hope all the DMW fans find it a nice example.
Phoenix, Arizona, USA
---
Fri Nov 02 2007
nat4x4 at telus.net
Wanted
DMW. Mk 16. Moto-cross. " Scrambler " As illustrated on page 57 of the Roy Bacon book about the Villiers engined bikes . If you have or know of one compleat or dismantaled . please forward all or any info to Martyn Russell . E mail nat4x4 at telus.net or in the UK Crussell at doncasters.com . Att Craig Russell . I have import experiance . After purchase we will do all the work involved for Export . . Regards. Martyn
Tappen British columbia Canada .
---
Thu Aug 30 2007
janetrpearson at hotmail.co.uk
DMW 1959 8e/4 villiers engine
Hi, I have a DMW from 1959 in need of restoration. it has a villiers 8e/4 power unit. i would love to find out more about it as i am tempted to restore her or sell to a genuine DMW enthusiast. please email me.
Gloucestershire
---
Wed Jun 06 2007
stuart-ruff at hotmail dot com
coil/windings
dmw bambi
A friend is restoring my DMW bambi and can't get the engine to fire. He said there is no current going through to the spark plug. Can anyone give me some advise or tell me someone who repairs windings. Thanks Stu Ruff
Mon May 07 2007
rhon3719 at yahoo dot com
DMW with Villiers Engine
1953-1956
Recently acquired a Villiers 7E motor w/4 speed gearbox trying to find its origin. The forward crankcase reads 660A. Roy Bacon's Villiers Singles and Twins shows the 659A belonging to a '55 Mk5 Motocross. Could this possibly be the engine for the 5S Trials model of that same year? Thanks, Ron Cubbage
Baltimore, Maryland USA
Villiers 7E engine 1
---
Tue Oct 03 2006
speckerella at aol dot com
dmw villiers twin enquiry
villirs twin 250 cc
Hello,
I was wandering if you could help to try and find a picture of a bike i once used to own. I know it was a dmw and was called a villiers twin, on your deemster image you mention this villiers twin however this doesn't represent the bike i had. The bike i used to own in 1964 had a square tank. It would be much appreciated if you could share information or images on this bike with me. Many Thanks James Edwards
England, SOT
---
Wed May 10 2006
rhburke at waitrose dot com
Racing Motorcycle
DMW Hornet
I am trying to find original technical specification especially spring rates for the front suspension.
Reading, England
---
Mon Jan 16 2006
dormac29 at cox.net
DMW
I own a DMW Hornet, frame #023. I would like to find a Paint Code for the DMW Blue. The bike was purchased in England in the 1990's and this photo is as it appeared then. Any other information on the DMW Hornet would be appreciated. If anyone has this information please contact me at: dormac29 at cox.net
-
There is an image of a duckegg blue 1966 Hornet here. which may be useful. --
DMW Blue Colour Code
I had seen that picture before. I also have pictures of the DMW Hornet at the 'National Museum' before the fire. My problem is in trying to match a colour from photographs. I got a small tin of touch-up paint in England many years ago but it was so old that I could not remix it so as to get a colour match. I am planning on restoring the Hornet. It is in relatively original trim but I am trying to get as much information as possible. There seems to be very little information available.
-

---
Sat Dec 17 2005
ronaldaltena at paradise.net.nz
DMW Deemster
Hi Im looking for a cast alloy wheel for my 1963 Deemster. [See below] Where to start? Also I think DMW were making Deemsters as early as 1961.

...................
My Deemster rebuild is going well. My greatest worry was replacing the damaged wheel,but I have modified a Zundapp Bella wheel. It is now nearly identical to DMW`s. They were so similar to start with I doubt it was a coincidence. I will send you pictures when the bike is complete. Could you remove my query regarding wheel wanted from your site as is now redundant.
Thanks for your help Ron Altena.
---
Thu Dec 01 2005
jallen at mortons.co.uk
DMW DOLOMITE
Hi there, I work for The Classic Motorcycle magazine. We have a feature on a late 50s DMW Dolomite and I am trying to find out if there are any DMW clubs or associations that are in existance.
If you have a query or information about DMW motorcycles please contact us
---