Eysink Motorcycles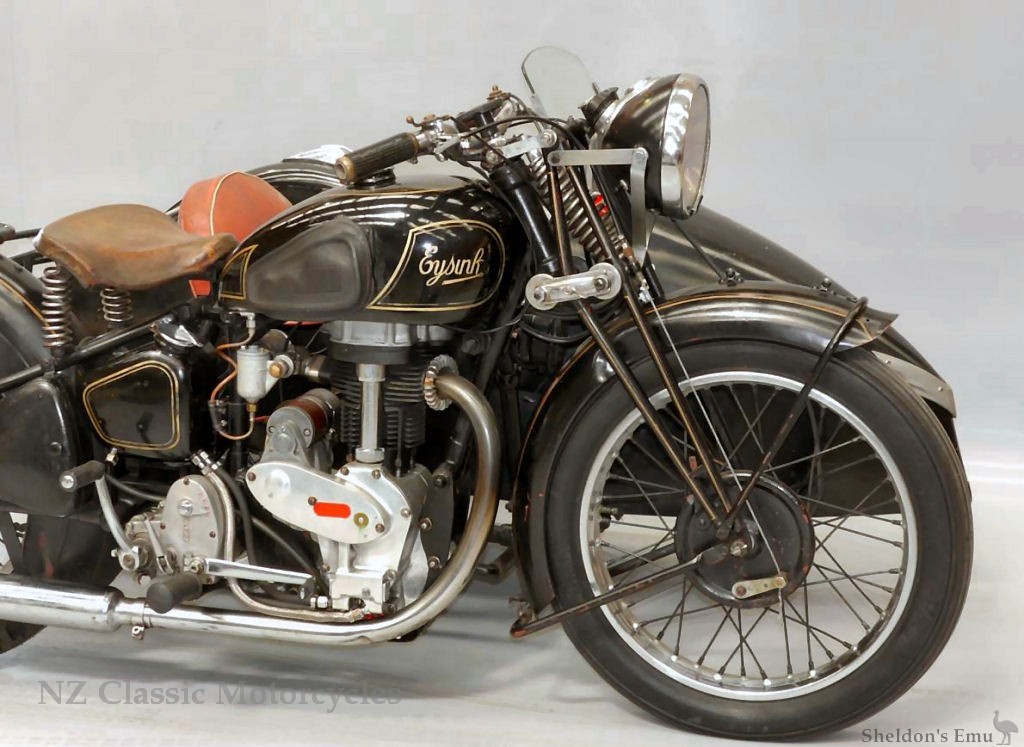 A Brief History of the Marque
The firm was established by DH Eysink at Amersfoort in 1886. His sons Menno and August built their first automobiles in 1897,[1] producing around 400 cars of two, four and six-cylinders until 1919 or 1920.
Motorcycle manufacture began in 1898 using single and v-twin engines mainly from Belgian suppliers Kelecom, Sarolea and Minerva.
From 1923 to 1927 they also made machines with 500cc boxer engines from the well-known British firm Coventry-Victor.
In the years preceding WWII, Eysink built two-strokes with Villiers engines and four-stroke-models of 250 cc to 500 cc with JAP and Python (Rudge) engines. They also employed powerplants from Blackburne, JLO, Matchless and New Hudson.
After the war they produced two-stroke machines up to 250cc, again with Villiers engines. It seems that the production of motorcycles halted in 1956,[2] with moped production continuing until at least 1965.
Eysink won the 125 cc Assen TT in 1946 and 1948, which was one year too early to be a Grand Prix victory.
Other successes include the Silver Vase at the 1931 International Six Days Trial, ridden by D.H. Eysink.[4]
See also Renata
---
Eysink Models include:
1903 2, 2 ¼ and 3hp models
1907 1 3/4hp model
1907 2hp, 2 ¼hp and 3hp models.
1914 3 h.p. single 365 c.c. - 2 ½ h.p. single 309 c.c - 3 ½ h.p. single 409 c.c. - 6 h.p. twin cylinder 732 c.c.
1916 Model 3/5hp
1920 4hp 427cc, 3 hp 365cc, 5 hp 539cc.
1934 Ladies 100cc
1937 Villiers twinport model
1938 Eysink Alpine Hunter (Alpenjager) high cam OHV 350cc JAP with plunger rear suspension.
1940 Koerier
1947 Enduro 125
1946-51 Renata Tandem Moped 60cc
1948 Jubileum 125cc
1951 Koerier 200cc Villiers
1952/53 Model 175cc
1953 Junior 98cc
1959 Credette
1965 Record 50 49cc Moped. Sports styling with dual seat.
Notes
1. Other sources indicate that the first automobiles were built in 1903.
2. Motorcycles likely built until 1954, see comment 2017 08 26
3. English literature refers to "Amersfoort Autocar and Motor Cycle Works".
4. There appear to have been two members of the family with the same name. DH Eysink, the company founder in 1886, and DH Eysink who won the ISDT in 1931.
Thanks to jan at roden.nl and stienicz at stud.uni-frankfurt.de.
See also "Eysink - Van fiets tot motorfiets. (From bicycle to motorcycle)" by Vincent van der Vinne, 2001, ISBN 90 6707 533 7. 400pp.
Eysink for 1908
Eysink for 1914
---
Eysink for 1916.
---
---
12-Oct-2020
frank_zeinstra at hotmail.com
Eysink mini 1973
Do you sell these Eysink logo's as stickers?
I want some for my moped Eysink mini 1973.
Frank Zeinstra
Nederland
Sorry, we don't sell decals.
---
Sat, 26 Aug 2017
motorwim at planet.nl
Eysink 125cc JLO engined Eysink
JLO engines were also used by Eysink. Eysink built motorcycles from 1900 till 1954. Wim Marijnis, President Dutch Eysink Club
Bill Marijnis
leidschendam Netherlands
---
Tue Nov 08 2016
rien.span at virtualogic.nl
eysink record
record sport
Love to see my new bought machine when i was a boy. Have still the small book with garanty page in it. an the date of buying was 3sept 1961 the dealer was Drogtrop in Beverwijk Netherland If someone likes a copy of one of the pages, feel free to ask
living 4 years in mid Portugal .
---
Mon Dec 31 2012
koldewijn AT telus.net
Looking for an Eysink
Eysink Motorcycle
Hello
I'm looking for information about any Eysink motorcycles for sale or of any other forums that may have additional information about them. Are there still many around? thank you. Greg
Vancouver, Canada
Posted in the Classic German Motorcycles forum
---
Tue Oct 02 2012
jackroos<at>ziggo.nl
https://cybermotorcycle.com/gallery/eysink/
Eysink 1937
I'm looking for years for that Eysink.
Wan's, i had one, when i was 19 years from my dad.
Will you sell this machine?
Alphen aan den Rijn, Nederland
---
Tue Sep 02 2008
barry.gosling at sky dot com
Eysink Renata Registration
I am buying a Eysink Renata but no one knows the years of manufacture. Is there somewhere I can give the details of serial numbers and find out the exact year Tahnk you
Barry Gosling
Cornwall, UK
---
Mon Nov 21 2005
harila at planet.nl
Hello,
I have a motor cycle and wants to sell it does somebody know home much i can ask for it?
Its an eysink
Gind recards
...................
Hallo,
Ik heb van mijn vader een oude eysink zie foto. nu wil ik graag weten zijn er hier nog veel van en is het verstandig om hem te verkopen en zo ja wat moet zo'n motor op brengen ik weet dat hij lopend in de schuur is gezet onder een deken dus zal er niets aan mankeren.
ik hoop op een antwoord alvst bedankt.
h vn der Groep

---
Sun Jun 12 2005
tim at bdg.centrin.net.id
Eysink
Hi Eysink People,
I have a bit of a problem, which I hope you can help me out with in your club.
I purchased this 1952-3 Eysink about three years ago for €600.00, or 6,000,000rp. A good buy I thought! The Villiers 175ccm motor went really well, (what can we expect from Norton!) but unfortunately, while riding about in West Java, Indonesia with it, I ended up at the bottom of a 2 meter ditch. It's a longish story, and I still hobble a bit and have whiplash problems due to that one!
The cause of it all was an extremely steep hill, a sharp turn which then progressed to a steeper gradient, and failing drum brakes in the front ( a piece of metal from the braking system got stuck between the shoe and the drum). Apart from that my good wife, who was riding in front of me, thought it kind to warn me of the up-coming danger and stopped in my line of attack (so to speak). I had no choice but to move to the right of the road, where I saw long grass growing, and 'ditch' the bike. Unknown to me that long grass covered a huge ditch, so I literally ditched it!!
The front forks were severely bent, tank dented, but the frame was still good, and I could see no option but to recondition it. That's when the real problems started!
I'm not too sure how many of these bikes are still running about (or even stored in someone's barn under some hay) in Holland, I know that at all the meets that I have been to I can't remember seeing one. Plenty of Sparta with the smaller 125ccm motor, but no Eysink. Even meets around Amersfort (Barneveld, Achterveld, Utrect, and so on) were fruitless.
I got in touch with some bloke somewhere in the south, but even though I continually hounded him for information he never returned a mail to me (not even to say sorry, he was to busy to deal with my menial problem with what could be considered as an extremely rare bike - In the last 3 years I have never seen one in the whole of Java).
So I started the restoration blind, I didn't (and still don't) know what they originally looked like! I don't even know what type it is! I can't find a manual or anything. After more than 3 years in restoration - I couldn't find the correct caberator - Here's what it looks like:
As you can see there are some pieces missing! The side case for a start, and there's some kind of attachments for something, which I gather is the battery case, behind the air filter. Here's a closer look:
You can also see that the chain guard and rear spring guards are missing. These lacking items are of little problem for me as I can remake them from pictures, but where are the pictures?? I certainly don't have any!
The lamp top is a bit of a problem too - have a look:
There are two holes! There's also a bunch of wires of all assorted colours and sizes! I take it, and it seems logical to conclude (though I know logic doesn't really come into it! And concluding something without any information is a bit stupid, to say the least!) that the large hole is for a speedometer, and the smaller hole is for the ignition and light switch (something like, I imagine, what was used on Norton bikes of the time - since the motor is Norton, what would be the reason for having different ignition?)
Now, the speedo is of some concern to me. I can't for the life of me work out how it is attached to the rear gadget at the rear wheel axle? There seems to be too many curves and bends in the cable for it to function correctly. How on earth is it connected?
So, if this wasn't enough, the next problem is that I can't find the decals, or the badges as may be the case. Here's a view of the tank for starters:
Now, I used my logic and conclusive methodology and came up with these decals:
Tank: The problem is the decal says Soest, and the brass emblem on the frame says Amersfort!
Could the tank decal be something like this?:
So, now I fear that I have taken all the space up on your website Eysink lovers.
Please, Please, PLEASE, if you have any information relating to this bike, perhaps a manual you can photocopy for me, or any ideas where I can get this info, please contact me at tim< at >bdg.centrin.net.id or continue this 'discussion' on your page, and then, perhaps, we will be able to see a bike like this 'thundering' around Amersfort in the future.
Tank you for your time and effort in solving my problem,
Tim Saywell,
Bukit Pakar Utara 68a,
Dago Atas,
Bandung 40135,
West Java,
Indonesia.

---
Date: Wed, 09 Feb 2005
subject: Eysink
Email: jan at roden.nl
message: Your site about Eysink contains a lot of errors, which is not bad at all, because there is not much written about the factory. Last year a book was publicised, called Eysink from bicycle to motorbike (it also includes car production and other Dutch brands, like Simplex, Sparta and such), it is written in Dutch. If you want I can make a sumarise of this book.
---
February 15, 2002
From 1953 till 1972 Family Eysink Produced Mopeds. Not normal one's but tandem mopeds. From 1953 till 1962 the mopeds called "Renata", the last 10 years "Eysink".
There are 3 kinds of tandem mopeds. One with a berini motor at the front-wheel (Model A), a standard model with the motor in the middle (a J.L.O. FM 48 E type) (model B) and last a luxe version of model B.
How does I know all this? I personally have an Renata tandem-Moped, and I contacted Dick Eysink himself a few years ago. He wrote me a letter back, including a folder. So if someone is interested in pictures of the mopeds, contact me... (sorry for my bad english...) greetings from The Netherlands...) Ivo -- W.I.d.Graaf at student.tue.nl

---
You are missing an important Dutch make from the past : EYSINK. This factory produced motorcycles from the early 30ies until the 50ies and even won the 125 Dutch TT with Dick Renooy end 40ies. During the 60ies they produced interesting mopeds -- Zwaal -- hobbimex at worldonline.nl
If you have a query about Eysink motorcycles or have information about these classic Dutch machines, please contact us
---