Hai Motorcycles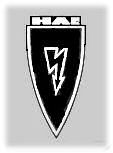 A Brief History of the Marque
Manufacturer: Bargmann & Co, Mauer bei Wien, Roseggergasse 7, Austria. 1938-1939 (possibly 1937-39)
The Bargmann company was established in Liesing near Vienna and then, in 1939, in Steyr.
The motorcycles were quite distinctive, having an aluminium alloy (silumin) frame housing a two-speed two-stroke engine of 100cc.
Among the most striking motorcycles of 1937-1938 was undoubtedly the Hai, which was presented at the Vienna Spring Fair of 1938. The brothers Theophil and Richard Bargmann had developed a new style of motorcycle.
The frame of Silumin (aluminium alloy) was cast with the fuel tank and steering head integral. This was fitted with a unit-construction two-speed two-stroke engine.
Prior to the war many such frames had been manufactured. In the type list limit of the occupying power, it was not included Type Hai. After the war, Hai machines were assembled under a different name.
Models: (just the one, apparently)
Hai (Shark)
Two-stroke single cylinder 100cc with two-speed gearbox.

Translation could be improved.
Sources: voz.co.at
N.B. One of these machines has been displayed at Technisches Museum Wien.