Maino Motorcycles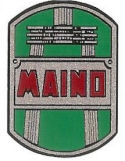 A Brief History of the Marque
Manufactured 1902-1956
Maino of Italy built limited numbers of motorcycles between 1902 and 1956, with several periods of inactivity. Early machines had Souverain 2.25hp engines from Switzerland, and they then built their own until about 1910. After 1945, Giovanni Maino built 38cc Mosquito powered mopeds, and lightweights with NSU and Sachs engines of 98cc to 147cc.
The firm was established in Alessandria in 1896 and is best known for its bicycles.
Sources: Tragatsch, et al.

---
10-Aug-21
dazzi.checco at libero.it
Unkonw Engine by Sachs 150cc
Salutations. I have a Maino motorcycle of which I do not know the model, but I can see to find information. The engine is a 150cc Sachs, from what I have seen. They asked me to buy it, but I can't give it a value. I don't know if I have a rare pearl or a scrap on my hands. Can you help me?
FRANCESCO DAZZI
Italia
Cannot offer opinion without seeing an image. (If you sent one, it did not arrive.) See the page on Vintage Motorcycle Prices
---
Mon, 19 Feb 2018
bushman at zanlink.com
Maino Super Sport ...1960s?

Hi there, I am based in Holland and restore M72 motorcycles. I have just found your site via an Italian friend in Milan. My story is as follows: I couldn't resist buying this pretty cool looking bike, a Maino super sport Motorcycle in complete and original condition. It's been stored for over 25 years and the previous owner who had bought it in a job lot of 250 bikes, so he has no further information. I haven't had any luck finding any information about Maino motorcycles except on the bicycles. So, I am looking for any information about the bikes, history etc? And of course, any information about my bike? year? CC? etc as I don't have the original log book. It has a frame number, but I am in UK at present, so can supply that later. I have added some photos for now. the bike is now registered in Holland and awaiting my restoration and will be for sale by end of this year. Kind regards, Ian
Ian
Ede Netherlands

Maino-1960c-Super-Sport-Ede-01.jpg posted to Comments
---
Mon Apr 30 2012
urs.mueller at kubo.ch
Motorbike restored
50 ccm Maino 50 ccm
Some pictures for your site from my restored Maino 50 ccm. It has been saved from scrapping 3 years ago.
So far I havent found a Picture of a equal Bike.
Would be nice to contact with other owners of a Maino.
Zürich, Switzerland
---
Sun Feb 26 2006
maino at wixx dot com
could you please tell me where i could purchase a poster or advertisment for the Maino Motorcycle company. thank you, sincerely John Maino USA
Green Bay, Wisconsin If you have a query about Maino motorcycles please contact us
---