MEBEA Motorcycles and Light Vehicles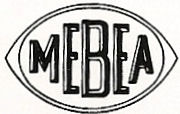 A Brief History of the Marque
Tsimonidis & Vittorias, founded in 1954, was an importer and producer of motorcycles and three-wheelers.
The firm produced motorcycles from 1957 in two- and three-wheel versions, powered by Rex engines and, from 1960, Zundapp. The motorcycles carried the logo of the engine manufacturer.
After a merger in 1960 the company was reorganized as MEBEA and it grew to be a significant Greek company with two factories in the north of Athens. Progressively its production included light trucks, passenger automobiles, motorcycle engines, agricultural machinery and bicycles.
The initials stand for Messogiakai Epiheiriseis Biomihanias, Emporiou kai Antiprosopeion (Mediterranean Enterprises for Industry, Commerce and Representations).
The company was disolved in 1983.
MEBEA Models
The mopeds and motorcycles (including the Sport, Komet, Junior, Apollon and other models mostly used Zundapp engines as well as Minarelli engines built under license at the MEBEA factory.
MEBEA ST150 (1970)
MEBEA Hermes (1970). Used by the Hellenic Postal Service.
MEBEA Bingo (1972). Built for Southeast Asia.
MEBEA 206 (1977). A Greek workhorse.
MEBEA Fox (1979). Multi-purpose.
Light three-wheeler trucks (motorcycle steering and controls)
Three-wheeler trucks (automobile steering and controls)
Light three-wheeler passenger vehicles (motorcycle steering and controls)
Passenger automobiles
Sources: Labros Skartis
---
Fri Apr 24 2015
john at droupin.plus.com
import
mebea st150
I am looking for a classic mebea st150.
isle of wight, uk

If you have a query or information about MEBEA please contact us