Olympia Mopeds, France
A Brief History of the Marque
These may well be two separate firms, given that the models are many decades apart.
Bourdache writes that there was a relationship with Lurquin-Coudert in 1907/1908. Olympia built an engine of 400cc (75 x 90mm) prior to WWI. Yesterdays NL notes that from 1906 "L-C engines were used in other makes such as Olympia and Gloria."
The marque reappeared at the Paris Salon in 1950: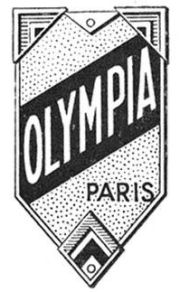 Olympia Baby. Ets F. Durif, 16 & 18, Rue Montgallet, Paris. A moped powered by a 45cc engine was presented at the 1950 Salon de Paris.
Sources:

1. Cyclememory.org
2. Bourdache Vol. 1, pp 279, 284, 297, 330.
3. VELO Moteurs No 9 Octobre 1950 (Belgium)
4. Moped SE
5. Yesterdays NL
---
If you have a query about these classic French mopeds, please
contact us