Raymo Motorcycles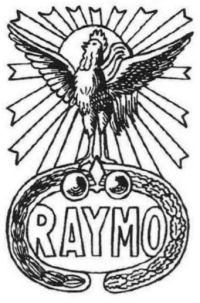 A Brief History of the Marque
Noël Desmailles established a bicycle business at Bourg en Bresse, l'Ain, shortly after WWI and was joined by his brother Léon in 1922. The first motorised bicycles appeared in November 1923, presented at the 18th Salon de L'Automobile as the Raymonette. In 1928 the firm began assembling motorcycles using engines from Moser of 175 and 250cc, Voisin 350cc and Blackburne 350cc. All were four-strokes.
Production ceased in 1931, and early in 1933 the factory and remaining stocks were sold off.
Sources: yesterdays.nl, Le Motocyclettiste N° 60 1990.
---