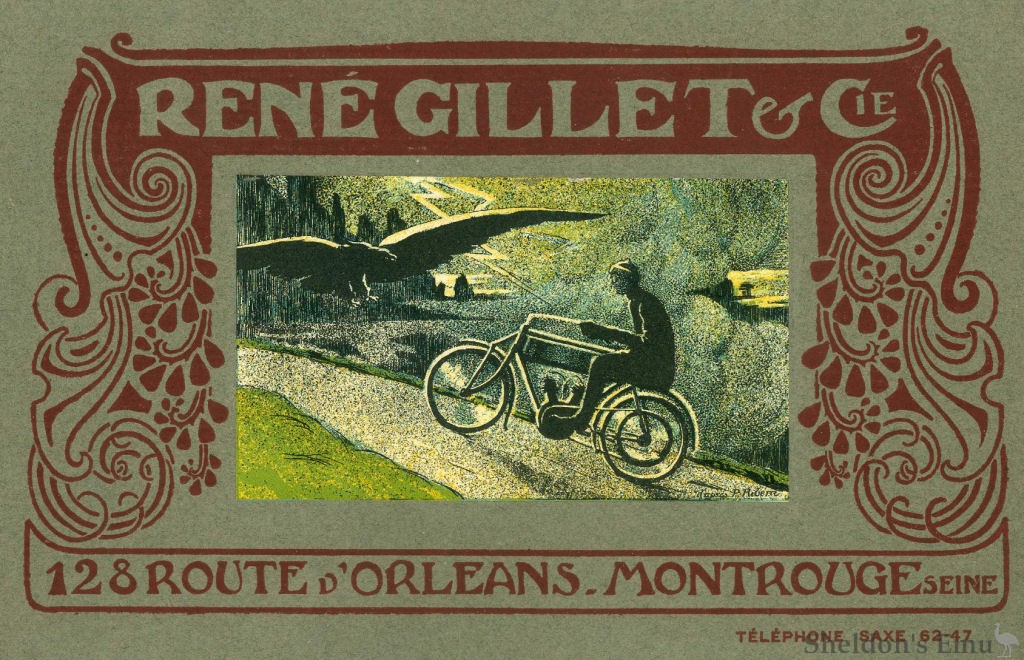 René Gillet Motorcycles
Historical Notes on the Marque
Manufactured: 1898-1957
Sté René Gillet & Cie
126 route d'Orléans
Montrouge (Seine)
René Gillet built motorcycles between 1897 and 1957.
His first engines were attached bicycle-fashion above the front wheel, and by the turn of the century he was building machines with the engine located on the axis of the pedal crank, in what soon became the norm. He was the first to do so.
A single-cylinder motor bicycle was presented at the 1902 Paris Salon and the first motor bicycles entered series production that year. By 1904 he was producing 45° V-twins in a new workshop on Route d'Orlean in Montrouge.
By 1912 the machines had parallelogram front forks. Orders for V-twins for the French army arrived as the dark clouds gathered.
The Interwar Years
The side-valve V twin 750cc G and 1000cc J models were used extensively by the French army and police in the 1920s and 30s; it was the machine of choice due to its reliability and durability. The engines for these and most other models were of their own design and manufacture. Rear suspension was introduced in 1929.
Many of the V-twins were equipped with sidecars, particularly Bernardet with whom they had an association.
The company was absorbed by Peugeot in 1955 and production of René Gillet motorcycles ceased in 1958.
Models include:
Radial Four 1911, 2600cc
1922 750cc Model G V-twin sidevalve
1928 Type H 350cc SV single, 3 speed
1924-1930 6cv 45° 752cc V-twin
1930 350cc & 500cc singles, 750cc & 1000cc V-twins
1935 Type J 1000cc V-twin
1948 750cc & 1000cc V-twins, 125cc 2T velomoteurs
1950 125cc Twin-port 2T
1953 Type A.51 250cc 2T
1953 Type VI 125cc 4 speed
1954 Type VLS 125cc 2T 4 speed
1955 Type V.2 125cc 2T Twin-port
1956 A.545 two-stroke 250cc
1956 C.5.N. 48cc Standard, Luxe & Super-Luxe
c1956 VB two-stroke 125cc
Competition
1912 Grand Prix de France, Fontainebleau, 1st place 1000cc Sidecar class
1913 Grand Prix de France, Fontainebleau, 1st place 1000cc Sidecar class
1914 Grand Prix de France, Fontainebleau, 1st place 750cc Sidecar class
Notes. 1. The Montrose factory was located just a few hundred metres from the Stade Buffalo.
Sources: J Roquecave, gillet.blog.lemonde.fr, et al.
There is a wonderful history of René Gillet and his wife, who plays an important role in the story, here: rene-gillet-un-homme-une-marque
---
05-Mar-2019
enquiries at abcooke.co.uk
1939 Rene Gillet g750
could anyone help with a clutch diagram, In English if possible if not translated. I can't get a good clutch action on the bike, it drags and slips. Any help would be appreciated as I can't use the bike. Many thanks Andy Cooke UK
Andrew Cooke
Isle of Wight UK
---
20-Feb-2019
raycraddock at outlook.com
1950 rene gillet 125cc
Hi I need part to complete my rene I have a carb but has part missing its a amac 065R3 tense numbers are stamped on the carb. Missing a foot peg/missing is the decompression fitting/back light / the wiring loom a.apart from missing parts its a great looking little bike.
It would be great if you could help to complete my rene.
Yours sincerely
dougas craddock
u.k.
Rene-Gillet-1950-125-DCr images posted to Comments.
---
Thu Jul 28 2011
dlangmade<at>mfmcadot com
Rene Gillet
750 cc 750 cc
restoring two rene gillet 750's one is a 1934 and the other is a 1940. Looking for parts, send photos and price
Phoenix, AZ
---
Tue Nov 23 2010
czimmerman<at>xplornetdot com
1907 Rene Gillet
Rene Gillet 500cc
I have a new e-mail address
---
Sun Apr 09 2006
woxer at gavle.to
rene gillete
1947? 150cc
wish to get some info about this mc. My father bought it and picked it appart. so now i maybe if I find some time would pick it togheter. But i don't know so much about it. Is there some one some knows more about it ? Some pictures maybe?
Gavle.Sweden
---
Sat Mar 04 2006
ReneGillet at aol dot com
motos René-Gillet
bonjour , je souhaiterai que vous mettiez vos données sur la marque à jour , je peux vous fournir ces données ;
Mulhouse -FR
Translation: hello, I will wish that you put your data on the brand to day, I can furnish you these data
---
August 3, 2002
I just got hold of a bike that looks like it was used in the war. The only thing I can see is the name "Rene Gillet " on the tank and trans. cover. Where can I get some info on these things? It's a V-Twin engine like an old 30-50 Harley
Thank you -- Jim Bailey -- bailyglide at aol dot com
---
October 23, 2001
Hello Folks.
Just to let you know,I have a 1907 rene Gillet. -- Cliff Zimmerman -- zimmerman at kwic dot com
---
From: Schouwer [mail-to:Schouwer at t-online.de]
Sent: Thursday, July 06, 2000 4:37 PM
To: Sheldon Aubut
Subject: AW: Rene Guiller
Hi Sheldon, here's the translation. I found there was a brand "Rene Gillet". Maybe "Guiller" is not correct!?!
Hartmut
Since 10 years I'm the owner of a "Rene Guiller G 90" with 175cc A.M.C. engine. I couldn?t find any information (in literature, museums and parts markets) or contacts to other owners. Any information or contacts would be appreciated.
I couldn't find "Rene Guiller" or the former name "Guiller" in your list. Please add this brand and my request.
Best regards
Dirk Wirtz
--Ursprüngliche Nachricht--
Von: Sheldon Aubut [mail-to:biker at cwizard dot com ]
Gesendet am: Dienstag, 4. Juli 2000 13:46
An: Hartmut Schouwer
Betreff: FW: Rene Guiller

Hartmut,
Can you translate this for me? I tried BabelFish but it gave such a poor translation on this that I wasn't sure of it all. On my list of French manufacturers there is a "Rene Gillet" but it sounds like he is saying that his bike says "Rene Guller". I wonder if I might have it spelled wrong?
Sheldon T. Aubut
--Original Message--
From: wirtz [mail-to:Dirk.Wirtz at t-online.de]
Sent: Tuesday, July 04, 2000 7:49 AM
To: biker at cwizard dot com
Subject: Rene Guiller
ich besitze seit ca 10 jahren eine " rene guiller g 90 " mit 175ccm a.m.c motor. leider habe ich bis heute weder in einschlägiger literatur oder in museen oder auf märkten informationen bekommen, noch weitere besitzer kennengelernt. über informationen oder kontakte währe ich sehr dankbar.
da ich auch in der hiesigen auflistung weder den firmennamen " rene Guiller " noch den davor benutzte "guiller " finde bitte ich um eintragung des Motorradherstellers und aufnahme meiner such-mail.
mit freundlichen grüssen
dirk wirtz
---
Looks like this might be a club in France. If anyone has more information please contact us
le club René Gillet: 4 rue vieille - 80270 Bettencourt-Riviere - tel: 0322319193
If you have a query or information about Rene Gillet motorcycles please contact us
---