Rhonson Mopeds
A Brief History of the Marque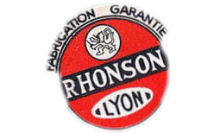 Manufactured by Cycles Rhonson
195 Avenue Félix-Faure
Lyon
The brand name is a contraction of the names of the two rivers which meet at Lyon, Rhône and Saone.
After WWII Rhonson became part of the VAP group, joining ABG, Alcyon, Armor, La Française Diamant, Gentil, Labor, Lucer and Thomann. Many of the marques shared the same components, and some models were marketed with the badge and little else changed under different brands.
Models include:

N° 1, VAP 49.9cc two-stroke
1955 3 speed ABG
1955 NSU 98cc, N° 15
1955 V.R. 98, N° 17
1955 VAP 55 Grand Luxe N° 8
1955 VAP B Monovitesse N° 4 48cc (N° 4 bis with telescopic forks)
1955 VAP G Grand Luxe 2 Vitesse N° 5 (as per N° 4 but 2 speed)
1955 Mistral 48cc N° 10 and N° bis
1957 Villiers 98cc N° 17
1957 ABG VAP 110cc N° 16 (also available with NSU or Villiers 100cc engine)
1958 N° 16, 110cc
1958-1959 N° 16. TER 110cc
Sources: Cyclememory.org, period advertisements.
Sun Jun 14 2009
fmooneyhamaol.com
Rhonson moped
I have a 1950's Rhonson moped. It is in excellent original, unrestored condition and I am looking to sell it. Does anyone know the value?sell it.
California
---