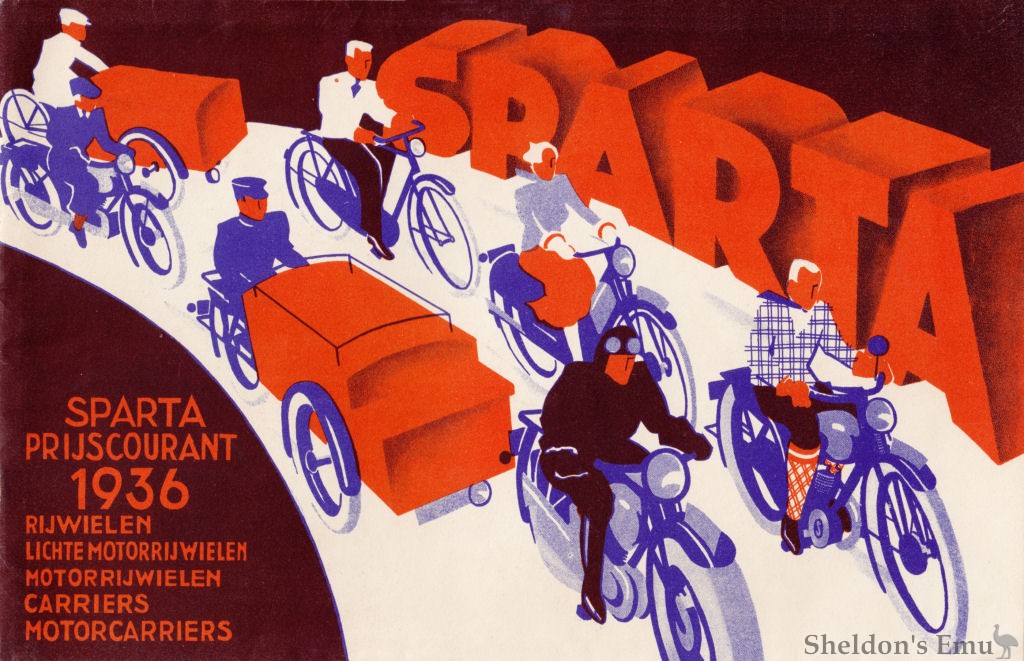 Sparta Motorcycles & Mopeds
A Brief History of the Marque
Established in Apeldoorn as a bicycle factory named Verbeek & Schakel in 1917, the company changed its name to Sparta and produced their first autocycles of that name in 1931 using Sachs 74cc and 98cc engines. In 1934 motorcycles "sans pedale" were introduced using Sachs engines, and additionally Villiers 98cc 2-speed Midget engines. During the 1930s they built numerous motorcycles using Villiers engines of 148cc and 200cc, many of which were delivery vehicles for bakers, milkmen and the like; JLO powered machines were added to the range towards the end of the thirties, and by 1939 Villiers were no longer available. Limited production continued until 1942 using JLO and Sachs engines.
Production resumed in 1945, initially with German engines and then with Villiers 9D 125cc twostrokes. 1949 saw the introduction of motorcycles fitted with telescopic front forks and plunger rear suspenstion, powered by Villiers 125cc 10D and 200cc 6E blocks. Victoria 250cc power units were introduced in 1951 - these were the same engines which powered the Victoria KR25. A rather nice 98cc Villiers powered scooter was built between 1953 and 1957 along with the 1956 NL200 Villiers 200cc ( 59 mm x 72 mm). There was also a 250cc JLO twin with rear suspension and deeply valanced guards.
Production of motorcycles ceased in 1965 and that of mopeds in 1982.
The Spartamet was an autocycle with a Sachs two-stroke engine built from 1985 to ca. 1999 when the Sachs company changed hands and the engine supply became problematical. Peak production was around 20,000 per annum. A new version was released in 2013 with an electric motor, and was withdrawn in 2015.
Sparta Models include:
1932 two-stroke Sachs 74 and 98cc
1935 98cc Sachs
1939 motorcycles, mopeds and transporters
1955-57 SL250 two-stroke twin-port
1957 GB50 moped
MA 50 - 1958-1959
Tour Moped - 1964-1971
SE 50 - 1965
1966-69 Spartamatic
1962 GF50 SS dual seat, sans pedals.
1963 GG50 Sport dual seat, sans pedals.
1964 GH50 Grand Sport, JLO 49cc engine. Moped.
Buddy Mofa - 1973-1979
1973-78 Funny Mini
1975 Easy Mofa
Sport - 1977
Happy - 1974-80
Lucky Mofa - 1975-79
Rocky
1972 Spartamatic TVA
Sources: ig-jlo-twin.eu, motomuseum-hostalek.cz, Motorpaul NL, et al.
---
---
01-Feb-2021
franckrebecca59 at aol.com
sparta 3V
bonjour je souhaite acheter un sparta 3v mais il me manque un certificat de conformite merci de bien vouloir m'aider cordialement
Hello I want to buy a 3v sparta but I am missing a certificate of conformity thank you kindly help me cordially
FRANCK ADRIAENSSENS
France
---
02-Mar-2019
lejehan313 at gmail.com
Sparta 125cc 1930's JLO engine
I have a Sparta 125cc which is in good running order, which I am thinking of selling. Would you be able to give me an idea of value and if you might know of anyone which might be interested.
Frank Le Jehan
Jersey Channel Islands
---
04-Aug-2018
1980, petrol.
Hello, I inherited my PutPut about 5 years ago and has done great service. 2 days ago she had a flat rear tyre and went to fix it today and noticed that part of the rim had bent. Then noticed that most of the rim has cracks in it. So I am looking for a replacement. I can send more details later and photographs if needed.
Lisa
Targovishte, Bulgaria.
---
Fri Aug 12 2016
olayino at gmail.com
Sparta buddy engine cover
sparta buddy 126612
I need a left engine cover, and filter assembly.
Georgia (GA)
---
Fri May 20 2016
bondenesn at gmail.com
Serial number
Sparta 1054(?)
I i got a "svecia" labeled sparta 200cc w villiers 6E engine. I have not got any label at the steering head. Where do i find the frame /serial nr? I can not sugest to find it..
Oskarshamn. Sweden
---
Sun Apr 17 2016
JMR at ReynoldsCo.net
1980 Sparta Buddy
Sparta Buddy
I have a 1980 Sparta Buddy that I think needs a condenser. It only has 850 miles . . . runs for about 5 min and then no fire. Do you know where I can get a condenser and maybe instruction on installing? Thanks, John
Rogersville, Missouri
---
Wed Apr 29 2015
justintje32 at hotmail.com
Sparta s50 jlo
Sparta s50
Hi,

I have a sparta, but i dont know exactly what kind of model it is.
here are some photo's
The seat is also included, do you know what this moped is worth?

Best regards,

Justin Louter
Holland

Sparta S50 JLO
---
Sun Feb 22 2015
the_real_mutineer at hotmail.com
sparta motor for sold
sparta 1955
hello
I have a 1955 model sparta motorcycle for sale
---
Sat May 10 2014
Stefan-Kock at gmx.net

Sparta Villiers
Hallo!
Haben Sie einen Tachoantrieb,der am Hinterrad verbaut ist,fur eine Sparta Villiers,Bj.1951?
MfG:
Stefan Kock
An image was included but was not clear enough for publication. Ed.
---
Sat Sep 07 2013
kevin.p.williams2<at>us.army.mil
parts list
1977 sparta ser# 111168
looking for a parts manual, need to know spark plug and pedal chain
delmar, new york
---
Mon Dec 03 2012
degsmac1<at>hotmail.co.uk
sparta moped
gb50 jlo 49cc
sir,i have a sparta 49cc GB50 i am awaiting log book from dvla could you please shed any light on it or knowlegable sources please,i am in the process of rebuilding any any info would be very helpful,thanks in advance
Merseyside
---
Sun Sep 30 2012
kcentola<at>aol.com
1978 Sparta Moped
Moped deluxe
looking for any information, please
Louisiana, USA
---
Sat Jul 07 2012
zephyr58<at>hotmail.co.uk
sparta rabbit
sparta rabbit, 30cc 30cc
I need a back wheel for a 30cc sparta rabbit, can you help, thank you.
norfolk
---
Mon Oct 10 2011
hero.meents<at>googlemaildot com
Sparta
Sport Sparta Sport from 1966
I have a Sparta Sport moped from 1966 to sell. Nearly complete.
Location: Nothern Germany,
26427 Esens
---
Tue Sep 27 2011
kelenburg<at>crgelectricdot com
value of motorcycle
Sparta 1957 SL250
Also, want to know USA sources for parts.
odessa, tx
---
Wed Jul 27 2011
alberto<at>electrochips.com
bike
sparta motor sachs 301a
Hello
I need a carburator to sparta with motor sachs 301a or parts to repair it like the cover
spain
---
Thu Jul 14 2011
dsmith944<at>insightbb.com
sparta scooter
Sparta stringray
I have sparta Stingray scooter that Iam restoring. Need to know what year it was manftg. Serial number on the frame is 606735. Any infor would be great.
Jasper, Indiana
---
Sun May 29 2011
jpmd22<at>cox.net
1955 Sparta 250 Motorcycle
Sparta 250
I know the location of a 1955 Sparta 250 Motorcycle. I am trying to determine just how rare they are, want would be the cost to restore (100% original at this point) and if there are parts still available.
FL
---
Mon Mar 07 2011
komix957<at>hotmaildot com
carburetor
1992 (30 c.c. bing (sparta sachs)
hello, I need a new carburetor for bicycles.how much the caburetor? thanks you
granada (spain)
---
Mon Feb 15 2010
peterjpegler at hotmail.co.uk
sparta engined powered bike
sparta 32cc
where csan i buy one of these bikes with or with out electric start please
bristol uk
---
Thu Jan 14 2010
ol at minmail.net
SPARTA 200cc 1951
A friend has a 1951 Sparta 200 cc motorbike, now undergoing restoration. Owner needs contacts for spares and technical information and dokumentation
Stockholm, Sweden
---
Wed Apr 15 2009
kneedfultings at yahoo.co.uk
SPARTA
Hiya, anybody out there know which this is and does anybody like to save it complete with two spare wheels
---
Sun Feb 22 2009
gwunderground<AT>verizon.net
looking fuel valve
sparta buddy
Not sure what year it is .it in excellent condition.the fuel valve is leaking.need new one.
---
Thu Jan 22 2009
afrenette at verizon.net
need to find a carbartor repair kit or a new carb
sparta buddy 1977 buddy
looking for a carbrator repair kit or a new carbrator for my 1977 sparta buddy the carbrator leaks also a speedodomer cable
coventry ri usa
English
---
Sun Nov 02 2008
marselik at hotmail.co.uk
Sparta moped/motorbike?
Sparta Royal Baby
Hello,
we own Sparta moped/motorbike with Royal Baby printed on the side. It is in quite bad conditions and we cant house it anymore and we looking for some enthusiast/lover to restore it. Any help?
North Wales, UK
---
Fri Oct 31 2008
danthepastor at aoldot com
looking for a part
Sparta Buddy
Looking for the rear wheel assembly. purchase date: 11-17-76
U.S.A.
---
Wed Aug 20 2008
michaelshirley at clara.co.uk
Choke Slide (Plastic) Wanted
Sparta 32cc Chassis No 364626 First Reg 1989
I am looking to purchase the plastic cold start slide for this model
Weymouth. Dorset
---
Sat Aug 09 2008
crazyeds at yahoodot com
carb
sparta sachs
looking for a carb
usa
---
Tue Mar 25 2008
simon.duerden at asmldot com
Sparta MC
Sparta 1932 model
I would like to trace the date etc. of the attached. The frame number is M678 and the 97/98cc Sachs motor number is 369974. the numberplate is a 1932 Gelderland number.

---
Thu Feb 14 2008
TwistedWus at gmaildot com
Sparta - JLO MM540
JLO 047785
Do you have more information specifly about this Model Type. And we would also like to contact some-one regarding parts, specifly the needle for the slide (carb - Bino) and chain size for the drive.
New Zealand
---
Thu Nov 08 2007
nomercy at wol.co.za
SPARTA SPARES
I have a Sparta scooter with frame No rt 333, and engine No 898A6783, for which I require any information that is availble. I realy need a clutch operating assemble and a carburette, but any information will be gratefully accepted. Thanks.
Johannesbueg South Africa
---
Fri Jul 13 2007
rctrapper at grovecitydot com
Motor bike
Sparta
Hello,
I have acquired a sparta motor bike. It looks to be a 40's to 50's model. It has an engine case marked JLO. Where can I find information on this bike?
Thanks,
bob
Grove City, Ohio
---
Tue Jul 10 2007
golflady3 at aoldot com
repair manual
sparta id114236, 49cc
looking for repair manual i am unable to get any spark to the distributer so moped will start, would appreciate any help you could give, also if there is a dealer someplace in the melborne fla area or orlando area. thank you...........
---
Mon Dec 25 2006
countrymensa at hotmaildot com
1947 Sparta Motorcycle?
Fitchel & Sachs AG Sachs 504/1A
I think I have a 1947 Sparta Motorcycle from Fitchel and Sachs. Can anyone confirm this and tell me any info on it? Thanks!
Las Vegas
Judging by the engine type and suspension, I'd say the machine was made much later than that, probably mid-70s. Ed.

---
Tue Oct 17 2006
l.bianchi at mchsidot com
Sparta Motor Driven Cycle
Ind. # 114855 August 1977
Looking for parts, Ignition switch. speedomiter cable, shut off valve for gas tank.
Illinois, USA
---
Fri Aug 04 2006
seakit3 at optonline.net
1980 sparta moped scooter
1980 ID 122390
Looking for Left Pedal, carburator, and gas valve
NY United States
---
Sun Jul 30 2006
nomercy at wol.co.za
search for parts
sparta scooter
Sir:
Ihave a sparta scooter eng No 898A6783,
frame No R1333. I would realy appricate any help in finding a carburretta, clutch side engine cover, and a english manuel for.
---
Sat Jul 29 2006
inch26 at mail.putin
Sparta's contacts
Can you inform me e-mail of the producer these bicycles with engines? / Best regards, Yura Kopyl
Ukraine
---
Sun May 07 2006
tommybrown1951 at yahoodot com
finding a kit or a fuel valve at tank
1979 moped sparta
can you help me find a repair kit or any info on the repair of that valve
arkansas
---
Thu Dec 29 2005
shelly at filips.org
website for sparta
I have a sparta motorized bicycle with two stroke engine... I have a manual but its in dutch and i can't read dutch.. If someone could tell me whta the website is for Sparta / Sachs I would be greatly appreciative!
---
Sat Dec 17 2005
jevanmontfoort at oneteldot com
Sparta Villiers
I had a Sparta bike with 125cc Villiers engine of which I still have the manual.
Any interest for a bike museum?
reply dutch or english
Joop van Montfoort
See Forums for downloads.
---
Mon Nov 21 2005
rodstowe at optusnet.com.au
sparta motorized bike brakes
I own a sparta bike with a sachs two stroke motor. I am in Australia and have been having trouble with the front drum brake. Every time I put it in for a service he tells me that he cant do anything and I am worried that I will have a crash, the back brake seems fine. Please help
---
Mon May 16 2005
lejehan at supanetdot com
SPARTA 125cc JLO 1940 approx.
Any information at all on the above motorcycyle would be appreciated espcially the engine as I would like to rebuild it.
---
Thu Apr 14 2005
antica29 at hotmaildot com
Sparta 1938 (made in HOLLAND)
sir, were can find persons who's collecting 1938 Sparta bike. kindly contact us at this add below
---
February 11, 2002
Halo dear motor friends.
A read al your questions on the site and i have a lot of information about the sparta motor cycle. My name is Piet Dam. And I'm from HOLLAND where the SPARTA is came from. A send this information as soon as possible to everybody on the site. This take some time because i have to translate it in English I have a old Dutch motor cycle from 1949. It is also coming from Holland and it is a HULSMANN and it has also a VILLIERS engine type 12D. sorry for my English, it is not so good.
See you soon
Piet Dam. -- pietdam at home.nl
---
February 3, 2002
Dear all,
I am owner of an 1955 Sparta with an ILO 250ccm engine (15,1 PS). My aim is to restore it but I don't have any information concerning colours, quantities, literatures, sales-brochures .... -- best regards -- Guenter Schmidt -- guenter.schmidt.do at t-online.de
---
December 25, 2001
Hi,
Regarding the Sparta, I have far more questions than answers.
My connection to that motorcycle goes back to the 1940's, when I was a child in the Netherlands, during the Second World War.
I remember that my father had a small motorcycle, one which he often had to push to get started. While we were under German occupation, the motorcycle disappeared, but showed up again soon after liberation, when my dad was involved in the POD, a mopping up outfit, and he would ride the machine back and forth to Westerbork and Bijlen. I learned much later that, to avoid confiscation, Dad had dismantled the Sparta, and hid the parts behind a fake wall in the barn.
I remember seeing him completely decked out in black leather, including a leather headpiece, boots and gloves. I remember the unique aroma of the exhaust, the distinct sound of the small engine. One day he came home looking a bit askew. He told us he had gone off the road when a flock of chickens got in his way as he was cornering. The cycle was uninjured and had carried Dad safely home. I rode the back of that Sparta on many occasion. I have to believe we sat very close together on that small machine, because after one trip I suffered from a wry neck presumably from not being able to maneuver my head from side to side while clinging to the back of my dad's leather jacket.
My uncle told me recently that during the latter years of the War, he once came upon a jerry can full of petrol which passing German soldiers had left along the side of the road after they had bivouacked there during the previous night. It was a gift from heaven, for gasoline was simply unavailable during those extreme times, and allowed Dad to get back on the road again.
The only physical connection I have to that Sparta of my memories is a paper back manual, written in Dutch, describing the workings and maintenance of small two stroke motorcycles, presumably used by my dad. I know that after the war he exchanged the Sparta for a slightly larger, army-green colored motorcycle, probably a DKW. He sold that machine upon immigrating to the USA in 1948.
My motorcycle world consists of a '99 HD Road King, and a 2001 Royal Enfield. I would very much like to learn more about the Sparta, for obvious reasons. What is their availability, parts supply, clubs, etc. Any information would be greatly treasured.
Hank -- ottens at novagatedot com
---
November 20, 2001
I own a '39 Sparta, which I have completely restored. I would like to find out as much info on it's history that I can. Anyone with info please contact me. -- Mark Delaney -- kakmdelaney at sympatico.ca
---
January 3, 2001
What happens with sparta?????? Is it so so so so rare that anybody has 'nt any information????? I have a sparta 1954 with villiers engine and I can't find any info in all the internet universe!! CARLOS -- clembo at adinet.com.uy -- Uruguay South America
---
November 11, 2000
For info about Sparta motorcycles (no mopeds) sparta.mc at planet.nl
greetings, Hans and Nancy -- sparta.mc at planet.nl
---
July 1, 2000
I have a Sparta motorcycle but don't have any info at all on the bike . I would love some help. The model is called "buddy". Any info what so ever would be appreciated. -- Thanks ... KBeyaco at aoldot com
---
I still miss the most famous Dutch brand: Sparta.
Like Batavus a bicycle-factory today.
They made motorcycles until halfway the fifties, the models were not unlike Jawa or DKW motorcycles, with JLO and Villiers(?) 2 stroke engines. Because they were not really spectacular, little has been preserved. I don't know a site about them, but now and then you can see them at oldtimer-meetings. The last time I saw one was at my Guzzi-dealer in Amsterdam
-- Groetjes, Alexander alexz at dds.nl
---
August 19, 1999
Dear sir,
I already tried to find website of "Sparta" motorcycle, but have no result. I have 2 (two) very rare SPARTA 1953 with Villiers engine, condition both of them 100% original and nice looking. I was riding regularly on Sunday, and hopefully there is another one in the world still riding on the street.
My name : A. Iman Santoso
Address : Graha Paramita 1st floor
Jl. Denpasar Raya Blok D-2 Kav.8 Kuningan
Jakarta 12940 Indonesia
E-mail : iman at transavia.co.id
---
If you have a query about Sparta motorcycles or have information about these classic Dutch machines, please
contact us
---