The Stitt Norek BSA
As a youth I saw a photo of my hero Martin Lampkin riding his beautiful BSA 250 in right hand turn on the Devil's Staircase section at the Scottish SDT - for me, it was just stunning - the future trials World Champion on the best looking trials bike I'd ever seen. It was love at first sight, and became my dream bike.
I followed the BSA riders, collecting photos of the Lampkin brothers, Jeff Smith, Jim Sandiford, Scott Ellis, Dave Rowland, and MX stars Keith Hickman, John Banks, Vic Eastwood...
A few years ago I acquired a B40 engine and began planning to build a Trials Special with a British handcrafted frame.
I had sketched my little dreambike several times over the years, and now began a search for UK frame builders who could perhaps approach the project. The works of Whitlock, Cheney, Mojo, Mead, Faber, Drayton, Wasp and others were examined - some were doing only VMX kits so new jigs would be required making the project very costly.
By pure chance I unearthed a photo of young fellow with the MX frame he had built. With a bit more digging I found his brother-in-law, who put me in touch.
I posed several questions and received a prompt reply - Yes! He told me he could build me a trials frame to fit a B40 engine because, as luck would have it, he wanted to build one for his own B40 engine. [2]
We met, and I took a liking to the chap welding frames in his cellar, and placed an order. Mine would be frame Nr 14.
As he was ordering tubing I made some sketches of the seat assembly and the aluminium tank, and how they would attach to the frame.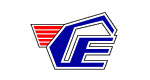 We discussed a registered a name for the machines, and a logo which could join the BSA marque on the tank. Back in 1968 I designed a "CE" logo for Eric Cheney which he uses to this day, so half a century later it's time to pull out the pencil box again.
Harry and I had an email discussion with sketched ideas; Harry proposed using a hare rampant (a running bunny, he explained), and the logo took shape. And so was borne the logo for my own and future machines.
Some months passed, Harry kept me up to date with photographs as his superbly crafted frame took shape, and eventually the postman knocked.
Justyn Jnr and I very quickly opened the box, fished out the frame and tank and stared... a work of art!
Many hours passes as we considering the assembly process. We compared the weight of the new nickel-plated frame to that of the standard BSA - 25% had been shaved, from 20kg down to 15kg. Pippo Bartorilla came and took a gander, and was equally impressed. He stayed to help build the machine, and within a week the brand new Stitt BSA was ready to roll.
A little later I told Harry I'd be ordering a second frame as soon as a suitable engine appeared. Triumph, Ariel, AJS, Royal Enfield... we'll see what the next one turns out to be - then we'll have a pair of nice Stitts.
By Justyn Norek