TM Motorcycles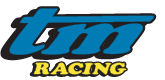 A Brief History of the Marque
Manufactured: 1968-on
The company was founded in Pesaro by Claudio Flenghi and Francesco Battistelli and the brand name was formed from the initials of their sons, Thomas and Mirko.
The first motorcycle had an engine based a single-cylinder Yamaha unit, fitted with a six-speed gearbox.
In 1976, the first experimental TM appeared and the following year three motorcycles were marketed.
In 1979, the TM team entered competition with a machine ridden by Lolli Serafini.
The bikes continued to develop with both motocross and road models in production. In the 1980s TM marketed models for motocross and enduro of 80cc and 125cc.
TM engines powered the 2012 South African BRM 300.
TM models include:
450 EN 2008-
Enduro 449cc single EN 125 2008-
Enduro 123cc single EN 125 1999-04
Enduro 125cc single EN 144 2008
Enduro 143cc single EN 250 2008-
Enduro 249cc single EN 250 2001
Enduro 250cc single EN 300 2006-07
Enduro 294cc single EN 300 1999-
Enduro 300cc single EN 300 2t 2008-
Enduro 300cc single EN 450 2005-07
Enduro 449cc single EN 80 1994-
Enduro 80cc single Minimotard 2007-09
Motard 85cc single MX 144 2008-
Cross 144cc single MX 250 2008-
Cross 250cc single SMM 125 2011-
Motard 125cc single SMM 125 Black Dream 2005-08
Motard 125cc single SMM 450 F Black Dream ES 2008-
Motard 449cc single SMM 530 F Black Dream ES 2008-
Motard 527cc single SMR 125 2008-
Motard 123cc single SMR 250 2008-
Motard 249cc single SMR 250 2006-07
Motard 250cc single SMR 450 F e.s. 2008-
Motard 449cc single SMR 530 F ES 2008-
Motard 527cc single SMX 450 F Competition 2005-06
Motard 449cc single SMX 660 F Competition 2003-06
Motard 657cc single
Sources: MC Storico Conti, Puzey South Africa, Henshaw, et al.
The company website has a large amount of information which includes images and model information dating back decades: tmracing.it.
---
If you have a query about TM motorcycles, or have some information about these classic Italian machines, please
contact us