Wolsit Motorcycles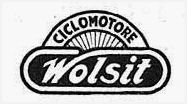 A Brief History of the Italian Marque
Wolsit moto d'epoca
WOLSIT 1910-14 La fabbrica di bici Legnano usò il marchio Wolsit per le sue prime moto da 3,5 cv con cambio a tre marce. c. 1932 Il nome Wolsit riapparve su una bicicletta dotata di motore Motosulm NSU montato sopra la ruota anteriore. In seguito la Legnano costruì ciclomotori con il proprio nome.
---
In 1907 Emilio Bozzi and Franco Tosi began marketing Wolsit bicycles. The company produced the Wolsit pedal-assisted motorcycle between 1910 and 1914. Tosi left the company in 1927, at which time Bozzi changed the company name to Legnano. In 1932 the company sold the patent rights to NSU Motorenwerke AG.
The name Wolsit is a contraction of Wolseley Italiana, referring to an association they had with the British firm Wolseley in the early years of the twentieth century.
Wolsit 1910-14 The Legnano bicycle factory used the Wolsit mark for its first motorcycle of 3.5 hp with three-speed gearbox. Circa 1932 the Wolsit name reappeared on a bicycle equipped with a Motosulm NSU engine mounted above the front wheel. Later Legnano built mopeds with their own name.
The translation above is from an unreferenced Italian source which indicates that Legnano's mopeds were powered by NSU. However other evidence suggests that Legnano sold the rights for the Wolsit machine to NSU and that firm first marketed it as an NSU-Wolsit, or similar.
Wolsit Automobiles
"Legnano, 1907-1909

S.A. Wolseley Italiana, with its headquarters and factory in Legnano, was created to produce some of the British company's models under licence for the Italian market. The brand chosen was the simplified name Wolsit. For two years, from 1907 to 1909, cars with 2, 4 and even 6 cylinders were built. But the 1907 crisis hit Wolsit too, and in 1909 they stopped production to concentrate on bicycles, which were to have great prestige up to the 1930s and even later." ~ aisastoryauto.it
Sources: Wikipedia, motoclubstoricoconti.it, aisastoryauto.it, et al.
---