Bel & Bel is a studio-workshop founded in 2005 by the artists and designers Carles Bel and Jesus Bel, who write:
"We both graduated in Fine Arts from the University of Barcelona and soon realized that we were united by more things besides the name. We were no longer able to separate this curious coincidence from our surnames and we decided to incorporate it to our common project."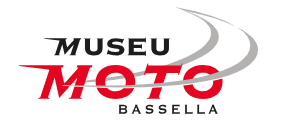 The museum has a core collection of some 200 motorcycles along with a wealth of related historical information. There are frequent special exhibitions and many motorcycle-related social events.
The focus of the museum is, of course, Spanish motorcycles.
More information: Bassella Museu Moto
Image courtesy Museu Moto Bassella