The Dufaux brothers built, early last century, an auxiliary motor attached to the bicycle. It was the beginning of two-wheeled locomotion.
The Motosacoche Type A was the first motorcycle built by the factory in Geneva. This model is amazingly preserved and complete a unique and very rare, with an almost inestimable historical value and collectability.
Year 1904 Chassis Terrot.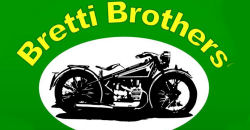 Bretti Brothers
Based in Turin and established for decades, Bretti Brothers offers vintage and classic motorcycles from the early 1900s to the mid 20th century.
More information: Bretti Brothers