Labre-Lamaudiere Motor-Cycle
The Labre-Lamaudiere Company was founded in France June 15, 1899, at 41 rue du Bois A Levallois-Perret and successively, in 1903, changed its name to "Mauger et Laumaudiere" transferring to 2b rue Danton, in Levallois-Perret.
Produced motorcycles up to 1905, when it closed the business.
This example was found in a garage in Alsace, and is in excellent condition.
Features an electric start motor, 120cc, YEAR 1901.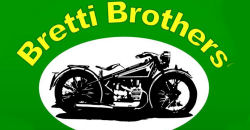 Bretti Brothers
Based in Turin and established for decades, Bretti Brothers offers vintage and classic motorcycles from the early 1900s to the mid 20th century.
More information: Bretti Brothers