MOTOSACOCHE TYPE B.
Anno 1905.
I fratelli Defaux costruirono, all'inizio del secolo scorso, un motore ausiliario da applicare alla bicicletta. Era l'inizio della locomozione a due ruote.
La Motosacoche Type B si differenzia dalla Type A dall'accensione a magnete progettata "solamente" nel 1905. Non si trovano altre differenze nè nel motore nè nel telaio.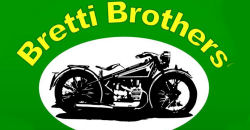 Bretti Brothers
Based in Turin and established for decades, Bretti Brothers offers vintage and classic motorcycles from the early 1900s to the mid 20th century.
More information: Bretti Brothers