La Cyclette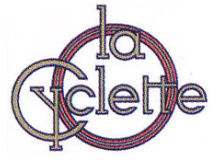 Manufactured 1921~1923, possibly somewhat earlier.
The La Cyclette engine was mounted high above the pedal crank, the slim fuel tank slung under the bicycle's top tube. It had belt drive to the rear wheel from the engine and conventional chain drive for the pedals. They were sold as complete motorcycles and as engine kits, and were popular in competition events.
Addresses given in advertising are 22 Blde de Grenelle, Paris, and 1 rue d'Issy Billancourt (Seine).
The Chapleur Collection has a beautifully preserved 1922 model.
Paris Salon, 1922

La Cyclette. - 51x45 mm., two-stroke, embodying a countershaft and clutch.

La Cyclette. - La Cyclette unit. Gentleman's model: ordinary cycle frame with spring forks, final drive by belt. Lady's model : frame designed to take unit. A third model more on motor cycle lines with curved top tube, extra tank rail.
Sources:
La Moto Francaise
, oldbike.eu
---