Mouette d'Or Motos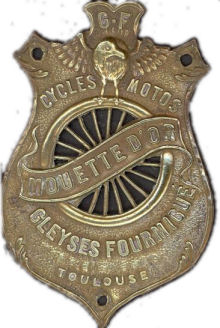 Maurice Gleyse and Fourmiguié founded Mouette d'Or (Golden Seagull) cycles in Toulouse in 1905.
The first workshop was on the road from Bayonne to Toulouse. Their known addresses are:
- 2 Square Rolland
- 27 and 29 rue d'Aubuisson
- 23 rue Riquet
In 1911 they manufactured a pacer motorcycle powered by Anzani. In 1926 they sold Ravat motorcycles Types A, B, C, D and E. The Type E has an OHV Zurcher engine. In 1928 they sold a Ravat BMA. It is not clear whether these machines were marketed under the Mouette d'Or brand, or retained the Ravat name.
In 1945 Maurice Gleyse sold the business to Sapac (CEO Poueymarie) who sold Vap 4 mopeds in the 1950s. They continued to use the Mouette d'Or name for their bicycles, but again it is unclear whether it was applied to the mopeds.
Source: forum.tontonvelo.com
If you have a query or information about these French machines please contact us
---