Rivolier R.P.F. Motorcycles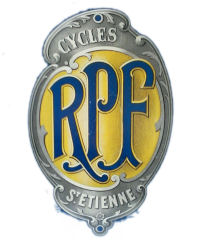 Rivolier R.P.F.
21 rue César Bertholon, Saint Etienne, founded 1848.
M. Rivolier and his son built the R.P.F. c1905-1913. Some of their machines were rebadged or closely based on the Deronziere-Rupta machines, and they probably also used a Doué engine. They are also said to have assembled Keller-Dorian machines.
In the 1930s they sold rebadged Ravat BMA motorcycles. Alexis Rivolier died in 1938, and the factory was later occupied by Drevon. The Rivolier firm still exists and continues in the sporting gun trade.
Sources: Motos dans la Loire, Bourdache (p441), ultimalyon.jpcor.fr, moto-collection.org.
If you have a query or information about these French machines please contact us
---