Mayrette Three-wheelers
Mayrette
Manufactured by Karl Mayr, Munich, Schleissheimer Straße 294[1]
Built delivery three-wheelers (Dreirad) using 200cc JAP four-strokes beginning in 1924 and into the 1930s named Mayrette.
In 1921 he formed the Maja-Werk firm in partnership with 2 or 3 others which built Mayr Kleinstkraftwagen (cyclecars) powered by BMW 500cc twins. Production of these ceased around 1924, but the Mayrette three-wheelers continued until at least 1932. [2]
Mayrette.
Am 19. 9. 32 unternahm der Inhaber der Spezialfabrik Karl Mayr, München, mit seiner 200-ccm-Mayrette-Sport einen Angriff auf den gefürchteten, zirka 30% steilen Katschberg.
Der Angriff gelang ihm auch glänzend, obgleich der 4-Takt-Jap-Motor weder Wasser- noch Gebläsekühlung hatte. Diese Leistung dürfte wohl als besonders glänzend betrachtet werden, denn es handelt Sich um ein serienmäßiges, mit ganz normaler übersetzung ausgestattetes Fahrzeug.
---
Mayrette.
On September 19, 32, the owner of the special factory Karl Mayr, Munich, undertook an attempt on the dreaded Katschberg 30% hill with his 200 ccm Mayrette sport.
He succeeded in the attack brilliantly, despite the 4-stroke JAP engine having neither water- nor fan-cooling. This achievement should probably be regarded as quite exceptional, because it is a standard vehicle equipped with normal transmission.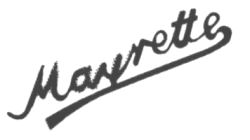 Notes
1. Address possibly incorrect.
2. Several conflicting accounts of Maja-Werk are given by usually reliable sources. Notes at autopuzzles.com give the strongest version.
Sources: Axel Oskar Mathieu Archive, autopuzzles.com, et al.
---
If you have a query or information about these German motorcycles please contact us
---