Geha Three-wheelers, 1910-1917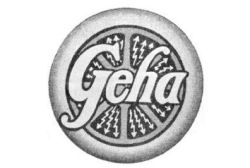 Manufactured by Gebhardt & Harhorn of Berlin-Schöneberg 1910-1917
The firm built 3-wheeled electric vehicles designed by Victor Harhorn, previously of BEF. These were all but identical to those of BEF.
Both passenger and goods versions were offered, all powered by an electric motor integral with the front wheel. The passenger machine had an upholstered two-seater bench seat and was attractively styled with a sloping rear end. In 1911 four-wheelers joined the line-up - these had the drive on the left rear wheel.
Geha was acquired by Elite-Diamantwerke AG in 1917 along with Hentschel & Co., and they built the Geha electric vehicles under the Elite name until 1924.
N.B. Unrelated to GEHA 1920-1924
Sources: Axel Oskar Mathieu Archive, Oldtimerclub Lachendorf.
---
If you have a query or information about these German machines please contact us
---