1923 The firm was already well known for producing excellent sidecars under the Grindlay name when they entered the motorcycle market that year. They decided to pass by the usual lightweight market and went straight for a monster sleeve-valve Barr and Stroud V-twin engine of 999cc that drove a three-speed Sturmey-Archer gearbox with chain final-drive. The result was sleek and eye-catching, particularly when it was coupled to one of their own sports sidecars.

1924 The V-twin was joined by a single with a 488cc ohv JAP engine.

1925 The JAP was replaced by a 499cc sleeve-valve Barr and Stroud. Added to those were three smaller singles.

1926 The 488cc JAP returned and that year the make made its mark at Brooklands. Bill Lacey, who was famous for his tuning and riding abilities, began to win using a 344cc JAP-powered Grindlay-Peerless.

1927 The sleeve-valve models were dropped to leave the 344cc, 346cc and 488cc JAP engines.

1928 The 488cc was revised to 490cc and the range was extended to add models with 677cc sv JAP V-twin and 172cc Villiers two-stroke engines. Lacey set the 500cc one-hour record and 103.3 miles/165.25km.

1929 Lacey broke his own record at 105.25miles/168.4km. All models were carried forward to this year, and by the end of the decade there were also models with a 490cc ohv single, 674cc ohv and 750cc sv JAP V-twins.

1930 Yet more models were added, including 196cc and 247cc Villiers two- strokes, a 245cc ohv JAP, and more versions of the 490cc ohv JAP.

1931 The company dropped the Villiers and JAP V-twin engines, but kept some JAP singles for that year alone, before turning to the Rudge Python engine. The Rudge was used in 348cc and 499cc sizes, including the Ulster.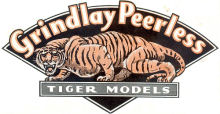 1932 The range was cut to three models, all fitted with Python engines. Models of various capacity were named Tiger Cub, Tiger and Tiger Chief.
1933 More variants were added that year, but the boom days had passed.
1934 Limited production continued for 1934, after which the company turned their attention to other products.