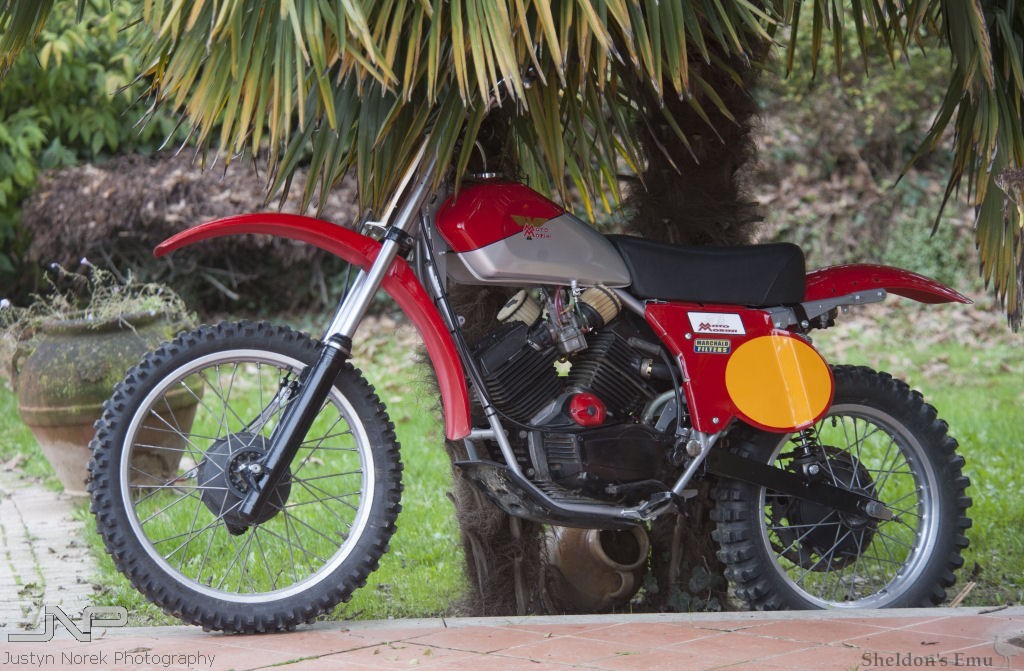 Moto Morini 350 Kanguro "Covallero" Special MX V-Twin
Aesthetical Analysis
Covallero's Moto Morini 350 V2 motocrosser is a very harmonious machine.
Heart of its design is the beautiful Morini V-twin engine. There is always something fascinating about V-twins and the Morini is no exception, immediately catching your eye. It is perhaps the symmetry of the cylinders which gives perfect balance, and in case of Morini also the crankcase is very well designed. The frame embraces the engine rather closely, enhancing the impression of compactness.
The fuel tank is borrowed from another Italian motorcycle, the Simonini, and is perfect, as if it were specifically designed for this machine.
It is an excellent choice by Rodolfo, who had the insight to choose this particular tank for the project. In addition he designed a catching paint scheme, typically Moto Morini - the red and silver tank matches the red mudguards and side panel designed and fabricated by Rudi himself, while the silver frame and front forks add to the picture. The diagonal stripes add dynamism to overall scheme.
All together, a wonderful job done by Rudi - if only Moto Morini had produced such motorcycle! We look forward to see another creation by Rodolfo Covallero!
Justyn Norek