Rambler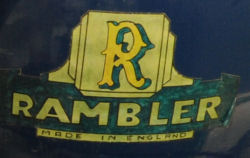 Rambler were motorcycles produced from 1939 to 1962.
It was the trade name used by Norman on some export models. They were the same machines apart from the tank badge, although some may well have had minor changes apart from the normal light and speedometer alterations.
Sources: Graces Guide
---
Sun Oct 22 2022
Hi,
Wondering if you have any advice about getting a set of decals as in the pic? I'm scouring the net but not having any luck.
Thanks for your help,
Steve.
Adelaide, South Australia
(Rambler tank image posted to comments)
---
Sun Aug 08 2010
david_burt11
hotmail.com
Rambler single
Help needed in finding year and size of this Rambler motorbike. Regards David.
Murray Bridge Australia

(Rambler_Villiers image posted to gallery)


If you have further information or a query related to this page, please contact us