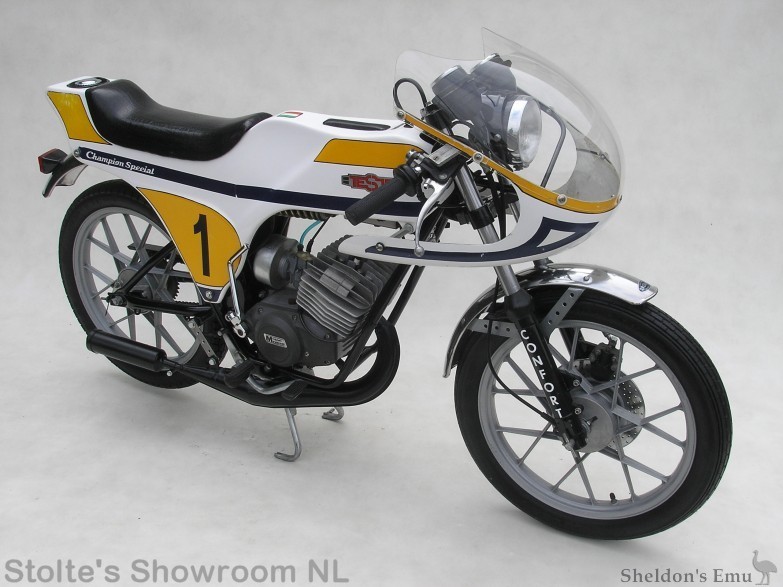 Testi Champion 50, 1950s-1980s
Testi of Bologna was one of the very first manufacturers in the world to give a strong personality to its 50 cc models. Typically, the "Champion Lusso" presented at the Milan motor show in 1973 stood out for its original aesthetics, to which the front disc brake decisively contributed (a feature rarely seen on the 50s of the day), the tapered tank, the ducktail seat, the two-piece handlebars, the metalic paint, and the optional electronic tachometer and plexiglass fairing. The "Champion Lusso" went into production in the summer of 1974 and for the first was exported. It became available through Italian dealers at the beginning of 1975 at a decidedly attractive price.
The Testi Champion Veloce 50 was the first "50" equipped with monocross suspension, and had shown its merit with many racing successes in both motocross and road racing. The Champion Veloce is also notable for its fibreglass bodywork, the fairing and the upper beam of the frame with which the fuel tank is integral. It was equipped with a six-speed two-stroke Minarelli engine in the normal or Compact System version.
The riding position was rather rearward but to be truly functional and sporty it would have required a slightly narrower handlebar and slightly more rearward footpegs. The behavior of the front disc brake is excellent. Powerful, progressive and safe even in the most energetic actions and in the wet.
At the time the Champion Veloce was priced at the equivalent of about 250 Euros for the standard model and 300 for the fully equipped version.
Adapted from an article at autoemotodelpassato
---