Gebhardt Motos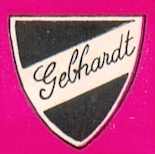 Sin datos sobre su fabricación o ubicación de la fabrica.
La firma Benito Hnos., Yatru y Cia. S.r.L., con sede en Avenida Alverdi 325, Rosario, provincia de Santa Fe, se dedicó a partir de 1959 a la fabricación de motocarros. Se trataba de vehículos tipo tadpole, equipados con motor SACHS ¹ monocilíndrico de 125 cc 2T, refrigerado por aire, 3 marchas (con mando junto al volante), kick starter, batería 6 V, suspensión D/T telescópica ó ballestas independientes / 2 amortiguadores telescópicos, frenos de tambor en las 3 ruedas, capacidad de carga hasta 200 kg, llantas de radios D/T 2.75 x 16", tanque de combustible 6.0 L.
Como datos peculiares: montaba un volante de dirección en vez del clásico manillar, embrague comandado por pedal y cambio de luces mediante el pie.
Es posible que la producción se prolongara hasta 1967...
Procedían de la empresa TELEVEL.
Courtesy Ventura Felip, ottw.es 07-Aug-2018
---
The firm Benito Hnos., Yatru y Cia. S.r.L., with headquarters in Avenida Alverdi 325, Rosario, Santa Fe province, was dedicated since 1959 to the manufacture of motocarros.
They were tadpole(1) vehicles, equipped with Sachs single-cylinder engine of 125 cc 2T, air-cooled, 3 gears (with control beside the steering wheel), kick starter, 6 V battery, suspension D / T telescopic or independent leaf springs / 2 shock absorbers telescopic, 3-wheel drum brakes, load capacity up to 200 kg, tires D / T 2.75 x 16 ", fuel tank 6.0 L.
As peculiar data: mounted a steering wheel instead of the classic handlebar, clutch commanded by pedal and change of lights through the foot.
It is possible that production lasted until 1967 ...
Sachs engines were supplied by the TELEVEL company.
Notes: 1. Tadpole = 1 rear wheel, 2 front wheels.
Images were with the original archive of the Club Argentino de Motos PUMA, text courtesy Ventura Felip, ottw.es 07-Aug-2018 - OTTW

---