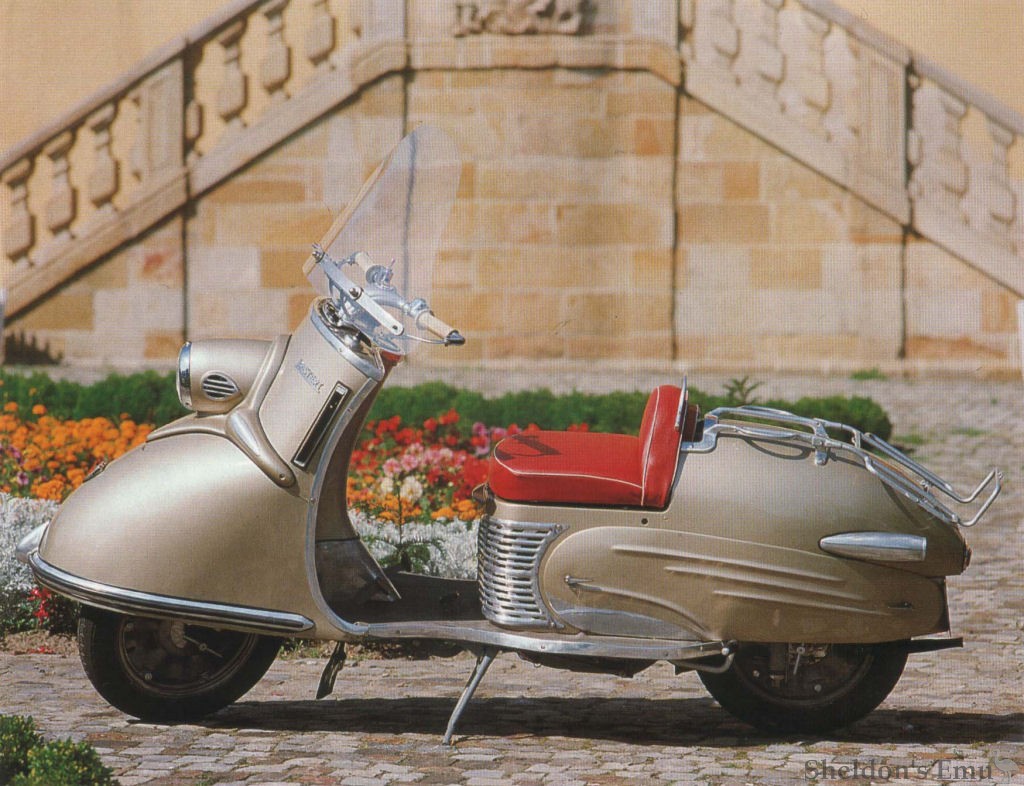 Bastert Motorcycles & Scooters

A Brief History of the Marque
Bastert-Werke, Gustav Bastert, Bielefeld-Heepen
Germany 1935 - 1955.
Established as a small machine shop in 1914 which reportedly built a limited number of motorcycles immediately after the first war, and in the early twenties produced motorised bicycles. In 1934, a new factory was built in Heepen, and the business was thriving, producing ten different motorcycle models with JLO engines of 60cc to 118cc. During 1940-1944 they were engaged in the German war effort. The factory suffered considerable damage during allied bombing raids in 1944.
Einspurauto
The marque is remembered for its unusual Einspur-Auto (single track car) designed by Louis Lepoix. These expensive and sophisticated scooter-like bikes had 150cc JLO engines with three-speed transmission or 175cc with four-speed transmission. Some sources mention a 200cc JLO and others a Sachs 248cc engine. The body was fabricated from aluminium built up over a steel frame, aircraft fashion, and the wheels were solid aluminium.
The Einspurauto had an engine compartment light, Bosch ignition and twin taillights in teardrop design. The dash panel included an individual light for each gear selected, and the rider's red leather-covered seat converted quickly to a dual seat.
The first prototype of this machine was stolen and never recovered. From 1952 to 1956 around 1200 units left the factory, but due to its comparatively steep price it was not an economic success. The company switched to the production of plastics and did well in that field.
Adapted from a short article submitted by Hartmut Schouwer
Models
1936 models:
Type B I FM 60
Type B II D FM 60
Type B III FM 100
Type B IV D FM 100
Type B VII FM 100 K
Type BT IX FM 100
1938 FM100 98cc JLO
1950 Models
B/MG 125 E
B/FM 100/120 K
B/FM 100/120 Ilo Motoren
B/FS 100 98ccm Sachs Motor
1953 Models
B/M 200 JLO 198cc
B/SM 51
B/M 175
---
Thu Nov 26 2009
r.brauner at freenet.de
Ersatzteil
Bastert Type B/SM 51 BJ 1952 147 cm3
Für diese Maschine benötige ich eine hintere Bremstrommel ,da
die Antriebsnoppen gebrochen sind.
Neuburg
---
Mon Apr 30 2007
andre.callens at imprimerienationale.fr
Recherche documentation technique
Bastert Werke - 125 cc
Bonjour, je restaure actuellement une moto Bastert Werke de 1952 (moteur JLO de 125 cc). Je recherche de la documentation technique sur le modèle.
Tournai (Belgique)
---
Tue Oct 24 2006
chavattov at neuf.fr
bastert scooter roller
hello,
i would like to buy a bastert scooter! if anybody could help me to find one?
could you also tell us, how many bastert scooter still exist?
i know that 1200 were made! it is aproximatively the same products of the rare american salsbury m85's scooter! but many of them still exist: about 100 according the usa club! what about ther bastert?
regards
pierrick
Lille, France
---
Wed Aug 02 2006
andre.callens at imprimerienationale.fr
J'ai une Bastert-Werke
Bonjour, je restaure actuellement une Moto Bastert-Werke de 1952 (Moteur JLO de 125 cc). Je souhaite recevoir une documentation technique (si possible).
Tournai (Belgique)
Translation: Hello, I currently restore a Bastert-Werke Motor bike of 1952 (Engine JLO of 125 DC). I wish to receive a technical documentation (if possible)
---
November 2, 2002
I have the bastert archive from zimmerman the former owner of bastert club and a moped bikes and a good bike from 49 and a few others -- Eveline -- ede.jong at chello.nl
---
October 30, 2002
I bought today a lot of Bastert motorcycles and more is there a club ? -- mukutazwennis at zonnet.nl
---
October 21, 2001
Dear Sirs,
I am going to sell my whole Bastert collection. Motorbykes, cycles, literature, spare parts etc. and a lot of other things around and related to Bastert. Please contact me by telephone or email as listed below.
Best regards,
Wolfgang Zimmermann
Trenne mich kurzfristig von allem zum Thema "Bastert". Vom Kinder-, Damen-,Herrenfahrrad, 50erMoped über 98er, 100er, 120er, 125er, 150er, 175er (restauriert, teilrestauriert bzw. zerlegt) über jede Menge Ersatzteile (Rahmen, Tanks, Räder, Auspuffanlage, div. Motoren etc.), Kartons Literatur (auch über Einspurauto) bis hin zu vielen, vielen Kleinteilen (Anstecknadeln, Fahrradenbleme, Poster, Original-Bastert-Kalender, etc. etc).
Zusätzlich an Literatur: Markt 1/80 - 7/92; Sonderhefte Markt 1-11 (84-91); Motorrad Classic 1-4/92; Oldtimer-Praxis 1/84-7/92; Motor Klassik 1/84-7/92; Mercedes Benz (2 Umzugskartons) aus den 60er - 90er Jahren;
Ferner: Elite-Diamant "88" Lastenfahrrad Bj. 1931, komplett restauriert, fahrbereit, mit Unterlagen und Literatur und Kleinteilen, Ersatzteilen, Original-Emaille-Werbeschild etc.
Möglichst komplett abzugeben, sonst nur in den Blöcken Bastert - Literatur - Elite-Diamant.
Verhandlungssache.
Kontaktaufnahme unter: 02151-895 947 (Mo.-Fr. 9-16) oder 0173 7063047 bzw. Email: w.zimmermann at sps-pressen.de
---
January 3, 2000
Hallo!
Wie Sie an meinem Nachnamen sehen können, liegt eine gewisse Verwandschaft zwischen den Gründern der Firma Bastert und mir vor. Ich hoffe, ich kann von Ihnen mehr über diesen Betrieb und vor allem über die Motorräder erfahren. Mit freundlichen Grüßen -- Thomas Bastert -- Thomas.Bastert at gmx.de
--
Sent through Global Message Exchange - http://www.gmx.net
In English:
Hello!
As you can see at my surname, certain distorting shank between the founders of the company Bastert and me is present. I hope, I can experience from you more over this operation and particularly over the motorcycles. -- Yours sincerely -- Thomas Bastert -- Thomas.Bastert at gmx.de
---
December 29, 1999
Hi!
Thank you for the rare pictures!
What I know about the Bastert Einspurauto is that it was the most expensive scooter in Western Germany at that time and cost 1,960 German marks. -- Yours -- Chris -- christoph gerlts -- christoph at gerlts.de
---
---