Cito Motorcycles
A Brief History of the Marque
Manufacturer: Cito-Fahrrad-Werke, Cologne 1905-1927
Köln-Klettenberg, Luxemburger Straße 280,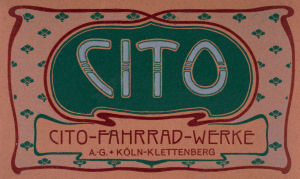 Previously known as Cito-Werke AG of Suhl, Thuringia, the company produced single cylinder and V-twin Fafnir-engined machines for a few years from 1905. After the Great War they entered the market with the Krieger-Gnädig 500KG 1, in 1922. The following year, the company was acquired by Allright who continued to produce the Allright-KG along with a new model. The factory ceased motorcycle manufacture in the late 1920s but construction of the KG continued in small numbers by Henkel of Mäbendorf until 1932.
The firm also produced Citomobile passenger and commercial four-wheeled vehicles. Early in the piece they made calculators and bicycles.
Sources: GTU Oldtimerservice, Graces Guide, Axel Oskar Mathieu Archive.
Notes
1. Krieger-Gnädig translates as Graceful or Merciful Warrior, but it is actually the names of the company principals, the Krieger brothers and Franz Gnädig.
---
---