Jonghi Motorcycles

Made in France from 1930 to 1957
Les Constructions Mécaniques Jonghi
1 bis rue Georges-Clemenceau
CHOISY-le-Roi (Seine)
Postwar, 86 Rue St Denis La Courneuve (Seine)
Giuseppe Remondini worked in Italy with Alfa-Romeo, Moto Frera and Nagas & Ray before moving to France and forming a partnership with Tito Rodolfo Jonghi, an Argentinian of Italian descent who presented himself as a doctor but was believed to be involved in the arms trade.
Initial machines were re-badged Nagas & Ray models, and by 1931 the first true Jongi models were completed.
Jonghi machines entered competition with quite outstanding results. They won the Bol d'Or of 1932, and later that year took the Grand Prix 350 event in Rome. In 1933 they gained a 24 hour record at Montlhery. Other world records followed including a sidecar record.
In 1933 Tito Jonghi left the firm and, with financial assistance from his father, Remondini renamed the business Les Constructions Mécaniques Remondini, Père et Fils.
1935 saw the acquisition of the Jonghi marque by the owners of Prester, the Eichel brothers. New models followed including a 175cc twostroke and a 100cc BMA. To demonstrate the durability of the 100cc two-stroke, it was ridden across the Sahara desert and as a result sales soared.
In 1944, after the Eichel's demise at the hands of the Nazis, the company was acquired by the SATAM company with Remondini as manager, and the machines rebranded as Motos Jonghi. Production resumed at a new factory in La Courneuve, initially with a BMA of 100cc and shortly thereafter a 125cc model was released. This was followed, in 1948, by an OHC 125cc model. This machine, a Model D, appeared at the end of the Paris Salon having just taken eight world records at Montlhéry, ridden by the designer's son Arrigo. The last two records were broken on his wedding day - legend has it that instead of leaving church for a bout of serious bride bonking, he dashed off to the racetrack.
In 1951 a 250cc machine appeared. 1953 saw the first appearance of their Polo 125, a machine very similar in appearance to the Moto Guzzi Galletto. This proved to be the last new model from Jonghi.
By the early 50s motorcycle manufacturers in France, as in Italy, were besieged by the success of lightweight cars - the Citroen 2CV in France, and the Fiat in Italy. Dozens, hundreds perhaps, of smaller motorcycle factories folded, among them Jonghi. They ceased production in 1957.
Guiseppe Remondini died in 1959. Arigo, his son, was the motorcycle mechanic for Jean Pierre Beltoise who was an International Grand Prix rider from 1962 to 1964 in 50, 125, 250 and possibly 500 cc classes. Although on paper his GP results do not look terribly impressive, he also won 11 French titles in three years. He and Arigo joined the Matra racing team (or, more likely the Rene Bonnet team and then Matra.)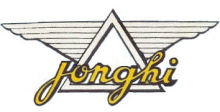 Jonghi Models include:
350 OHV Nagas Ray 1929 to 1930
TJ 4 SV 1931 to 1939
TJ 4 OHV 1931-1939
1935 100cc B.M.A. Prester-Jonghi
1935 175cc Prester-Jonghi prototype
1938 1500cc Remondini/Bernardet front-wheel-drive light car.
1949-1953 125 E50
1950 Superstar 500cc Twin (aka Gnome & Rhone R4)
125 E50 1953
125 T 1946
125 Type E 1949-1951
1953 Type E 53T 125cc, telescopic forks, approx 600 built.
1951 Type H 250cc
Polo Scooter 1953 to 1957 / 125cc
1954 250 H54T
1955 50cc Cyclemotor - Auxiliary engine
1957 Foot-forward scooter (Remondini design concept only)
Competition models
1933 TJ 4 Record Sidecar
1933 to 1939 350cc DOHC
1934 to 1939 250cc DOHC
1948 125cc OHC

Jonghi Scooters
In 1953 Jonghi presented a scooter at the Paris Salon powered by a 4-speed 125cc two-stroke which resembled the Moto Guzzi Galletto. A two-tone version was revealed at the 1956 Salon.
Sources: JLB Creations, Wikipedia FR and IT, Amis Terriens, jonghi.org, moto-collection.org, moto-jonghi.chez-alice.fr, et al.
---
19-Mar-2021
luukas24 at hotmail.com
Type E 1953 125cc telescopic forks
Hi,
ive recently acquired a Type E 1953 Jonghi with telescopic front forks and a stamped steel luggage carrier. Living in the Netherlands, these little bikes are very rare here and i have no clue of its history, other than it was restored by an antiques dealer in Amsterdam. Although it runs fine, it has an Dellorto MA18B3 carburetor. This doesn't seem correct as the original Jognhis seems to be equipped with a Gurtner carburetor. I was wondering what type the original carburetor was? And how common the telescopic front suspention is.
Thanks and best regards,
Luuk van der Linde
Nederland
---
24-Aug-2019
tim65bradley at yahoo.co.uk
Jonghi T100 approx 1937
Hi, I have just bought a Jonghi T100 and it has the incorrect carburettor on it. Does anyone know the original specification or what carb would work with it? perhaps an old AMAL?
Thanks in advance. Also any details on setting up the clutch would be great
Tim Bradley
NOTTINGHAM
---
28-Mar-2019
schaefferthomas at t-online.de
22.05.1970
Bonjour !
J'ai acheté un Jonghi 125 e en mauvais état, qui avait été reconstruit pour le cyclisme. Maintenant, je cherche un réservoir, une lampe, un tablier et un guidon. Pouvez-vous me dire où je peux acheter ces pièces? En Allemagne, malheureusement, je ne trouve pas de pièces de rechange.
Hello !
I bought a Jonghi 125 e in bad condition, which had been rebuilt for cycling. Now I am looking for a tank, a lamp, an apron and a handlebar. Can you tell me where I can buy these parts? In Germany, unfortunately, I can not find any spare parts.
Thomas Schäffer, Neukirch
---
Tue, 06 Mar 2018
decies14 at gmail.com
jonghi 1937 r100

Hi I have recently bought a 1937 Jonghi 100 with a nova certificate and as you know require a dating certificate to register it with the dvla . I am hoping (costs paid) you can help or point me in the right direction. Thanks in advance Chris Livesley
chris
stoke poges United Kingdom

The massive flockup that is Brexit brought about, as evidence suggests, by Russian interference, will probably make documentation and registration of EU vehicles in the UK increasingly difficult.
Information on Paperwork
---
Wed Mar 08 2017
s.brownjohn at icloud.com
Jonghi
Jonghi Type 125e
Hi I'm looking for parts and engine exploded picture? Clutch isn't working and not sure if parts are missing? Any help and anywhere I may obtain parts or information, I would hate this lovely looking motor not to run again! most appreciated,
Simon
Brighton England
English
...
It's fantastic to hear from someone who maybe able to give me some information,
It's a 1951 type e 125cc twin port, I purchased the bike with no clutch, but with a spare engine with a clutch, I've fitted the clutch but it's under no tension so I'm wondering if I have a part (parts) missing, I have attached some pictures I hope you can view them, also I am more than happy to pay any cost, again any information is greatly received.
I will look for the engine and frame number today,
Simon,

---
Mon Nov 21 2016
burgin.davd at yahoo.co.uk
spare parts
jonghi e50
urgently required parts for e50 125 cc please
uk sheffield
---
Tue Dec 30 2014
darcox at talktalk.net
replacement engine and other spares neeed
jonghi type e 125
Hi I have just bought this bike as a project but half of the engine is missing can anyone push me in the right direction please
essex
---
Tue Oct 01 2013
tadek1976<at> yahoo.com
vin number
jonghi prester 100cc salon 37
Hi any one know where is frame (vin) number on Jonghi Prester motorcycle. Any help will be much apreciated
telford
English

---
Tue Jul 10 2012
annie.leenaerts<at>skynet.be
motorcycle
1951 Jonghi 125cc
Dear sir,
Can you help me to find spareparts for a 1951 Jonghi 125 cc
---
Thu Nov 24 2005
thefrenchowl at btinternetdot com
jonghi
Hi, 4 period photos and a little text on 1933 Jonghi side valve 24 hour record breaker at www.harleykrxlrtt.com/jonghi.htm
---
Thu Oct 13 2005
christophe.samson at neuf.fr
jonghi
recherche toute publicite sur jonghi et piece pour 250 h et h54t
---
October 28, 2000
Hello, I am in the UK, I have a 250cc Jonghi single twin port (2 Silencers) believed to be 1953. Frame 6551 Engine 4422 It has a single rubber seat, The sides of the petrol tank are chrome, the filler cap is a nice flip up type in aliminium, Full width ali hubs, plunger rear suspension,, Tool box on the right Ali crankcases, barrell and head. White kneegrips on the tank, with pimples, front fork lower legs are chrome, tops and headlamp brackets in alloy.
It is believed to have broken down and left by the roadside, recovered by the Police, never claimed by the owner, sold at auction, then sold to a number plate dealer, put back into another auction, which is where I bought it in 1997.
If you give me an address i will send pictures, so that you can identify it for me, or anyone that might know the model type.
I am interested in anything about it, I hope someone can help me ,
Many thanks Brian McDonough.
PS, Is there a club for Jonghi's? Is there a Jonghi Expert? Is there any literature on Jonghi's?.
Brian McDonough -- brian at bikeaddict.freeserve.co.uk
---
If you have a query or information about Jonghi motorcycles please contact us