Ladetto & Blatto Motorcycles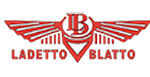 A Brief History of the Marque
Manufactured in Turin 1927-32
The company was formed by the brothers Emilio and Giovanni Ladetto together with famed designer Angelo Blatto.
In addition to designing machines for other companies they produced motorcycles using engines in the 125-250cc range, both two-stroke and four-stroke.
Their two-stroke engines of 1926 were of unit-constuction 125cc with two speeds and no clutch.
At the end of 1927 they built a 250cc side-valve engine with three-speed gearbox. In 1928, they also built motofurgoncini of 175 and 250cc.
Alfredo Panella, who previously rode with Galloni, joined the firm and proceeded to win the Swiss Grand Prix in 1927, the European Championship in 1928, and the Italian 175 championship in 1929.
In 1930, Blatto left the company and production continued under the name of Ladetto; the first motorcycle with the new brand had an OHV 175cc engine and a three-speed Albion gearbox. In 1932, they added a lightweight motorcycle with rear suspension to the range. The rear swingarm is controlled by means of a telescopic shock absorber fitted with coil springs.
Production did not continue into the following year.
Companies which utilised their engines included Moretti, SAR and GAIA, the latter supplying them with frames.
The Ladetto brothers traded under the Ladetto marque from 1923 to 1927 at Via Giacosa N° 19, Turino.
Sources: MC Storico Conti, Tragatsch p189, amicidellemotobicisottocanna.blogspot.com, Wikipedia.
---
If you have a query or information about Ladetto & Blatto Motorcycles please
contact us
---