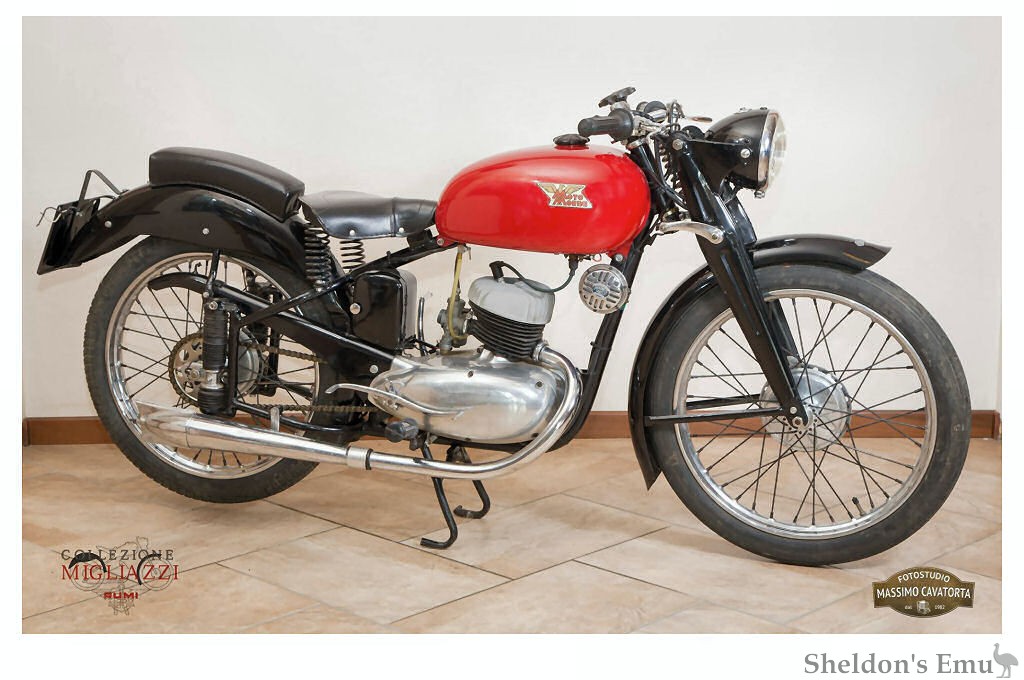 Moto Morini
Moto Morini was founded in 1937 by Alfonso Morini in Trivolzio, Bologna. He had previously manufactured motorcycles under the name MM.
Models produced in 1937-39 were quite advanced 125cc two-strokes. When war came he was forced to manufacture military-related products until 1943 when the factory was destroyed by allied bombs.
Morini returned to motorcycle production in 1946.
Alfonso Morini, a former road racer and a good designer, was well aware that competition was an ideal tool to advertise his product. The marque gained its first title in 1948 when Raffaele Alberti took the 125 Italian championship, and further success came the following year with Umberto Masetti at the helm.
In order to cope with demand a new factory was built at Via Bergami in Bologna, and more racing laurels accrued with the 1962 championship, this time with a rider who would soon become a household name and would go on to be ranked as the greatest rider of all time - Giacomo Agostini.
When Alfonso Morini died in 1969 the reins of company were taken by his daughter Gabriella. Her tenure was beset by problems with unions in the latter years, beginning in 1983 with strikes which added to the already difficult financial situation. In 1987 she sold the company to the Castiglioni brothers, owners of Ducati. Gabriella Morini had hoped to see the marque revived by Castiglioni, using the new Lambertini-designed 60-degree V-Twin, but despite their initial enthusiasm for the project the Castiglioni brothers changed their minds, saying they already had a good twin in the Pantah. A half-hearted attempt to market a new Morini 350 Dart took place in 1987. This machine was basically a Morini 3½ engine in a Cagiva chassis and was not well received. Morini production ceased in 1993.
In 1996 Morini was purchased by the Texas Pacific Group which also controlled Ducati, and in April 1999 the rights to the name were purchased by Morini Franco Motori spa, a company founded by Alfonso Morini's nephew in 1954.
After building large v-twin motorcycles early in the 21st century the company went into liquidation in late 2010.
Moto Morini resumed production of motorcycles in 2012.
More Moto Morini History
Sources: Morini Riders Club, Wikipedia, Henshaw, et al.
---
21-Jul-21
terry.kavanagh2 at gmail.com
moto morini 1975 3 1/2 sport
Hi I have recently imported a morini 3 1/2 from italy first reg Jan 1976. Having trouble with the front cylinder not or rarely firing I have swapped wiring on the transducers,(ducati electronica)and this made no difference to which cylinder was firing. I think that it may be the stator. Can I send this to you to check and if faulty rewind. Should I also send the magnetic pick up to check. the bike is 45 years old but only has 10 K on the clock and overall in great condition.
Terence John Kavanagh
Australia
Sorry, we don't repair motorcycles or sell parts.
---
Wed, 02 Aug 2017
john_measures at sky.com
Morini 1962 125cc Corsaro
Hello, I'm doing a resto' job on a 1962 Morini Corsaro in the U.K., and I'm stuck for final drive sprockets, front and rear, does anybody know where I might locate them . Its 13 tooth front, 42 rear, similar sizes would be ok. thanks. John.M.
John Measures
Greater Manchester United Kingdom
Morini-1962-125cc-Corsaro-JohnM

---
Thu Aug 04 2016
stefano21566 at gmail.com
chiave di accenzione
una coppia di chiave Morini corsarino 125 del 1960
Buongiorno, ho aquistato una Morini Corsaro125 del 1960.
Tellaio: E0956H AR55963. non più la chiave di accenzione; E possibile avere una coppia? Grazie.
No, we don't have keys for 1960 Morinis, sorry.

---
Thu Mar 24 2016
hectorlposadav AT gmail.com
Datos sobre Morini 1967-1968
Solicito informacion Morini 350
Quiero informacion al respecto porque solo consigo Morini 250 setebello y requiero de 350 cc, gracias
---
Wed Dec 09 2015
truefamilyracing at yahoo.com
Looking for parts
Moto Morini 125cc cocera
I am looking for parts for a Moto Marini. Not sure of the model but it is a single cylinder i do berlieve 125cc. Please let me know if you can help me out. Thank You
Jay, Me.
Photographs may help with model id. Ed.
---
Mon Aug 24 2015
atoni51441 at comcast.net
Moto Morini Mini Bike
Not Sure 100 cc 1968
The photos are of my Step fathers Mini Bike purchased in 1968 in Riverside Ca. I had one identical as we bought 2 at the time Price was $300 at that time. Mine blew an engine and was scrapped, but I know the photo sent to me by a recent buyer in WI belonged to my Stepfather. How many were built with the 100cc engine and how many were inport to the USA?
Sonoma, CA
---
Thu Apr 23 2015
dmavropoulos at gmail.com
Moto Morini KJ 125 for sale
1984 kj 125
Hi I have 2 moto morini kj 125 and I would like to sale. How I can add on forum??
Greece

Morini-1984-KJ125-Greece
---
Sat Sep 24 2011
rwinfield22<at>yahoo dot com
Identification help
motorini motorini
Would you please help me identify this motor? any information on motor and frame would be greatly appreciated!
Dallas Texas
---
Tue May 04 2010
grahamlausten<at>btinternet dot com
Pictures
Moto Morini Corsaro 125cc
I have just restored this 1959 Morini to original condition - perhaps the photos would help other owners around the world. Graham Austen
Leicester UK
---
Fri Nov 13 2009
dmvive at eda.pt
Morini 400 cc 4 stroke spare parts
AXR Crossbone 400
Please inform the availability of a transmission belt for an AXR Crossbone 400, 2006
Azores, Portugal
---
Fri Jul 10 2009
13343 at telia dot com
Parts and help
Moto Morini La Zanzara
Hi. I need some help with engine parts and other parts with my little"La Zanzara". Have you any idea on how to get parts for this bike?
BR Leif Jansson
Sweden
---
Fri May 29 2009
atacco at swbell.net
electrical diagram
1966 moto morini corsarino z z 50 cc
tring to restore but can't find a wiring diagram for a non battery system. please help. steve
Tx. USA
Try the page of resources for Books and Manuals
Moto-Morini-1966-Corsarino-50cc.jpg
---
Wed Mar 12 2008
b5b6b7b8 at hotmail.com
Parts
GYROMAT MORINI F.
Where can I get parts for this motor?
U.S.A.
---
Sun Jun 17 2007
southernside at gmail.com
MOTO MORINI 1979 3 1/2
I have a 1979 moto morini 3 1/2 with 700 miles. Still has indiana tags from 1980. Complete or will part out (907)523-0818
ALASKA
---
Tue Apr 10 2007
ray.wellington at bigpond dot com
Borrani rim
Morini 31/2 sport
Hi,
I have purchased a Morini 31/2 Sport which is a bit of a basketcase - am endevouring to restore it back to original. The front wheel currently has an Akront rim but I wish to relace with a Borrani rim. I am having difficulty in finding the proper front rim size. The rear rim is a Borrani WM3/2.15 18" x 36 spoke.
Any idea what the front rim size should be for a Borrani?
many thanks
Ray
Australia
---
Wed Mar 14 2007
gdglickman at yahoo dot com
Morini 3 1/2 flywheel puller
I borrowed and used a Bultaco Metrella flywheel puller to change the belt on my '80 3 1/2 sport. That was a while ago as I don't have the bike any longer. There may have been a few changes in flywheel/thread configurations over the years...those quirky Italians. One of the dumber things I did was to sell that bike.
CA
---
wattsh at aim.com
Sent: Sun, 11 Mar 2007 1:48 PM
I am looking for any chassis, or motor parts for a 1967 Moto Morini 250 "Settebello." Any leads greatly appreciated. Attached is photo of 1967 Moto Morini 250 Settebello. This is the same motor that I have.
Thanks, Howard

---
Sat Feb 24 2007
sjkesey58 at aol dot com
Flywheel puller for 1975 3 1/2
1975 Moto Morini 3 1/2 Sport
I am searching for a flywheel puller so I can replace a broken belt. I was told that a Husqvarna puller would work, but no one could tell me which Husqvarna puller, as there are several models. Any assistance you can provide in locating a puller would be much appreciated.
Thank you.
Steve
USA
---
Sat Jan 27 2007
Parts at redlinemotorsdot com
Battery Application
A Moto Morini 3-1/2
I am looking for a replacement battery and can not find the battery with correct dimensions!!PLEASE HELP ME LOCATE A BATTERY!! maybe a Yuasa? thanks
Yorktown, VA, USA
.......
Here are the dimensions with a pic
Info on the battery is as follows:
Size: 7-1/4" x 3-1/8" x 6-5/8"
Neg (-) on left and Pos (+) on right
Part number?: 51561
12V 15AHAn Odyssey PC680 should fit very neatly.

---
Thu Jan 18 2007
paul.duchene at comcast.net
3 1/2 production
1973-81
I'm the motorcycle writer for Sports Car Market Magazine, which covers classic car and bike auctions. I'm doing a column on the 3 1/2 Sport and I'm hoping you know the total production between 1973-81 of Sport and Strada models. Also can you tell me where the frame and engine numbers are located. I've found tons of informtaion but not these items. Thanks
Oregon, USA

Unable to answer that at present. Perhaps try some of the sites listed in the Morini Directory at Bikelinks.
---
Wed Nov 15 2006
wlouche at aoldot com
Oil pan plug
1976 Moto Morini 3 1/2 Sport
Would like to purchase a oil pan plug but can not find one in USA.
New York, USA
---
Thu May 18 2006
nelsonsteve63 at hotmail dot com
What is it?
Trying to figure that out
Just got a 2 morinis from my father in law. One is a corsorino 50 cc "twister". I can't find the other in any pictures. The tank has a sticker "Ustate Carbdrante 100cc". The serial # for frame and engine is D 12275. It has 17" wheels, the chain is on the right side. The frame is different than the Sbarazzino
CT, USA
---
Mon Apr 10 2006
pmcalles at aol dot com
Moto Morini
1976 350 Sport
Looking for information or dealers that carry "valentini" mufflers and rear-sets for a 1976 Moto Morini Sport.
USA
---
Fri Jan 13 2006
lucacerniglia at virgilio.it
morini 125 t
I'm an italian owner of a 125 t (1951-2 or 53-54).
i'm not a skilled technician but i'd like to restore it.
what do you suggest me?
i've read about Mr. Luzzi in Siena (Italy) but i don't know if he still works.
thank you
luca
---
Thu Nov 24 2005
k2woods at msn dot com
Moto Morini Corsaro 1200
I would like to purchase a corsaro, tour on it for a two weeks, then have it shipped to the USA, can you direct me to a dealer that could help me? thank you for your help, Charles Woods
---
Tue Aug 16 2005
barryi at bigbutton.com.au
contacting moto morini
Can anyone tell me if the factory is still going as I have had no luck by email or telephone. Please advise if you have a contact method .Thanks, Barry .
I understand that Moto Morini is now run by Franco Motori. Try contacting them. Ed.
---
Fri Apr 22 2005
stevenlyons63 at yahoo.co.uk
carbs
i have a dellorto VHBZ 25 B carb and i would like to know what morini it is from please,thanks. steve

How do you know it's from a Morini, Steven? hello,i emailed dellorto they said it was off a morini+thats all they said, i wanted to know if it was a two or four stroke and what cc machine it was from but they didn`t seem to know,i would be gratefull for any info thanks steve
---
February 5th 2005
Morini Book on Ebay
Vendor's Description:
Moto Morini 3 1/2 & 500 Performance Portfolio 1974 - 1984
by R.M. Clarke
The small family business of Moto Morini first produced single cylinder racers and went on to introduce bikes with a modern revolutionary V-twin from the drawing board of Lambertini. The bike has a quintessential Italian character without the flaws which slightly marred some other Italian bikes.
With an advanced, but simple, engine it used top quality materials and the originality found in so many aspects of the design were world leading.
This book contains road & comparison tests, model introductions, specifications, performance data, design analysis.
Models covered include 31/2, Strada, Sport, K2, 500, Sport, Maestro, Sahara, Camel, SEI-V, Touring.
Format: Softcover, 140 pages.8 pgs of col & 250 b&w illus
Publisher: Brooklands Books Ltd (UK)
Date Published: 16 Jul 2001
ISBN: 1855205688
---
March 10, 2002
Talking of wiring diagrams, here's another site for any Morini owners out there. http://www.morini-riders-club.com/Wiring/wiring.html
Steve
---
Morini parts in USA - http://www.herdan.com
---
Hello
Just to let you know that possibly the best place to get your problem Morini spares is North Leicester motorcycles in England. It wouldn't surprise me if they didn't hold the largest stocks of Morini spares going. They even get some parts re-manufactured that are no longer available such as 375cc pistons etc
www.motomorini.co.uk
cheers -- Wazza -- m02r4v00 at cwcom.net
---
December 10, 1999
Hey Y'all
Just a short note to let you know that John Hoffman is selling Cycle Specialty to Michael and moving to the Philippines. He will be gone in about a month. John is going to be a father and live in the Philippines with his new family. He will come back for two weeks each year.
As part of selling off his business John has offered to sell me his Morini inventory. I have six typed pages of parts that unfortunately John did not save on the computer he typed it on. Each page has about 20 different types of parts on it and some have one but several have as many as five of each item. Gasket sets, master cylinder kits, valves, rings, foot peg and shifter rubbers, brake pedals, shift levers, and various other parts are there. There is a triple clamp, a 3 1/2 sport cam, and sport brakes upper and lower. I intend to try and scan the pages to see if I can send them on to anyone who might be interested. The list has a description as well as the Morini part number.
I will keep some of these parts but will be willing to sell anything that I have a surplus of or do not feel I will ever need. I will also get two frames, one motor complete and together, and one motor taken apart. The latter is a 3 1/2 sport motor.
We will all miss John as he is an Icon of Italian bike history and has been a font of knowledge. I will drive down to pick up the treasure trove in the next few weeks and anyone who would like to ride down with me to say good by to John is welcome to come. I think I would like to take him out to lunch.
Jim -- twoup at mindspring dot com
---
October 31, 1999
I went for a drive and had two 74 Moto Morinis followed me home in the back of my truck, being a sucker for red Italian sport bikes (O.K. the Sport was one time red and the Starda [Spada] is blue) I had to give them a home, they looked so lonely sitting there paint fading, spokes rusting.
Anyone know a sourse for parts? I have heard they are not to hard to come buy and the Lemans lll could use a friend while the T-3 is being put back together.
Steve C in CT. -- GUZZISTEV at aol dot com
---

August 28, 1999
I was lucky enough to visit the Morini factory in Bologna this year. The company is now specializing in the production of two stroke motors up to 250cc.They are doing great business in this niche market as they supply motors to Gilera, Huskvana, Malagutti, Sachs & others. Just because they don't produce a complete motorcycle anymore doesnt mean they are not a vibrant company. My interest stems from being an importer of 30cc motorized bikes into Australia. .........Simon Boadle Hercules Imports Australia -- hercules at alphalink.com.au
---
I recently created new M/C Registries for the following brands:
Aprilia
Bimota
Gilera
Laverda
Moto Morini
Check it out at www.micapeak.com/reg/bikes/
H. Marc Lewis -- marcl at moto.micapeak dot com
---
May 7, 1999
Hello, my name is Stefano.
I want to tell you what I read few days ago on Il Sole 24 Ore, the Italian most important economic newspaper.
Ducati sold the mark Moto Morini to Morini Franco Motori. When the actual American owners (Texas Pacific Group), bought Ducati from Castiglioni brothers (Cagiva Group), they bought Moto Morini, too.
They don't consider Moto Morini a strategic business, that's why they decided to sell it.
It's difficult to say now if Moto Morini will really come back on the roads...
Stefano - stefanobarbieri at mail.dex-net dot com
---
April 11, 1999
Do you know where I can get a piston and rings for the 50cc engine? -- Velmer Hempstead bossman at gte.net
---
December 3, 1998
I just updated my web site with some photographs I got from Clarck Bertram in the US. If you want to see his 3 1/2 or Kangaroo, lust for a Tresette, like Morini race bikes or think the Excalivur and New York are ugly, surf to the Morini section of geocities.com [404]
Have a look. It gets updated slowly, but updated.
Pastaboy -- lieven.loots at arts.kuleuven.ac.be
---
November 9, 1998
About the sale to Cagiva, I've heard that this was not the usual case of business failure. The Morini family was doing fine business, but they ran into some awful hassles with labor unions and got tired of it.
The business was passed on to Gabriella Morini after the death of her father Alfonso. She kept the business going for several years, during which the V twin engine was developed as far as it could go without some serious input of money. The factory had spent a small fortune in developing the 500 Turbo which proved extremely fast and reliable but was too expensive to put into production.
Towards the end the factory was mostly only producing "Custom" models, the New York and Excalibur. New laws in Italy meant that all riders had to wear crash helmets, this adversely affected the type of person the Customs were aimed at.
To top it all the unions became very militant sometimes blockading the factory, causing the management to have to "sneak in" through the back entrance. The management had had enough, so that when Cagiva stepped in with an offer it was too good to refuse. The old firm had never gone into debt and with a new cash injection as promised by Cagiva they could have carried on. The chief engineer/designer, Lambertini, came up with a brand new 4 valve, water cooled, 67 degree, 750cc V twin. This was reported to produce more power and be lighter/cheaper than the Ducati engines. Cagiva did not want a rival to Ducati (who they also owned) and so they crushed any further development.
The factory site in the middle of Bologna was sold to property developers (the real reason I believe the Castiglionis wanted it) and the machinery presumably destroyed. Morini was effectively allowed to die by its new owners. As far as I know, Cagiva own the rights to the name Morini and have no plans to do anything with it. What a terrible waste. -- Steve Hough stevehough at mcmail dot com
---
Sheldon Aubut wrote:
Hey Steve,
Would you mind if I posted this on the Morini page at the European Motorcycle Universe web site? Good thoughts...
Sheldon Aubut
---
Hi Sheldon,
That was a summary of some Italian articles I translated for "A Tutto Gas", the Morini Riders Club GB magazine..
I have attached a copy of an interview with Lambertini and Marchetti which you might want to use, very depressing conclusion. I was thinking of setting up my own web page with some of the pics and translations I have done, don't know when though. I will just add it to that ever increasing list of things to do.
Cheers
Steve Hough stevehough at cwcom.net
---
Herdan Corp www.hermys.com - Moto Morini parts importer
---
I just included some pictures of the Morini turbo and the blown 125 single on my web page: geocities.com [404]
My pictures page now also includes a photo of Robert Haines Aermacchi 350 Sprint. Novembers Classic Bike (bought yesterday, read yesterday) has a nice V-Twin theme with a road impression of a Vincent, Ducati 900ss and Morini 3 1/2 Sport. Typically, the tester rambles on about the Vincent (first times he rides it, wonderful beast, etc...) and the Ducati (macho tool, animal on the street, etc...) and almost nothing on the Morini (testers own bike I think). A Morini an underrated bike? Indeed. They did have some Morini's on test in recent issues though. Good thing they are steering away from the only-Brit-bikes-are-classic-bikes idea. They even feature classic Japanese stuff now. As it should be.
-- Pastaboy lieven.loots at arts.kuleuven.ac.be
---
In message <199811031705.KAA23412 at atlas.csd.net>, bergman <bergman at csd.net> writes
I'm wondering if anyone on the list has some clever ideas about reducing the grabbiness of the drum brake on the front of a Moto Morini Strada. It's about the only irritation to riding the bike. The front end can easily dive dramatically just as you're entering a curve, and it makes choosing and following a clean line a bit of a challenge. The otherwise excellent handling of the bike prevents this from being truly dangerous (so far). This has been noted on many of the original road tests of the bike, so it seems to be some aspect of the design and/or materials used. I took it apart once and fiddled about, trying to chamfer the leading edge of the shoes a bit, knocking off the glaze, trying to adjust the TLS linkage. It improved the braking a little but didn't seem to help much with the grabbiness.
Pete Fisher [Peter at psfisher.demon.co.uk] replies:
The Strada front brake was renowned for being as subtle as putting a stick through the spokes. In fact there was an attempt by the unfortunate rider of a Devimead test bike to claim that the brake was inherently unsafe when he binned one in 1975. I would have to agree that my first one did require careful use, but when I acquired the '76 bike I turned into a hill climb special the fork leg bore a sticker proclaiming that the brake had been prepared by a specialist in London (Ernie Hall I think). What ever he did, it made a fantastic difference. Now as it happens I am pretty sure I still have that 2LS hub (laced in to a Borrani valanced rim !) in the shed at the bottom of the garden. I could be persuaded to have a look inside for any obvious modifications , or even part with it.
A conversion to disc is pretty simple if you can come by: A disc brake fork slider, wheel (disc brake wire wheel hubs are as rare as rocking horse manure), caliper and master cylinder. Mine was converted (using a cast wheel) with the aid of second hand parts from Benjy Straw's WeeVee back in '86 when I built the 'Rotarini'.
Visit my Home Page : psfisher.demon.co.uk (404) If you have a query about Moto Morini please contact us