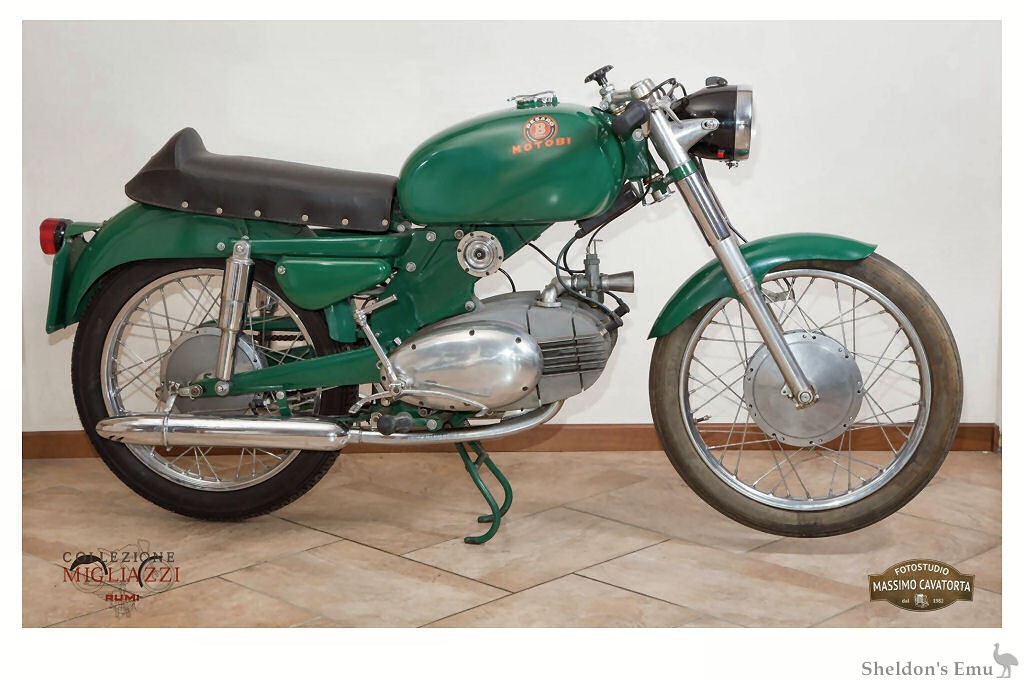 Motobi Motorcycles
MotoBi History Includes model range.
---
05-Aug-2020
orbital23uk at yahoo.com
Motobi Imola RS 50 2014
Hy I am looking for an ignition switch and a seat lock both with keys. I have lost my keys and the dealer who sold the bike in England has shut down Regards
Malcolm Smith
Rotherham South Yorkshire England UK
---
25-May-2019
mdunnigan2 at gmail.com
1969 Motobi 250 Egg motor Barracuda
I am looking for an electronic ignition. I am 70% complete with full restoration.
Michael Dunnigan
Gig Harbor, Washington State, USA
---
17-May-2019
neil.blogg at fornis.co.uk
Motobi 125 Imperiale
i have recently acquired a Motobi 125 Imperiale, and have yet to go through the process of UK registration. In the meantime, I would be grateful if anyone could provide information regarding the year of manufacture. The engine and frame numbers are *431980*, both matching. There is also another number of the frame, maybe a model number, which is OM1894. Any information would be gratefully received. Regards Neil
Neil Blogg
Harrogate UK
Motobi-1967c-125cc-Imperiale-NBl image posted to Comments.
---
22-Oct-2018
davetlloyd33 at gmail.com
Motobi Ardizio sport 1955
Hi All
Can anyone point me in the right direction concerning a new header/down pipe for my Ardizio 125cc 2T please? I have a new silencer, but cant fined a new down pipe anywhere.
Thanks
Dave Lloyd, North Wales UK
---
14-Jul-2018
rfdavin at iinet.net.au
1972/74 Motobi Sport Special
I am restoring this motorcycle and require a wiring diagram?
Greatly appreciate any assistance.
Cheers, Rory.
Rory
Australia
---
Thu Jun 08 2017
j.butler338 at hotmail.com
wiring diagram
Motobi Catria 175
Does anyone have a copy of the wiring diagram for the Motobi 175 4 stroke? The model I'm looking for is the one that has the facility to start and run the bike when the battery is flat.... thereby suggesting that the bike has a mag/generator. the bike has a coil with one wire going to earth and the other going into the headlight. Any help appreciated. thanks
Lincoln
---
Tue May 09 2017
davetlloyd at outlook.com
Motobi information
Motobi Ardizio 125 2 stroke
I am restoring a 1955 Motobi Ardizio and I am seeking any information and part sources please?
North Wales
All Ardizio models - Standard, Lusso and Sport - used a 123.6cc two-stroke engine with a bore/stroke of 54x54mm
Parts book available courtesy Renato Paganini
---
Sat Jan 14 2017
hfqua1 at gmail.com
Workshop manual
Motobi Catria 175
Hello, found a Motobi Catria 175 in Italy but the starting system needs a repair
Den Haag Holland
Hans
I have dated your machine as circa 1956. Do you know the actual production date, or have your photos of the manufacturer's plate, engine no, frame no?
I believe one of the manuals listed under Benelli/Motobi on the RPW site may suit your purpose.
---
Thu May 02 2013
matej.lapanja at gmail.com
Motobi
Italy Bobo
I'm selling Motobi, i don't know the exact year that was made because i don't have any papers, but i guess it's from around 1970.The motor is working fine. I'm also enclose a picture. But as i said i don't have much information about it.
Ljubljana
---
Wed Jan 30 2013
mjarodscherer<at>gmail.com
1950 Moto B
Motobi unknown
Hi, I recently purchased what I understand is a 1949 or 1950 Moto B. From what I am told it was Guiessepe Benelli's first model he made when he went out on his own. The bike is altogether and in what I believe to be original condition. I am wondering if anyone out there has an information they could share on these types of bikes or have restoration stories or examples to share. Much appreciated.
USA
........
Thank you for getting back to me. I do have have some pictures that I have attached to this email. These are pics of the Moto "B". Looking forward to hearing what people have as far as information.
---
Sat Oct 02 2010
triumphtel<at>aol dot com
workshop manual
motobi 175 200 350
i have 2 motobi motorcycles bought with engines in pieces
need engine manual better still workshop manual
john fraser contacted me in june 2007
please contact again
regards
terry
london
---
Tue Apr 05 2011
lassehorskjaer<at>webspeed.dk
Buy for cash a Motobi two-stroke 2 cyl.
Motobi 250 cc Supersport "Spring Lasting" 2 cyl. two-stroke from the fifties Supersport
I want for cash a Motobi 2 cyl. two-stroke Motobi "Spring Lasting" Supersport 250 cc - project or finished bike!
Copenhagen - Denmark
---
Mon Oct 26 2009
Richardharley38 at ireland dot com
motobi pesaro scooters
motobi pesaro picnic
have two motobi pesaro
for sale, restoration projects, 500 euro for both
Cork, Ireland
---
Wed Oct 07 2009
tkeeble at aol dot com
Motobi Catria 175
I need the ignition advance spring inside the flywheel.
California
---
Wed Feb 06 2008
stephen .busteed at btinternet dot com
can anymone help
motobi trismo 90
I have a motobi trismo 90 and can not find any information on the bike I would like to sell but need to no ome more about it for my advert Thanks ( never seen another one the same)
nothern ireland
---
Tue Jul 24 2007
kfm1961 at gmail dot com
Motobe 250 swing arm nut
1960 Motobi 250 racer
I am in need of a swing arm nut. This is basically the locknut for the swing arm pivot axle. I believe it is 15 x 1.5mm. If you have a spare, I would like to purchase it. Other advice would be helpful.
Thanks.
Colorado, USA.
---
Mon May 21 2007
triumphtel at aol dot com
Workshop manual
175 200 250 motobi 4 stud engine
i have 2 engines in pieces, i need engine rebuild book or manual
please your price paid
london
---
Tue Apr 03 2007
bdc at language.ch
parts motobi 75 picnic
Motobi 75 Picninc
If you have any parts for this motorcycle to sell please let me know.
Thank you.
Switzerland

---
Sun Mar 11 2007
katherine.higgins1 at ntlworld dot com
spares
250 c2 motobi 1976
could u tell me the type of battery this bike uses. also were can i get a cable for the rev counter.
thanks pat
coventry
---
Fri Dec 01 2006
ricco1 at terra.es
Motobi SS 125
Heelo, I am looking for the half handle-bars. Anybody can help me?
Ciao
Milan, Italy

---
Thu Oct 19 2006
triumphtel at aol dot com
motobi
need piston sizes of 125 175 and 250cc motobi
london
---
Fri Sep 22 2006
bultro at hotmail.it
Motobi 50
I have a motobi 50, but I don't have any document...how can I do to get the papers to use it?
Perugia Italy
---
Tue Jun 27 2006
classic-racingbikes at hotmail dot com
Wanted Motobi Zanzani
I am looking for a Motobi Zanzani racer.
Please send offers by Email.
Netherlands
---
Mon Jan 30 2006
keeble at motorest.fsnet.co.uk
Pistons
Is there anyone out there that can help me - I have three 125cc stroke Motobi Ardizio and I need pistons for them.Also two pistons for my 175cc 1964 Catria
and 1957 Catria.
Many thanks.
Graham (UK).
---
Thu Jan 12 2006
reds-srl at libero.it
Motobi 50 cc
Vorrei sapere il modello esatto, caratteristiche tecniche e anno di produzione di ciclomotore Motobi con questo telaio M264156-GO-BEN
Translation: I would want to know the I model demanded, technical features and moped of production of year Motobi with this loom M264156-GO-BEN
---
Wed Oct 05 2005
bdc at language.ch
Motobi Picnic 75
Hi - I own one of those Motobi Picninc 75 scooter of year 1962. Could anyone tell my where can I get spare parts or is there anyone intrested in this scooter. The intresting part about this bike is - it has been used only for about 6 months in 1963. Everything is still original (like new) including italian license plate an bollo (Insurance paper) of 1963.
I would appreciate any kind of information about this scooter.
Thank you.
Benito De Curtis

---
January 3, 2003
Hi,
I have a beautiful 1965 Motobi that you may know someone who wants to give it a good home. (was listed on ebay 2003)
Thanks, Michael -- kpdllc at attbi dot com

---
July 31, 2000
Hi,
Our web site address is motobi.com
best regards
ZANZANI
Motobi vintage roadracers
pesaro-italy
tel 0721279931
fax 0721270951
e-mail zanzani at motobi dot com
---
July 16, 2000
Hi,I´m a Mechanic,and I love to restore old motorcycles. I´d a Motobic, pink and a bit ruined, well,in fact so very ruined! I´d like to have a picture of this motorcycle and some information about it in order to restore it well. Hope you could help me.Please send me what you can get about this Motobic to: dhersanllo at worldonline.es thanks in advance.
---
May 13, 2000
Have a Motobic is there any information?
AJ72299 at aol dot com
---
January 16, 2000
posseggo un MOTOBI BOBO del 1971 lo vorrei restaurare prego inviarmi documentazione.
Bertucci Walter -- pwunbe at tin.it
Via Capitano Emanuele Basile 94D
90129 Palermo
Italia
Sheldon's lame translation: "I have a 1971 Motobi BoBo and am planning on restoring it. I am in need of documentation.
---
December 31, 1999
I'm looking for am 2 c Motobi Motor and an komplett Bike Motobi 125. Please send me any thing you can.
lodola at t-online.de -- Germany
---
Just found a 60's Motobi for sale in a cycle shop. Perhaps can get it for $300. Supposed to run but needs restoration. Looks good. This is a small cycle or large scooter. Is it worth the outlay ? Parts available ? Looks very good and not rusty. I don't know a thing about Motobi. Are they collectable ? Any Real Value ? Is a more common make a better value ?
Thanks, Randy -- crosley at portland.quik dot com
---
MotoBi did make some scooters, but their production was mostly motorcycles. Cosmopolitan Motors can still supply some parts, and they do have manuals, and I host the Benelli-MotoBi email list. Whether they are worth collecting or not is a personal decision - it's all about what you like. I've got a number of them, and they do have some racing history. You can see some pictures of race and street MotoBis on my website's graphics pages.
cheers,
Michael
Michael Moore -- mmoore at sirius dot com
Euro Spares, San Francisco CA
eurospares.com<
---
I have read with interest the page on the Itom. I am the Editor and Press Secretary of the UK based Racing 50 Enthusiast Club. We specialize in racing 50cc motorcycles of the Classic period from the mid 1950s to 1974. At present we can have on the start line ITOMs, Minarellis, Kreidlers, NSU, Garelli, Motobi etc. They either race competitively or Parade.
I have #1 1967 Mk VIII and a 1971 Mk IX Itom, a Spondon Minarelli 50cc racer and a 3speed hand change MOTOBI 50cc racer. All of these racers are undergoing preparation for the new season but when complete I will send photos and information. I have information on the ITOM models and would be happy to answer questions, knowledge and information allowing for readers of this page.
If any reader wishes to join the club (we have members in Canada, USA, Holland, France, Australia and Italy) please ask them to send me an email to confirm interest.
JEEP JEEP-2000 at compuserve dot com
---
Hi everyone,
I've just started an email list for the Benelli and MotoBi marques. After a little testing and fine tuning this morning the list seems to be up an running OK, so I'm letting everyone know that it is available.
To subscribe you'll send your message to:
majordomo at list.sirius.com
The list has both individual and digest (accumulation of messages issued as one message) modes, so the body of the message will read either:
subscribe benelli-motobi youremailaddresshere
or
subscribe benelli-motobi-digest youremailaddresshere
depending on which version you want.
As with my other 6 lists, I'll be keeping the new list closed to non-member posts which has proven to be effective in keeping the spammers out. I'll be letting Carl Paukstis know about the list so he can include it in the November issue of the mailing list roundup.
Cheers,
Michael Moore mmoore at sirius dot com
Euro Spares, SF CA
Distributor of Lucas RITA and Powerbase products
Sole North American distributor of "The Racing Motorcycle: a technical guide for constructors"
Host of 6 m/c email lists (details on the web site)
eurospares.com
AFM/AHRMA #364
If you have a query about Motobi motorcycles or have information about these classic Italian machines, please contact us