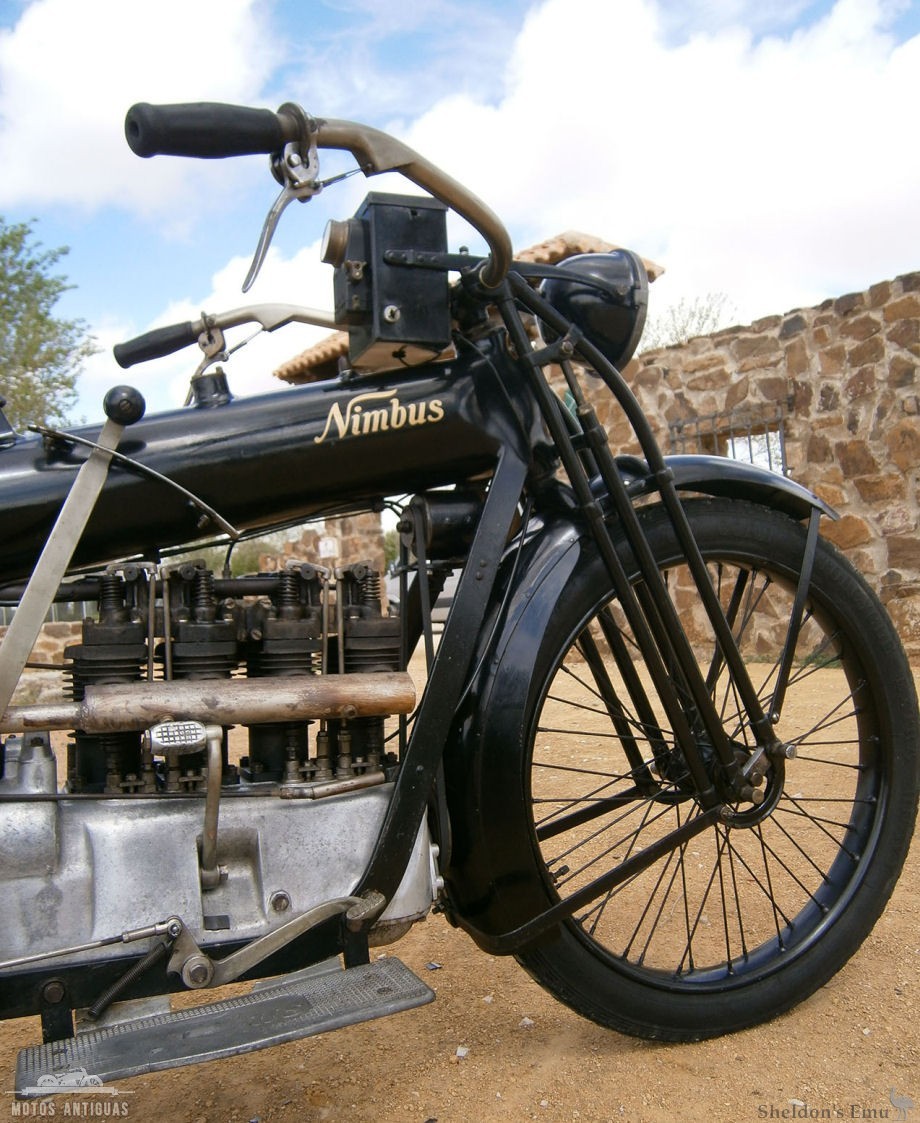 Nimbus Motorcycles
---
02-Nov-2020
kfgtractor at live.com
any model for sale
looking to buy nimbus
kevin green
salisbury mass usa
---
05-Feb-2019
hwickes2060 at gmail.com
1955 Nimbus
Looking for an owners/operators manual for a 1955 Nimbus.
HOWARD W ICKES
Las Vegas
Try this page: Books and Manuals
---
16-Jan-2019
boatfixr at yahoo.com
1953 Nimbus Military
A friend owns this bike. We are trying to locate replacement lamps for the rear blackout tailite.
Bob Ginke
USA
---
Sat, 23 Dec 2017
stig at skoventreprenoeren.dk
Nimbus 1938
Hi You have a picture of a Nimbus model 1938. I bought that motorcycle in 1974 and rode it until I sold it to a Californian in 1996. I have a lot of information about the bike, so if you could put me in touch with the owner, I and he would appreciate it. The reason that the engine and frame numbers don't match is that it was, along with a lot of other Nimbus bikes, hidden during the war. The Germans liked the Nimbus bikes a lot, and conscripted all they could get hold of. It used to belong to the famous Danish dirt track champion Sven Aage Engstrøm. In fact it had his name on the license when I bought it. It was such a surprise to me that it had gone on to New Zealand. I have been seeing pictures of it on the American Nimbus club's pages and enjoying that it had such a fine life in Malbu beach. Hoping to hear from you.
Stig Bredsgaard
Hvalsoe Denmark
..........
Sorry, I can't help you with photos. A house fire took out all my paper ones, and I sold the bike before the internet came on.
Interesting thing about the bike; I moved to California in 1988 and brought it with me. Then when my business idea came to nought and I had to go home again in 89, I took it back with me.
I didn't ride it after that, I'm a slob with bikes and after I had restored it so lovingly, I didn't feel like ruining that by using it, so I used a 1953 Nimbus instead.
Then I needed money to put in a new furnace, and after much internal debate, finally put the bike up for sale.
I bought that Nimbus when I was 17, rode it all over the place and rebuilt the engine twice. It was more of a friend than a motorcycle.
So imagine how happy I was when a Dane, living in Malibu beach, asked to buy it. It was going to be a collector's bike, and be treated accordingly.
I had kept all the import papers I had to fill out in order to get it into the US, so he basically just had to ride it to the shipping company, everything else was taken care of. It even had California license plates. He got pulled over by the cops on the way to the shipping comp. and simply claimed that he was home in the auld country for a spell and had brought his trusty ride with him.
Anyway, years later I found out there is an American Nimbus club, looked up their home page and, lo and behold, found my old bike there.
Now it is in New Zealand. Man, some motorcycles just know how to live.
It brought me a lot of joy to see it again, thanks a lot for that.
Getting in touch with the owner would be fine, but just knowing it is being taken good care of, is actually enough.
Thanks for the work you do, with those old motorcycles.
My present ride is a 1998 BMW K1100LT, that I picked up in Austria, it used to belong to the Gendarmerie, until they shut that down in 2005. I rebuild it on a 1983 K 100 frame in order to avoid the insane 180% import tax on motorcycles, we have here.
So, still on 2 wheels, albeit not a Nimbus.
I could probably still take one apart and put it back together in the dark, having done it so many times.
Take care.
Stig
---
Fri Apr 17 2015
RussBees at msn.com
Operator manual, parts book
Nimbus C
I'm a new owner of a Nimbus and looking to buy in English maintenance manuals.
Iowa
---
26th April 2013
steve<at>loudbike.com
1952 Nimbus 746cc Four With Bender Sidecar
The current owner bought this gorgeous and rare 1952 Nimbus Outfit from a local BMW dealer back in 1998 and it's seen occasional use up to 2009; when it was decommissioned for display in his collection. The sidecar is the correct Danish Bender copy of the well-know Steib.
This is a very unique package that runs as well as it looks and has been very well cared for.
The result of diversification by the Danish vacuum cleaner manufacturer, Fisker & Nielsen, the Nimbus motorcycle first appeared in 1919. Unusually, only inline four-cylinder models were built. These were of advanced design, using shaft final drive and pressed steel frames right from the start of production, and pioneered the use of the telescopic front fork in the mid-1930s. The early models featured a distinctive tubular spine frame that doubled as the fuel tank, soon gaining the nickname 'stovepipe'. Motorcycle production was suspended in 1928 to enable the company to concentrate on producing its Nilfisk vacuum cleaners, and when the new Nimbus appeared in 1934 it was with a power unit that showed strong motor-industry influence, being constructed along car lines with integral crankcase/cylinder block in cast iron and a detachable alloy sump. The cast-iron cylinder head was topped by an alloy housing for the single overhead camshaft, which was driven by shaft-and-bevel gears. A single-plate clutch transmitted power to the three-speed gearbox. Foot change for the gearbox, a beefier front fork and larger brakes had been added by the end of the 1930s, but from then on the Nimbus changed little until series production was ended in 1954, once again to free up resources for the vacuum cleaner business. An additional few machines were assembled from spares between 1954 and 1959 but none have been made since then. Production was always on a limited scale but such is the quality of the Nimbus that many remain in service today.
---
Sun Sep 21 2014
yvette.broomfield at blueyonder.co.uk
Wanted
Nimbus Any
Looking for a nimbus to restore
Bristol
---
Sat Mar 19 2011
mikey<at>vision.eri.harvard.edu
nimbus for sale
nimbus bumblebee
1954 nimbus for sale. excellent condition, pictures available.
$12000
boston
---
Sat Mar 05 2011
kaj.bloch.jensen<at>pc.dk
Nimbus for sale
Nimbus 1949
I am selling the last Nimbus in my collection. It was restored in 2009-10 with 0 milage after restoration.Price Euro: 14.500. Shipping to the UK incl. (door to door)
Denmark
---
Thu Jan 27 2011
dencon5<at>yahoo.ca
transmission
nimbus motorcycle
Desperatly need nimbus transmission,driveshaft,rear diff, wheel, clutch lever and shift lever pedal.....................
vancouver b.c.
---
Sat Jul 04 2009
nowracanvas at shoal.net.au
nimbus motorcycle wanted
as above c model
my name is kaj nielsen living in australia would love to ride a minbus here
australia
---
Tue May 05 2009
pierrevidick at yahoo.fr
demande de renseignements
nimbus avec side
auriez-vous les couples de serrage de la culasse je dois remplacer le joint
belgique marche en famenne
French
---
Fri Apr 10 2009
1155e41 at gmaildot com
Nimbus Motor
Nimbus Bumblebee
Looking for a complete engine running or not for a 1938 Nimbus
thanks
Niels
Vancouver Canada
---
Sat Feb 09 2008
tedandlila at peoplepcdot com
1951
Nimbus Green 750cc
On e-bay all org with sidecar great cond unrestored #230219967
extra rear end factory brochures and owners manual
Burton Oh. USA

---
Thu Feb 12 2009
emnjonh at comcast.net
Your excellent web site does not include certain European sidecars that you may wish to add:
Danish sidecars: Bender, Dania, Star, Sterling, Engstrom, and Nimbus. Your photos of Nimbus combiinations include ACAP and, I believe, a green Nimbus sidecar. Additionally, there are several photos of a red Nimbus motorcycle with a red sidecar that has vertical chrome or alloy trim strips and a blunt nose. That sidecar is not identified in the captions but it is a Dania.
---
Wed Feb 06 2008
versauto at netzero.net
1938 & 1957
nimbus ser. # 13794
I need info on this bike and quick
I have not found what i need to know yet
---
Wed Sep 05 2007
zulusmail at qwest.net
1937 nimbus
Hi, I'm looking for a tailpipe for my Nimbus, not the whole exhaust, just the fishtale looking end piece. Do you have one, or do you know of anyone who has one for sale
Thanks
Pat
colorado
---
Mon Apr 16 2007
opusnugen at bluebottledot com
Nimbus Motorcycle Featured on TheMotoFest.com promotion
Nimbus
Just thought you would like to know that a Nimbus is featured on the Index page, as well as the billboard ads, for the upcoming International Motocycle Festival in St. Louis, Missouri (USA). The webpage says the event is April 27-29, 2007. I am a resident of St. Louis, and after checking out the website, I had to find out more about the Nimbus.
St. Louis, MO
---
Tue Aug 14 2007
jef at royalunibrewdot com
Purchase
Nimbus
There is no E-bay in Denmark. But if you are interrestet in purchasing a Nimbus from DK. you can try on this website www.dba.dk this is the page where most vehicles is sold.
Bets regards
Jesper Frid
Aarhus
---
Fri Nov 03 2006
nimbusclubusa at aoldot com
Bruce Main-Smith's Nimbus
Bruce's Nimbus was manufactured during or after 1947, VIN number 7500 or higher. Prior to mid 1947 the Nimbus had two big differences, namely a low front end and seat coil springs. After VIN number 7500 the manufacture went to rubber band seat suspension and the hig front end. Attached are photographs of a newly restored 1938 with ACAP sidecar.
Seal Beach, California
See entry May 2006 below
---
Tue Oct 17 2006
nimbusclubusa at aoldot com
Nimbus model 'C' 1934-1960
Anyone in need of information related to the Nimbus motorcycle, please do not hesitate to contact the Nimbus Motorcycle Klub of America. We pride ourselves in assisting anyone with Nimbus needs, such as technical advice and parts.
California
---
Wed Oct 04 2006
aka60 at charter.net
nimbus m/c
looking to purchase
nevada ,usa
---
Wed Aug 02 2006
Can you tell me if there are any Nimbus owners in Australia? I am very interested in buying a restored running Nimbus from Denmark.
Listed under Scandinavian Motorcycle Forums
---
Fri Jul 07 2006
glennandkathy at earthlink.net
sell nimbus 1954
Listed under Scandinavian Motorcycle Forums
---
Fri Jun 30 2006
artminer at iwi-ironworksdot com
Nimbus value 1938
I am trying to aquire my Dad's Nimbus, he passed away a few weeks ago.His wife needs money for it, and I'm not sure what the value of this great maching really is. One fo the few marks that could stump me.
NJ
Try the page on Classic Motorcycle Prices. Ed
---
Thu Jun 01 2006
nimbus at webspeed.dk
Danish Post Nimbus Motorcycle for Sale
Nimbus 1952
I have a Post Nimbus for sale please take a look at this link
allitnil.df.lth.se/nimbus/begagnat/douglas.html 404
Year/Type: 1952
Serial number: 11110
Side car frame original Nimbus.
This Nimbus is a older restoration
Copenhagen

Fri Sep 08 2006
Hello from Copenhagen I would like to inform you that my Post Nimbus has been sold.
Thanks for all your help
Best Regards
Douglas
---
Thu May 18 2006
uk-solentcentral at zen.co.uk
Correct i.d.
Nimbus C Bumblebee
Can you please put me in touch with somebody who can correctly i.d. Bumblebee year unknown, I have a partial number however. I have many photos which I can e-mail. Thanks. Bruce Main-Smith +++
Southampton UK

---
Sat Apr 22 2006
ellenogib at shaw.ca
nimbus ovners
I would be interested in knowing if there are any in Vancouver, or area who owns a nimbus motorcycle
Vancouver B.C
---
Mon Mar 06 2006
john.doom at att.net
nimbus
I am looking to purchase a 1953 nimbus 4 cyl....
Listed under Scandinavian Motorcycle Forums
---
Tue Oct 25 2005
salvadori at charter.net
Nimbus article
Two questions: When did the valve springs on the C model get inclosed? And what would be the weight of a 1955 Nimbus with sidecar.
And a request: to enhance the article I would like to run a picture of a Nimbus ad from the early 1950s -- would you have one that could be photocopied/digitalized?
Many thanks, Clement
---
Wed May 25 2005
bettysmit at hotmaildot com
Nimbus
Your picture of the weddingcake does not load. I have a Nimbus on my website, page 2005, scroll down. http://www.motormeisje.nl also in english.
I just had contact with the owner of the Nimbus. According to him they made this type from 1938 - 1953 at the Nilfisk factory in Danmark. It has a differential and open valves and the camshaft below. But he was willing to have a look at the type plate and mail me the details.
Mr. Pol also told me, when I had him on the phone last night, that in the fifties, the postmen in Denmark used the Nimbus for transportation. The Nilfisk factory is known for its vacuumcleaners.
Greetings, Betty.

---
June 3, 2002
A danish stamp with a Nimbus motorcycle is issued on 21. August 2002
This text is for your information: Danish Post vehicles
Flemming Nielsen, -- flemming.nielsen at post.dk
Nimbus 1953 Motorcycle Postage Stamp
Width 39.5 mm
Height 29 mm
Perforations 13.1 x 13.1
---
The Danish postal service has used a large number of different vehicles over the years.
When King Christian IV set up the Danish postal service in 1624, mail was transported around the country on horse, by boat and on foot. Later on, horse-drawn carriages and stagecoaches were introduced.
The old stagecoach routes were phased out from the mid-19th century as the railways spread throughout the country, and the first motorised postmen made their appearance at the start of the 20th century.
The first motorised vehicle, purchased by the Danish Post and Conveyance Service itself, made its appearance in 1907. It was an Ellehammer motorbike and sidecar used to transfer mail between Banegurdspostkontoret (the Railway Post Office) in Copenhagen and Amagerbanen (a separate railway on the nearby island of Amager). Banegurdspostkontoret stood on the site of the present-day Palads cinema, a well-known and colourful landmark in central Copenhagen.
Nimbus
As mentioned above, a motorbike had been used on a trial basis in 1907, but was deemed a failure. The postal service did not experiment with motorbikes again until 1923.
This time, three Nimbus motorbikes and sidecars were procured to deliver express packages in Copenhagen. Another Nimbus was acquired in Brunshuj for parcel distribution, collection from post boxes and transporting mail to Lygtekvarteret post office.
Three more Nimbus motorbikes were purchased in 1924 - mainly for collecting post (always their main use) in the suburbs of Copenhagen. The final Nimbus runs were made in 1976.
Cheerful postmen emptying post boxes on their Nimbus bikes has passed into folk memory. They learned to brake from full speed and swerve the sidecar in under the post box - kerb and pavement were no obstacle - they just raised the sidecar slightly as they swerved. All they had to do then was empty the contents of the post-box directly into the sidecar. They were, of course, told in no uncertain manner that this kind of manoeuvre was not allowed.
Another attraction was watching the Nimbus bikes return to the post yard en masse. They would often arrive in one long line - and all with the sidecar raised at a 45 degree angle.
Nimbus motorbikes were made by Fisker & Nielsen at their factory in Frederiksberg, Copenhagen. The models supplied until 1933 were known as "the Stove Pipe". The one featured on the stamp was nicknamed "the Bumblebee". The postal service took delivery of 165 Bumblebees from 1934-60.
Yours sincerely
Flemming Nielsen
Post Denmark, Stamps
Tel. 4473 0534 (direkte)
Fax 4468 0568
Buy your stamps on the Internet, at www.postdanmark.dk/stamps
---
March 3, 2002
Greetings, I have recently returned from working in Copenhagen, and have of course fallen hopelessly in love with the Nimbus. I would like to try and buy one...
Listed under Scandinavian Motorcycle Forums
---
January 25, 2002
Denmark's finest motorcycles. Built from 1928 to 1934 Shovel pipe. 1934 to 1950 or 52 4 cylinder shaft drive. Exposed valves. Vertical mounted generator driven by oil pump that also drives the valve train.3 speed transmission also comes with side car. Frame made from what looks to flat bar stock. Originally manufactured by vacuum cleaner company. There are a few in California mine is Cal. license NIMBUS 4. All kinds of books are available if you speck Danish. -- Bob Lacey -- rmlaceymachine at earthlink.net
---
November 8, 2001
Hi
would u please add
I.G. Nimbusfreunde Germany
http://www.nimbusnews.de
to the link-list of your site?
many thanx
Oliver Steinke
ollie at nimbusnews.de or
info at nimbusnews.de
---
September 16, 2001
Hi folks , going to a Nimbus meet the 6-7-8 Oct. 2001 at the motorcycle museum in Solvang CA...
Listed under Scandinavian Motorcycle Forums
---
April 6, 2001
Hello,
I am jungba from south korea.
My friend has an old nimbus motorcycle, and wants to restore this motorcycle. To begin the restoration, we need to know the exact model of the machine. However, it is very difficult for me to identify the exact model of his motorcycle because there are lots of similar models by nimbus.
Can you tell us which model it is from the photo I am attaching herewith?
Thank you in advance for your kind attention. -- webmaster at motorfashion.net

---
January 30, 2001
I have a 1950 nimbus and nimbus sidecar for sale in perfect working order .I am in southern UK any one want it? Here are some pix -- Roger Cole -- supergun at btinternetdot com
January 1, 2003
My Nimbus advertised on your pages has been SOLD and is now in sunny California..
Happy new year Roger C ole

---
January 18, 2001
Hi
Just to let you know, we are a Danish dealer for NIMBUS SPARES and motorcycle...
Listed under Scandinavian Motorcycle Forums
---
December 3, 2000
Dear Sheldon,
I am the editor of Nimbus Tidende, the magazine for the danish 1,700-member Nimbus Club. Some time ago I wrote the attached article - in English - about the Nimbus. It has been updated in late November 2000. If you're unable to open the file, or if the story is too long, please contact me. A picture of the older model B is attached, unfortunately in a rather crude format.
Ride safe
Kim Scholer
---
December 12, 2000
Hi nimbus freaks/friends/palls/dudes eg.
Yes itus very true on October the 1 - JC NIMBUS in Denmark turned into an APS company.
This was celebrated as should be - with a "wedding" on site - registered partnership ......
These are some of the pictures of the "wedding cake" and the grooms .....
Please feel fre to distribute these pictures to anyone (worldwide)
having an interest in the Danish NIMBUS bike.
JC - NIMBUS - APS -- www.jcnimbus.dk -- which is curently under construction.
Viborggade 46 -
2100 Copenhagen East
Denmark
Phone. (+45)35 428313 Fax. (+45)35 428309
Please congratulate the happy couple by mail, fax or phone ;-)

best nimbus regards Arne -- orca at post11.tele.dk
---
December 3, 2000
This is California Nimbus Club. We provide spare parts and advise to Nimbus owners...
Listed under Scandinavian Motorcycle Forums
---
November 30, 2000
Hi If you hear of anyone who sells an old Nimbus let me know. -- thanks -- Flemming Behrend -- fcbridge at uswest.net
---
November 9, 2000
I just purchased a 1936 Nimbus with sidecar from Denmark...
Listed under Scandinavian Motorcycle Forums
---
Please e-mail me if you know of someone that might be selling a nimbus motorcycle. Thanks SCHNUGGAS at AOLdot com
July 19, 2000
Yes I know someone who wants to sell a Nimbus. Totally original. In occasional road use. Engineers pet. Collectors dream. Plate No. 13150, Genuine... When I attempt to email the above, all I get is an advert for AOL! -- shieling -- shieling at tinyworld.co.uk
---
April 22, 2000
I have this 1955 Nimbus for sale complete with ACAP sidecar. Has been fully restored . I have owned it for 22 years. Also have many spare parts and complete spare engine. Manuals and History (mostly in Danish). --
January 21, 2001
I was recently contacted about the 55 Nimbus that you have on your site for sale. It has been sold so you can either mark it as such or remove from your site. It has a new home in North Carolina and may be seen at the International sidecar rally next summer in Lexington Kentucky. Nice web site. Thanks. Erling Lauersen
---
January 1, 2000
My Dad has a 1950 Nimbus which he lent to his brother Bob...
Listed under Scandinavian Motorcycle Forums
---
November 28, 1999
This particular motorbike was delivered to the Danish army 1953 by the Nimbus manufacturer, Fisker & Nielsen, Copenhagen, Denmark. 1971 it was brought to Sweden and is one of around 130 Nimbus motorbikes still running in this country.
The Nimbus was the first motorbike in the world with a telescope front fork. Between 1919 and 1960 around 14000 Nimbus motorbikes were manufactured. The bike was build for hard use and appreciated by the Danish army, police and postal services. For a presentation in english see home20.inet.tele.dk/nyboe/(404) -- Lars-Ake Johansson -- larsake at halland.net
---
November 24, 1999
Take a peek at the page allitnil.df.lth.se/nimbus/english.htm 404
The machine portraited there was owned by one of the constructors of Nimbus Model C, namely Testmaster Anton Rasmussen.
There is also a hotlink enabling you to do free text searchings in the storebooks of the Nimbus manufacturer, Fisker & Nielsen of Copenhagen where you can find who the first vendor was, when a particular machine was delivered, which machines were delivered to the Danish Army and so forth.
Text in, lo and behold, English! =)
Rgds! -- Lars Persson -- lars.persson at sweden.sundot com
---
October 27, 1999
I have just acquired a 1942 Nimbus
Listed under Scandinavian Motorcycle Forums
---
March 3, 1999
I own a 1936 Nimbus C in complete and perfect running condition...
Dave Binz -- cowstopr at spiritonedot com
Listed under Scandinavian Motorcycle Forums
---
The picture of Nimbus 1-2 are a old Danish built bike. Production started in 1934 and ended about 1963. Totally there have been made about 10000 bikes with and without out sidecar. Today about 2200 are still on the road.
hans-henrik hanshp at image.dk
Denmark
---
Hey again, I've posted another picture of a Nimbus - in army duty about 1950
just for the record
see you -- Hans-Henrik Petersen -- hanshp at image.dk
---
If you have a query about Nimbus motorcycles please contact us
---