Rochet Motorcycles
A Brief History of the Marque
Manufactured by the Société Industrielle d'Albert (Somme), 1902-1927
Rochet produced two-speed single cylinder AIV (automatic inlet valve) motorcycles from 1902 including an in-line vertical twin and a tri-car. Chain-drive models were introduced as early as 1906, and the unit-construction (bloc-moteur) twin is believed to be the first example of such an engine. These twins were originally of 538cc, inceasing in 1909 to 636cc (6hp).
Three types of machines were made between 1906 and 1910: a 1½ h.p. Legère, a 2¾ h.p. model with water cooling and a 5½ h.p. inline vertical twin. The 1910 catalogue lists Motocyclette Types MG, MI, MH.
The lightweight model has some interesting features, such as sprung front forks and enclosed oil bath rear chain, chain drive being rather uncommon in 1906. The crankcase has a special extension that houses the pedal freewheel. Bore and stroke are 64×68 mm, weight is 40 kilograms and cruising speed is about 40 km/hour. Ignition by Bosch magneto.
The Rochet-Bruneau Type MG had a tandem twin engine rated at 5½ h.p., a long cylindrical fuel tank mounted between the two upper frame rails, and chain drive.
Several of the Rochet-Bruneau designs were produced under licence by other firms - Austral, Georges Richard, SIA, Excelsior, Paul Bruneau, Roland and Régina.
After WWI the firm was based in Paris and machines were produced until at least 1927.
Rochet engines were supplied to Roland.
Models:
1904 Type M A 300.9 cc single cyl. 71 x 76 mm, AIV 2 h.p.
1904 Type M B 260 cc single cyl. 66 x 76 mm, AIV 2 h.p.
1906-1910 Type M 1 218.8 cc single cyl. 64 x 68 mm, AIV 1½ h.p.
1910 Type M H 326.8 cc single cyl. 74 x 76 mm, AIV 2¾ h.p.
1906-1908 Type M G 540 cc twin cyl. 70 x 70 mm, AIV, vertical twin
1909-1910 Type M G 653 cc AIV, vertical twin 74 x 76 mm 5½ h.p.
1927 Motocyclette 175 cc two-stroke 3-speed single
Sources:
Bourdache pp 100, 146, 319, 322-325. He also makes mention of Rochet-Bruneau on several pages.
Bretti Brothers, A. Vassiliadis, et al.
---
Sun, 08 Oct 2017
carlospapa67 at gmail.com
For sale Rochet N 3 1904 500cc
En venta. For sale. 4 pics
Carlos Papa
Buenos Aires Argentina
---
Mon Apr 25 2016
j.pirtle24 at yahoo.com
Rochet Motorcycles
Rochet Belt driven
I was recently in the small town of Oatman, Arizona. There is a man that has an original Rochet Belt driven motorcycle on display in their window. They told me it was extremely rare. I could not find any info on this bike.
Oatman, Arizona, USA
---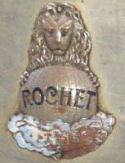 Tue Aug 07 2007
tdoyleat alphalink.com.au
rochet badge
1904 ?
Hi there I like the bike badge you have on the site it looks very much like the one I recently bougt in France on ebay
OZ melbourne
---
Rochet marks. Manufactured in paris france. It is of the year 1904 530C.C. Listed Ebay UK Feb 2007
---
Tue Feb 20 2007
tdoyle at alphalink.com.au
ROCHET MOTOCYCLETTE 1902/3
I have the engine and part of the frame for this bike and wondered if there are any photos available
OZ
---
Mon Jun 06 2005
rmedhurs at bigpond.net.au
Rochet motorcycle
I have found reference to a Rochet motorcycle being raced in Australia prior to WW1. I am interested in any information on these bikes as I have a Rochet Schneider car. Is there a connection? Is it the same Rochet? Any information appreciated and if you would like details on the article regarding the Rochet motorcycle please let me know.
If you have a query or information about Rochet motorcycles please contact us