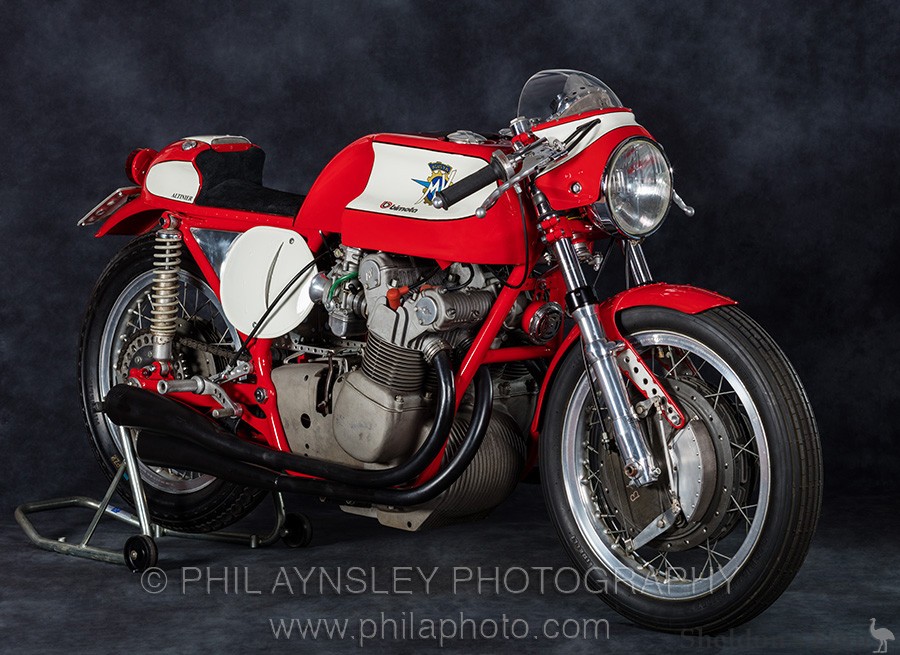 Bimota Motorcycles
Bellissimo!
Massimo Tamburini is one of the most prolific and revered designers the motorcycle world has ever seen.
His first design was an MV Agusta, in 1970. He took the rather horrid 600 tourer and transformed it into a work of art. Count Agusta's people rather liked it. Later Tamburini became part-owner of MV and designed, among others, their iconic F4 and the Brutale. He also designed the Ducati 916.
He entered a partnership with Valerio Bianchi and Giuseppe Morri, and the letters from the three men's names formed the that of the company - BIanchi MOrri TAmburini.
Bimota production began in 1973 with various components for popular sports machines including alloy wheels, alloy swing-arms, rear sets, fuel tanks and seats.
1974 saw the first complete frame kits for Honda 750 Fours, and by 1975 they were creating complete motorcycles based on the work of other Japanese manufacturers. These stylish machines were far superior in handling and performance to the originals.
---
Partial Model History

Ducati Models
DB1
Motore: Ducati 750 2 Cil.
Telaio: Tubi Acciaio
Anni: 1985/1986
Produzione: 453

DB1 S
Motore: Ducati 750 2 Cil.
Telaio: Tubi acciaio
Anni: 1986/1987
Produzione: 63

DB1 SR
Motore: Ducati 750 2 Cil.
Telaio: Tubi acciaio
Anni: 1987/1989
Produzione: 153

DB2
Motore: Ducati 900 2 Cil.
Telaio: Tubi acciaio
Anni: 1993/1995
Produzione: 408

DB2 SR
Motore: Ducati 900 2 Cil. (+iniezione)
Telaio: Tubi acciaio
Anni: 1994/1996
Produzione: 157

DB2 EF
Motore: Ducati 900 2 Cil.
Telaio: Tubi acciaio
Anni: 1997/1998
Produzione: 100

DB3 Mantra
Motore: Ducati 900 2 Cil.
Telaio: Tubi alluminio ovali
Anni: 1995/1998
Produzione: 454

TESI 1/D
Motore: Ducati 851 2 Cil. iniezione
Telaio: Piastre alluminio
Anni: 1990/1991
Produzione: 127

TESI 1/D SR
Motore: Ducati 904 2 Cil. iniezione
Telaio: Piastre alluminio
Anni: 1991/1992
Produzione: 164

TESI 1/D ES
Motore: Ducati 904 2 Cil. iniezione
Telaio: Piastre alluminio
Anni: 1993
Produzione: 50

TESI 1/D EF
Motore: Ducati 904 2 Cil. iniezione
Telaio: Piastre alluminio
Anni: 1994
Produzione: 25


---
Honda Models
HB1
Motore: Honda CB 750 4 Cil.
Telaio: Tubi acciaio
Anni: 1975/1976
Produzione: 10

HB2
Motore: Honda CB 900 4 Cil.
Telaio: Tubi acciaio
Anni: 1982/1983
Produzione: 193

HB3
Motore: Honda CB 1100 4 Cil.
Telaio: Tubi acciaio
Anni: 1983/1985
Produzione: 101

Kawasaki Models
KB1
Motore: Kawasaki Z 900/1000 4 Cil.
Telaio: Tubi acciaio
Anni: 1978/1982
Produzione: 827

KB2
Motore: Kawasaki Z 500/550 4 Cil.
Telaio: Tubi acciaio
Tyres: 16" Michelin
Anni: 1981/1984
Produzione: 177

KB3
Motore: Kawasaki J 1000 4 Cil.
Telaio: Tubi acciaio
Anni: 1983/1984
Produzione: 112

---
Suzuki Models
SB2

Motore: Suzuki GS 750 4 Cil
Telaio: Tubi acciaio
Anni: 1977/1979
Produzione: 140

SB2/80

Motore: Suzuki GS 750 4 Cil
Telaio: Tubi acciaio
Anni: 1979/1980
Produzione: 30



SB3
Motore: Suzuki GS 1000 4 Cil.
Telaio: Tubi acciaio
Anni: 1980/198
Produzione: 402

SB4
Motore: Suzuki GSX 1100 4 Cil.
Telaio: Tubi acciaio
Anni: 1983/194
Produzione: 272



SB5
Motore: Suzuki GSX 1135 4 Cil.
Telaio: Tubi acciaio
Anni: 1985/1986
Produzione: 158

SB6
Motore: Suzuki GSX-R 1100 4 Cil.
Telaio: Travi alluminio
Anni: 1994/1996
Produzione: 1144

SB6 R
Motore: Suzuki GSX-R 1100 4 Cil.
Telaio: Travi alluminio
Anni: 1997/1998
Produzione: 600

SB7
Motore: Suzuki GSX-R 750 4 Cil. (+iniezione)
Telaio: Travi alluminio
Anni: 1994/1995
Produzione: 200

SB8 R
Motore: Suzuki TL 1100 2Cil. (+iniezione)
Telaio: Travi alluminio
Anni: 1998-
Produzione:

---
Yamaha Models
YB3 1977-1980
YB8
---
THE BIMOTA 500V
The Bimota 500V due represents a historical step in the life of the company as it is powered by the first engine designed and produced by Bimota: a twin cylinder of 500 cc two-stroke with direct injection.


If you have a query or information about Bimota motorcycles please contact us
---