OMC Motorcycles
OMC was a motorcycle produced in 1930, at the SOS works at Hallow, near Worcester.
This was a lightweight machine built at the works run by Len Vale-Onslow and marketed by his brother. It had a 172cc Villiers engine and three-speed Burman gearbox that were fitted into a pin-jointed frame with Webb Forks girder forks. The result was a stylish machine that was neat and well-finished.
Few were built and the name was soon gone.
Source: Graces Guide

---
If you have further information or a query related to this page, please contact us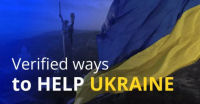 Verified ways to Help Ukraine
A list of over 30 legitimate organizations which accept donations.
Euromaidan Press