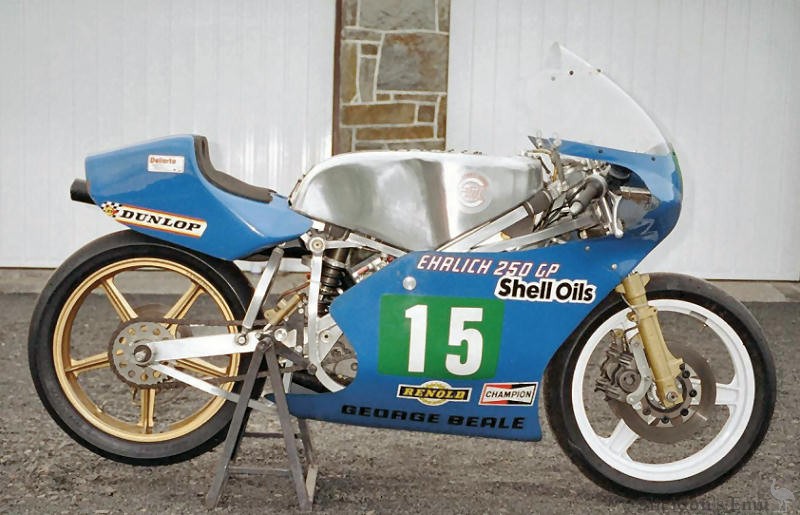 1984 EMC 250 ex-Graeme McGregor IOM TT winner
Dr Josef Ehrlich arrived in the UK from Austria during 1937 and by 1947 was producing his 350cc split single two stroke at a factory in Park Royal, London. Unfortunately the model was not a commercial success forcing the factory to close in 1952. During the period EMC had been active in road racing with a split single which gained some success. Following the closure of the EMC factory "Dr Joe" moved to Austin, developing a two stroke engine for the Mini, before joining De Havilland to run their small engine division, overseeing the development of a range of two stroke engines including a 125 disc valve racing single, followed by a twin of the same capacity that was raced during the early sixties with some success by Rex Avery, Mike Hailwood and Derek Minter among others. Unfortunately the De Havilland group was taken over by Rolls Royce during 1965 and the small engine division was closed.
Dr Ehrlich once again set up his own business developing two stroke engines for a variety of applications before returning to motorcycle racing in the early eighties, initially in conjunction with Waddon before building Rotax powered machines bearing the EMC badge in 1984 with a factory team being owned and run by George Beale.
The machine offered, frame number EMC015, was ridden to victory in the 1984 Junior TT by the Australian rider Graeme McGregor. The team employed a refueling rig designed by George Beale that was capable of putting six and half gallons into the fuel tank in seven seconds. McGregor kept the EMC in front of the challenge mounted by Joey Dunlop and following his retirement, Charlie Williams setting a new lap record of 111.06 mph in the process. In a addition to their win on the Island the McGregor/015 partnership achieved a second place to Wayne Rainey at Daytona and a number of other good placings throughout the year.
Source H&H Classic Auctions
---
If you have further information or a query related to this page, please contact us>