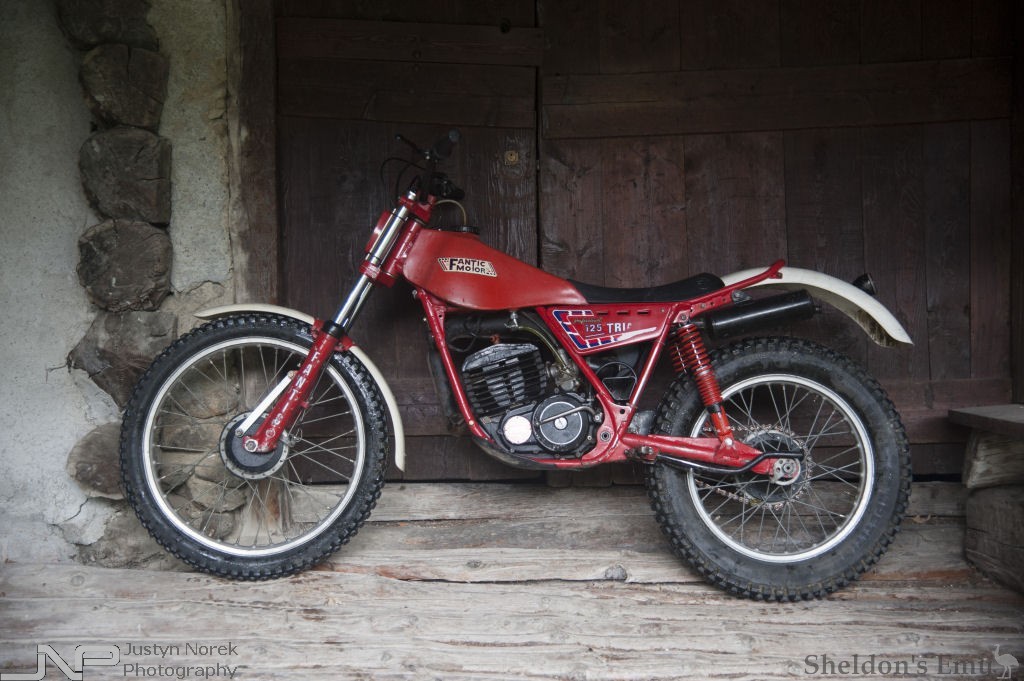 Fantic 125 Bosis Trials
The Story of Fantic 125 di Bosis
by Carlo Ramella
Ciao Justyn
Ecco la breve storia di come sono entrato in possesso del fantic 125 ex BOSIS:
LA FANTIC ,come molte altre case in quegli anni,a fine stagione donava le moto ai piloti o a persone del team.
Questa 125 fini' in provincia di torino, e venne usata x trial amatoriali,dai vari proprietari che si susseguirono.
Poi la compro' mio nipote Rodolfo,, che la uso' anche lui come moto normale come tutti i ragazzi di quel periodo.
Poi me la diede da vendere.
Io non la riconobbi, e rischiai persino di venderla a 2 ragazzotti che l'avrebbero distrutta facendo cross!per fortuna non la comprarono.
Un bel giorno viene a trovarmi l'amico Pippo Bartorilla, che mi dice: Interessa a me perche' e' una moto particolare…
A me non interessava, quindi se la compro'.
Dopo qualche mese torna a trovarmi con la moto un po' piu' ripulita,(gomme nuove, catena etc....) e mi dice: questa era la 125 di Bosis.L'ho riconosciuta perché in quegli anni andavo in moto con Fabrizio Cerchio che era il preparatore sportivo del trial team Fantic, e l'avevo già vista in sue mani in più occasioni prima che andasse sul libero mercato.
Non ci posso credere.! Risposi!ce l'avevo in casa e non l'avevo riconosciuta!
Pippo mi fece notare alcuni particolari (pedale freno, pedane, mikuni, frizione soft, portanumero,parafanghi,…..telaio del 240 (Bosis la usava in allenamento col motore 240 e poi in gara rimontavano il 125 perche' non aveva l'eta')
A quel punto,gli dissi :la rivoglio!
E ritorno' nel mio garage
Ogni tanto la uso per qualche trial epoca o anche per gite, essendo leggera, maneggevole, buoni freni e messa a punto motore eccezionale,tant'e' che non sembra neanche solo un 125 per la sua brillantezza,(ovviamente poco tiro ai bassi)
(ma per la prova pratica ci pensa Justyn a descriverla..)
Sono molto contento di averla,cosi' ho i tre moschettieri Fantic,nella mia collezione: 125 ex Bosis+prototipo 300 ex Subira'+300 ex Chiaberto.
---
Hi Justyn
Here is the short story of how I got hold of the Fantic 125 ex BOSIS:
Fantic, like many other manufacturers in those years, at the end of the season donated the bikes to the riders or to members of the team. This 125 ended up in the province of Turin, and was used for amateur trials by various successive owners.
My nephew Rodolfo bought it and also used it as a daily ride, as did all the boys in those years.
Then he gave it to me to sell. I did not recognize it, and I even risked selling it to two lads who would have destroyed it by using it as a crosser! As luck would have it, they did not buy it.
Shortly afterwards my friend Pippo Bartorilla dropped in and, when he saw the tiny Fantic, told me it was of particular interest to him. No such spark had been aroused in me, so I sold it to him.
Some months later he showed me the machine, now in much tidier condition with new tyres, chain, etc. He told me that this was the 125 that Bosis rode. Now I recognized it. In those years I was riding with Fabrizio Cerchio who was the sports trainer for the Fantic trials team, and I had seen it in his hands on several occasions before it disappeared into private hands.
I voiced my astonishment that I had not realised what it was!
Pippo pointed out some details (brake pedal, footpegs, Mikuni, soft clutch, number plate, mudguards... and not least the chassis, which was from the 240. Bosis had used it in training with the 240 engine and then for competition they refitted the 125 engine.
"I want her back!". He's a good man, is Pippo, and the Bosis was soon housed once more in my garage.
Every now and then I use it for vintage trials or even for trips, being light, easy to handle, with good brakes and exceptional engine tuning - it doesn't look much like a 125.
Justyn will describe it in his test report.
I am very happy to have it, so I have the three Fantic musketeers in my collection: the Bosis 125, a prototype 300 ex Jaime Subira, and a 300 ex Renato Chiaberto.
Written by Carlo Ramella.
---
FANTIC 125 BOSIS TRIAL TEST
Riding impressions by Justyn Jr.
When I asked my friend Carlo Ramella what trials bikes from his collection we will test this summer, he has proposed Fantic 125 ex works bike of late top Italian trials rider of 80s Diego Bosis, Cotton-Minarelli 175 and Mecatecno 350 ex-works bike of Juventany. A tough choice, but I settled on the Fantic. We came to Carlo's mountain house early on Sunday morning in the middle of a hot August. Carlo and Pippo (Bartorilla) were already waiting for us with the bike perfectly clean and awaiting a photo session. Without adieu we took the machine to a variety of attractive locations.
Later in the day we began the test session in a stream outside Puy where Carlo has a mountain cabin built of stone.
Although I have a preference for four-strokes, I was particularly curious to try this small two-stroke. The engine started first kick (forwards, not rearward - you get used to it) and emitted the unique and easily recognisable "Fantic" exhaust note.
My mother Bogdana Norek is a very good photographer, and took up a position by the stream
My first impression was how light the bike is! Certainly this is a characteristic of all successful competition trials Fantics, but in this case aided by the fact that it began as a 125, upped to 156, 212 and finally to 249cc. This lightness changed the way trials machines were ridden, introduced by the style of Thierry Michaud and Jordi Tarres, so I also tried "surplaces"[1] as well as hopping it sideways - rather good fun on this one. It actually feels rather like a modern mount, but of course with limitations due to its vintage. I was soon comfortable with the handling and riding position, which were just perfect for me. It has excellent brakes and suspension allowing almost effortless clearing of obstacles, always with full control, although I did need to adapt to the higher revs required... initially I stalled the engine a few times, but soon got the knack.
Bear in mind this was the 125 version, and I imagine an engine of twice that capacity would be an entirely different story.
Another great aspect is the very light clutch that endured with great patience my attempts at modern tricks.
Carlo frowns at my suggestion of fitting a 250 to it, so I may have to buy my own. They're quite the weapon of choice in vintage trials, I understand.
It's an impressive motorcycle and I can recommend to anyone who is keen on this type of sport, then whether it's a 125, 156, 212 or 249, snap it up - you'll love it! I am so happy that Fantic is reborn, even if the current range lacks a trials bike.
Tested by Justyn JR,
Action photos Bogdana Norek.
Fantic 125 Bosis Trials Specifications
Engine: Fantic-Minarelli type FM250, two-stroke, single cylinder, air-cooled,
Bore / stroke: 55.2 x 52 mm
Capacity: 124.4 cc
Compression ratio: 12 : 1
Max power @ rpm: 12cv @ 5500 rpm
Max torque: 1.36 kgmt @ 4708 rpm
Ignition: electronic Ducati or Dansi
Lubrication: 2% Castrol 2T
Carburettor: Mikuni 26 mm
Clutch: multiple discs in oil bath
Gearbox: six speed with frontal engagement
Frame: Fantic 240, duplex cradle tubular steel
Suspension:
Front: telescopic hydraulic fork Marzocchi diam 35 mm, stroke 170 mm
Rear: Marzocchi adjustable in 5 positions, stroke 110 mm, rear wheel vertical travel 145 mm
Rims: Akront front WM/1 (1X21), rear WM/2 (4X18) in aluminium
Tyres: Pirelli "Moto Trial" 2.75 x 21 front and rear Pirelli "Moto Trial" 4.00 x 18
Fuel tank: thermoplastic, 4.5 litres
Notes
1. Surplace
The French term surplace means "on the place, on the spot".
It refers to a technique in modern trials where the rider stands motionless, feet up, in front of an obstacle, preparing mentally whilst physically bouncing the machine, compressing and releasing the suspension thus locating the motorcycle in the perfect position to clean the obstacle. All trials riders can do it, some for several minutes, but there is now time limit in Observed Trials rules. This technique was "invented" by Trials World Champion Bernie Schreiber of America, and was quickly adopted and successfully used by several French riders, hence this expression is from French.
To maintain balance riders use light clutch to move the machine slightly forward and backwards, usually with the front wheel slightly turned and if necessary with a leg extended.
contact us