Santonja to Setter - a History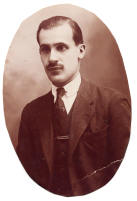 D. Miguel Santonja
Breve HISTORIA ... de Santonja a Setter.
Talleres de Miguel Santonja. C/Maximiliano Thous, 31 Elche.
La idea de crear bicicletas con motor surge a principios de los 50 de D. Miguel Santonja Santonja, mecánico nacido en Alcoy y afincado en Elche, que ante la creciente demanda de bicicletas y velomotores, en una zona tradicionalmente rural en la que la industria se abría camino, se suma a la idea de equipar a aquellas viejas bicicletas de la época con un motor autónomo que por transmisión de rodillo las convierta en pequeños ciclomotores.... ahí comienza la historia de los motores Santonja y el principio de las futuras motocicletas Setter.
En un primer momento la marca bajo la que se fabricaba era "Santonja", en lógico honor al propietario y fundador de la casa. Posteriormente se cambio de marca comercial pasando a la más conocida Setter, y bajo cuyo nombre se estuvo fabricando hasta los últimos días de la marca.
A lo largo de mas de 20 años de existencia de la marca, fueron muchas las etapas, los modelos, los cambios, evoluciones...y por desgracia poca la información que nos ha llegado hasta nuestros días. Sirva a modo de resumen que se construyeron desde motores, siempre de diseño propio, para Vicente Solá (Ducson), hasta motos completas para RMH (Rafael Mira e Hijos), pasando por numerosos modelos y motores. 44, 49, 60, 74 y 125 cc fueron las cilindradas de las Setter... A principios de los 50 el taller contaba con cerca de 30 operarios y la producción oscilaba entre las 250 y las casi 400 unidades del año 58. Difícil es calcular exactamente cuantas Setter corrieron por nuestras carreteras.... pero podríamos aventurar una cifra cercana a las 7000 unidades más aparte las RMH Hispano-Villiers y motores Santonja para Ducson.
Al final de los años 60 la producción cesó debido al desplome del sector y afectados también por los cambio de normativas.
Miguel Santonja e Hijos comenzó entonces la fabricación de maquinaria para el calzado, llegando en las siguientes dos décadas a ser uno de los fabricantes españoles con tecnología propia, más importantes en maquinaria de inyección de suelas, con una gran introducción en mercados nacionales y extranjeros. Todas las máquinas de calzado fabricadas por Santonja, llevaron siempre la marca SETTER...
---
A Brief History - from Santonja to Setter.
Workshops of Miguel Santonja. C/ Maximiliano Thous, 31 Elche.
The idea of creating motorized bicycles arose in the early 1950s from Mr. Miguel Santonja Santonja, a mechanic born in Alcoy and living in Elche, who, faced with the growing demand for bicycles and mopeds, in a traditionally rural area where the industry opened the way, added to the idea of equipping those old bicycles of the time with a clip-on motor that, through roller transmission, would convert them into small mopeds. That is where the history of Santonja motors begins and led to the futureSetter motorcycles.
Initially the brand under which it was manufactured was "Santonja", the name of the owner and founder of the firm. Later, the commercial brand was changed to Setter, which became a very well-known name and under which it was manufactured until the last days of the brand.
Throughout more than 20 years of the brand's existence, there were many stages, models, changes, evolutions - unfortunately little information has reached us to this day. It serves as a summary that they built engines of their own design for Vicente Solá (Ducson), and complete motorcycles for RMH (Rafael Mira e Hijos). The Setter had numerous models with engines of 44, 49, 60, 74 and 125 cc displacement. At the beginning of the 1950s the workshop had about 30 workers and production ranged between 250 and almost 400 units in 1958. It is difficult calculate exactly how many Setter machines ran on Spanish roads but we could venture a figure close to 7000 units, along with the RMH Hispano-Villiers and Santonja engines for Ducson.
At the end of the 1960s, production ceased due to the collapse of the sector along with changes in regulations.
Miguel Santonja e Hijos then began manufacturing machinery for the footwear industry, becoming one of the most important Spanish manufacturers with its own technology in the following two decades in sole injection machinery, with a great introduction in national and foreign markets. All footwear machines manufactured by Santonja always carried the Setter brand.