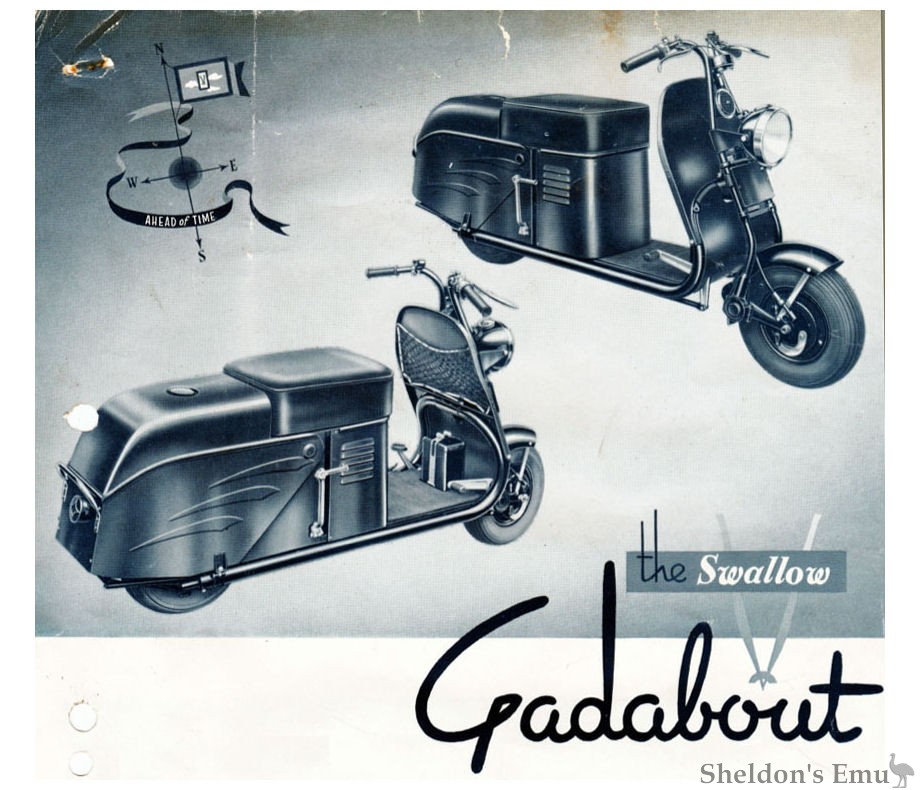 SPECIFICATION OF THE GADABOUT MK. 11 MODEL
CONSTRUCTION
The Chassis consists of one single unit, of welded tubular construction, to which is attached the steering head carrying the one inch diameter tubular handlebars. The front wheel is mounted on forks incorporating a torsion bar, and suspension is by means of rubber bushes in torsion. The wheels are of pressed steel construction having detachable rim flanges facilitating tyre removal. All body work is manufactured from sheet steel, suitably reinforced for rigidity, and the rear fairings of the Gadabout are hinged to provide access to the rear wheel.
The sheet steel fuel tank is of 2½ gallons capacity and is provided with a filler cap which also serves as an oil measure. Exhaust gases from the power unit, details of which will be found overleaf, pass into the rear portion of the main chassis tubes which act as silencers.
CONTROLS
Bowden cable operated brakes are provided on front and rear wheels, the front brake having a hand lever control, and the rear brake a foot pedal control. Control of the clutch is by means Of a hand lever and a Bowden cable, while gear change is effected by a foot control and rods.
IGNITION AND LIGHTING
A flywheel magneto provides for ignition and also, through a rectifier, power for an accumulator and lighting set, which includes a 5½" diameter headlamp, an ammeter and a dipper switch. Illumination is also provided for the speedometer which is driven by the front wheel.