Maico GP 400 Replica
Ever notice how sometimes you can get one major part to a bike, and from there the wheels just never stop turning? That's what happened to me when I discovered a reproduction small coffin tank in the "For Sale" section of the Maicomadness page.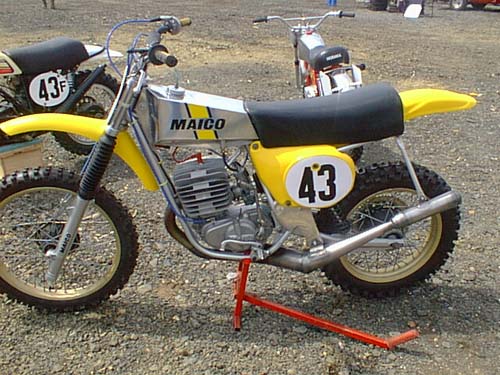 I thought the tank would look great on my 79 250, then when received it in the mail, and really began to look at it, I began to reminisce about the 1975 Unadilla Trans-Am I attended in 1975. It was the first pro race I had ever attended. Of all the bikes that were there, and we are talking the "hay day" of European bikes, the one that always stayed in my mind long after the race, was Adolph Weils GP 400. For some reason, that highly polished tank and the beautiful noise that came from that machine never left my thoughts. "Wish I had one of those" I thought to myself as I stared narcistically at my reflection in the new tank. Then it hit me! "Why not just make a replica of that bike?" I had purchased a 1978 400 Magnum for $250.00 about a year before. It needed to be completely restored, but with enough vintage bikes, and two evolution bikes already complete and ready to go, I just couldn't give myself a good reason to get started on it. This tank gave me the reason. In the fall of 2000, I stripped everything from the bike. After a closer look at things, I realized this bike didn't shift either, but more about that later. I stripped the paint off the frame and swingarm, primed it with
Vari-Prime etching primer and painted it the same color silver as the mid 70's Maico's. I used a single stage paint by Dupont. Now with that done, and the cold weather coming in, I could concentrate on the mechanical end of this project. As mentioned earlier, the bike didn't shift. Actually, the shift moved very freely, due to the fact that the shift shaft was snapped in half inside the case. I didn't know this was the problem until I removed the engine, then promptly found the shift lever along with a 2 inch piece of the shaft in my hand. After removing the primary side cover, two of my senses immediately went to good use.
Sight, when I saw the amount of metal floating around in the remainder of the fluid, and smell, when the aroma of burnt oil eminated from inside the engine. This bike obviously went through an abusive period sometime in its life. I'm not going to bore you all with another Maico clutch story, but it was the first one I had ever taken apart. I'm sure you all remember the first time you did it. Hard to understand how 18 or 20 (depending on who you ask) cupped washers can make one of these clutches work until you take one apart. Easy to understand now why every Maico rider has the left forearm of Arnold Schwartzeneggar. Upon further dissection of the engine, I discovered a few broken gears, which I replaced along with the shift shaft, a bent layshaft and a hooked "T" ratchet. (Yeah boys..I know all the terms now). As with all the bikes I restore, a fresh top end was installed as well. I found a Mahle piston brand new on E-bay for only $145.00, about $100.00 less than many of the dealers who have them charge.
After looking at as many pictures I could find, I began the process of making my bike look as close to a pre-75 bike as I could. This included bead blasting the cylinder, choosing the correct fenders, adding fork boots and tank decals, which are AW replica decals, but I really like them . For a little color contrast I went with blue Terry cables. I then added Magura levers, new seat cover, bars, grips, Metzler tires, Side Winder self cleaning sprockets, gold D.I.D chain and a nice set of Akront gold anodized rims. I also had the cylinder ported as well. Then came the pipe. "Got to have a down pipe on here" I thought to myself. Well the good news is a 77 400 down pipe will work. As you can see, the only thing you have to do is figure out a way to attach it to the frame. I didn't want to weld anything to it, in the event I should decide to restore it back to its original form. So with some aluminum plate I had, I made what you see in the picture. The bad news is, you can't ride the bike. The pipe just doesn't tuck in enough under the frame. If your going to build one of these bikes to look at, fine. If your going to ride it, which I have done, DO NOT put one of these pipes on your bike. By the time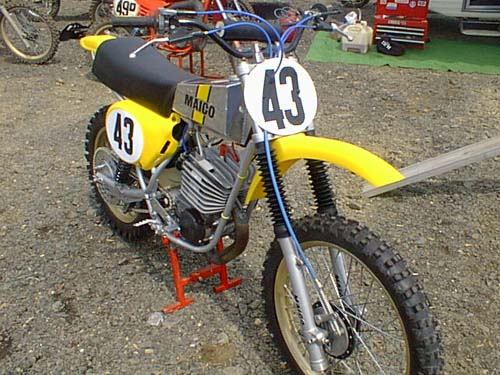 you read this, the bike will have a Wheelsmith up-pipe and silencer on it. I made the brake pedal too. This pedal, unlike the pipe, is not going to be effected the next time you go through a whoop section or come up short on a jump. Well, there you have it. It's really more cosmetics than anything else, but it was alot of fun to do, and it gets all the looks at the track. The bike runs beautifully, is quite fast an so far seems to be a reliable ride. This was all because I bought a tank. I could only imagine what I would have gotten myself into had I ran across one of the "jack shaft" swingarms from Gaylon Mosiers old Wheelsmith bikes. Remember those?
In closing, I would like to thank the following people for their support, advise and encouragement: Eric Cook and Dean Collie from Maico Only, Rick and John at NW Maico CZ, my friends and race buddies, Ed Shaffer, Mark Wunderlien, Scott Campbell, Ted Bolkema and of course Bob at Maicomadness for giving us all a place to show our handy work and find all the parts we need to keep our Maico's moving.
Joe Abbate
For more information on this page visit Emu Archives