Imperia Motorcycles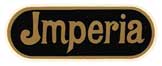 Imperia 1929 Model H 500cc OHV
Photo by
Hans Denzel
A Brief History of the Marque
Manufactured in Germany 1924-1935
Franz Becker's Imperia factory at Cologne, Kölner Motorrad und Maschinenbau (K.M.B.), initially built 247cc and 347cc ohv Blackburne-engined machines and also versions with the 490cc single-cylinder ohv JAP, but most had Swiss MAG power units of 346cc, 496cc, 596cc, 746cc and 996cc. With the exception of the smallest, all were ioe or ohv V-twins.
Becker became insolvent in 1926 and the brothers Felix and Rolf Schröldter purchased Imperia and moved the factory to Bad Godesberg.
At this point they added Lastendreiräder (cargo tricycles) to the range, but only a small number were produced between 1927 and 1929.
Early in the 1930s famed Dutch designer Arthur F. Dom joined the firm, and during this period models with MAG 497cc IOE, 678cc V-twin ohv JAP and Sturmey-Archer 346cc engines were developed, but mainly 248cc, 348cc and 498cc four-valve Rudge-built Python proprietary ohv four-valve singles. The Imperia Python machines were widely used in competition.
1933 saw the introduction of Villiers-engined models of 150 & 200cc.
That same year, import of foreign engines into Germany became increasingly difficult due to high taxes imposed by the Nazi government, and Dom, being a foreign national, left. Locally sourced Bark two- and four-stroke engines were employed in several models, and Rolf Schräldter designed a range of new and very unconventional two-strokes. The first was a 348cc double-piston single with the pistons running in opposite directions and a single sparkplug in the centre, based on a Junkers patent. There were really two crankshafts, one on each side of the cylinder. They were connected by a chain and on top was a supercharger. This aircooled engine was developing well in 1935 when an international ban on alcohol fuels in racing took force, and major cooling problems were encountered when running benzine fuel. Imperia again ran into financial difficulties, due in the main to the production of too many unconventional designs. These included a 498cc horizontally-opposed two-stroke twin with Trilok gearbox and shaft drive, and the company was also building 746cc sports and racing cars.
As a result, production was halted towards the end of 1935.
Heinz Koster was an engineer for the Imperia Motor Cycle and Side-car works in Koln who, in 1935, patented the Schwenker design for leaning sidecars.
Sources: Tragatsch, JF, Automobilia 85-45, et al.
Other marques named "Imperia": Disambiguation
---
22-Apr-2019
miguelr100 a t yahoo.com.ar
imperia v-twing
mi name is miguel from argentina, i found a imperia motorcycle but they dont have the engine ,( they us to have a v-twing) and the transmission , i cant find information about this motorcycle , i want to know if this machine is a expensive motorcycle or is a normal motorcycle . It was modifacada and lengthened to put a citroen boxer engine and citroen transmission, the question is whether it makes sense to spend time and money on a motorcycle that nothing about its origin and value.
I would appreciate if you could help me make a decision
thank you
miguel
buenos aires, argentina
It seems to me that finding another Imperia owner who may want this machine to aid in the restoration of another may be the best bet as rebuilding this one will be arduous and expensive.
Imperia-AR images posted to Comments.
---
Tue, 30 Jan 2018
Julie at tarago.com.au
Imperia 1928-35 500cc 1928-35
I have the above bike and am trying to source an oil pump and the insignia for a military bike. I know my bike originally had a side car. I would be interested in any details and prices you can supply. Thanks in advance, Julie Aralis
John Arbalis
NSW Australia
---
Sun Jan 13 2013
collector1ww<at>gmail.com
Unknown Model of IMPERIA
Dear All,
do you know more about my Imperia? Which Model... JAP engine is 500ccm-race from 1926. More Photos you can see on http://www.mojalbum.com/ce-grof/imperia-500-bj-28-29
With Regards from Slovenia-Borut
Celje -SLOVENIA
---

Thu Nov 23 2006
bobdang at austarnet.com.au
imperia
I have an imperia motoer cycle and need clarification of model and any thing else anyone can tell me. The bike was originally in greece and my father brought it to australia to retore. I have original engine, gear box and frame numbers.
thanks margeurite
australia
......................
Jan 2007
I finally have some pictures of my fathers bike. Unfortunatly the bike is in pieces. I hope you can make out the pictures. Apparently the bike wa bought from a crap metal yard in Greece. It hasn't been ridden for years, never by my father. It is an old army war bike. dad is sure there was a side car but he didn't purchase it. Here is some info and questions.
Dad said he was told it was a 1925 model
Regards margeurite
Engine number IC9H8 2nd photo The petrol tank has two holes why
503373
Frame number IMP2102 the oil tank is located under the seat, How does the oil get to the tappets or engine ( we have no lines)
16571- we think metal was worn
Gear box is Hurth 1st photoes The gears are on the tank not a foot clutch
130944
A picture of the steering, does it look like anything is missing.
Magneto is a bose one (Bosch?)
---
Mon Nov 20 2006
s.gutmann at gmx.de
Imperia wanted
Imperia wanted, any model and condition, also fragments, parts.
Please send your offer and pictures to s.gutmann at gmx.de
Best regards
S. Gutmann
Stuttgart, Germany
---
Tue Jul 11 2006
gasser.nicolas at wanadoo.fr
informations about Imperia
Hello
I have found a Imperia side-car motorcycle and I want to find all about these brand and products. This motorbike should be complete (i don't know exactly) but I have no idea of the model it is.
But I really want to restore it!
Strasbourg - France
................
Here are some pics of the bike. Hope you can help me to find the model and the year...
Best regards
Nick

---
Mon Apr 17 2006
awi.schmitz at t-online.de
JAP 680 OHV
Imperia Rheingold
Hallo,ich suche Teile oder einen ganzen Motor JAP 680.
Germany
Translation: Hello I seek parts or an entire motor JAP 680.
---
---